I spent most of last week watching the Olympics instead of reading, so I figured it was appropriate to shift the focus of this week's It's Monday, What Are You Reading? post. I did finish Bright, Precious Days
 by Jay McInerney, which wasn't too mentally taxing (and was exactly what I needed last week). And, because I'm getting swept up in all things Olympics, I started listening to 1996 Olympic gold medal gymnast Dominique Moceanu's memoir, Off Balance
. Finally, a friend gave me a copy of You Are An Ironman
 by Jacques Steinberg, which got me to tear up in the first fifty pages. I'll be reading this one in bits and pieces over the next week or so.
West Point Triathlon Race Recap:
I competed in the West Point Sprint Triathlon (1/2 mile swim, 13.9 mile bike, 5K run) on Sunday and it was a brutal day for racing! High of 95 and 95% humidity, plus an [8:40] AM start time (relatively late). Prior to seeing the weather forecast, my goals were to beat my time from this race last year ([1:34:46]) and to finish in the top 3 in my age group (vs. 4th last year). The swim went well, the bike went OK (but was a little slower than last year) and the run was horrifically painful and terrible. I walked four times during the run (basically every time I felt like I was going to throw up) and finished with a 5K split of [29:31] ([2:15] slower than last year). So, you can imagine my surprise when I saw my overall results and realized I'd done a best time of [1:33:35] (4th in my age group)! Turns out I'd shaved 4 minutes off my swim, which saved my overall race. I didn't finish in the top 3 as I'd hoped, but I'm thrilled with a PR in those steamy conditions!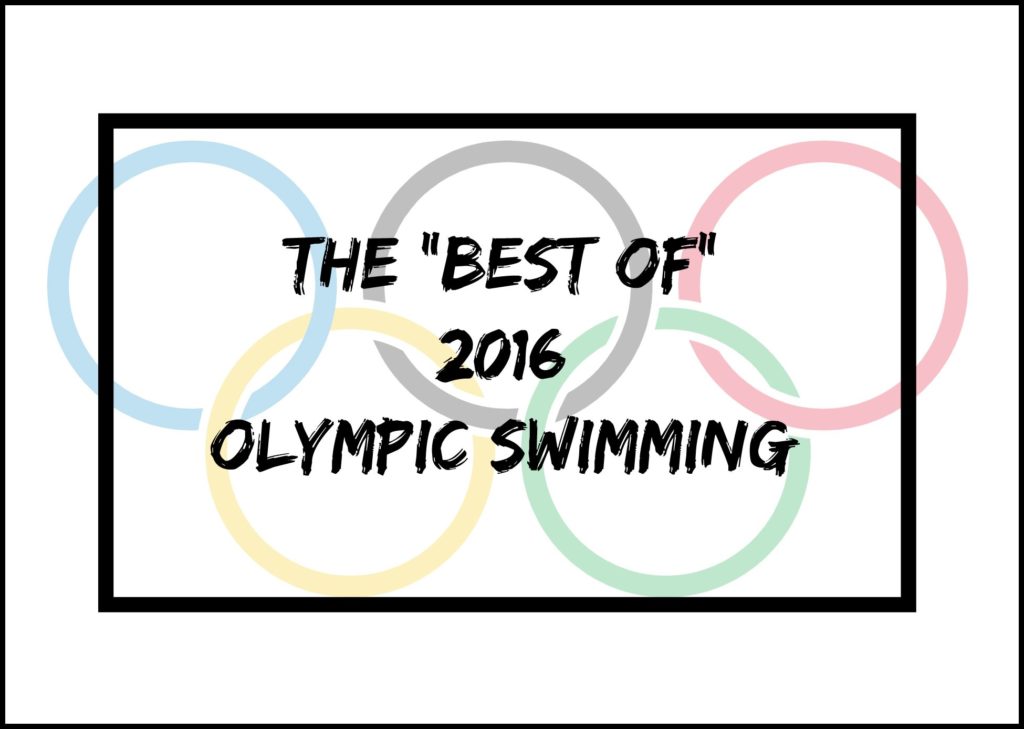 Now, on to what I really spent my time doing last week. Overall, the US Swim Team far surpassed expectations going into Rio. The team was fairly young and many swimmers were first-time Olympians. And, it was these rookies that really stole the show (well, as much as it's possible to steal the show from Katie Ledecky and Michael Phelps). Also, Australian swimmers didn't perform as well as expected, particularly favorites Emily Seebohm, the Campbell sisters, and Mitch Larkin. This recap is fairly US centric for a few reasons: A) US swimmers kind of dominated (33 medals vs. 2nd place Australia's 10 medals) B) I know the most about US swimmers and C) NBC's coverage and interviews are extremely US centric.
The "Best of" 2016 Olympic Swimming
The Performances
Biggest Upset
Women Winner: Simone Manuel (USA) upsetting the heavily favored Campbell sisters (AUS) to tie Penny Oleksiak (CAN) for gold in the women's 100 freestyle, in the process becoming the first African American to win an individual Olympic swimming medal. Prior to the Rio Games, Manual was ranked 9th in the world in this event.
Women Honorable Mention: Maya Dirado (USA) upsetting "Iron Lady" Katinka Hosszu (HUN) in the women's 200 backstroke. Prior to the Olympics, Dirado was ranked 4th in the world in this event.
Men: Joseph Schooling (SIN) winning gold in the men's 100 butterfly over Michael Phelps (USA) and Laszlo Cseh (HUN). Prior to the Olympics, Schooling was ranked only 13th in the world in this event.
Breakthrough Performance
Women: Kathleen Baker (USA) wins silver in the women's 100 backstroke after being ranked 8th in the world pre-Olympics.
Men: Ryan Murphy (USA) wins gold in the 100 and 200 backstroke in his first Olympics. He also broke the 100 backstroke world record in his lead-off leg of the gold medal winning men's 4×100 medley relay.
Most Awe-Inspiring Performance
Dana Vollmer's (USA) bronze medal in the women's 100 butterfly (plus a relay silver and gold) just 18 months after having a baby.
Most Dominant Swimmer
Katie Ledecky (USA): I mean, no one is even close. She might even be the most dominant athlete at these Games in any sport, male or female!
Best Race
Women: Katie Ledecky (USA) vs. Sarah Sjostrom (SWE) in the women's 200 freestyle.
Men: Michael Phelps vs. Masato Sakai (JPN) vs. Tamás Kenderesi (HUN) in the men's 200 butterfly. Only 0.26 seconds separated Phelps with the gold from Kenderesi with the bronze.
The "Who?" Winner
Dmitriy Balandin (Kazakhstan): Gold Medalist in the men's 200 breaststroke out of Lane 8, to which NBC Commentator Rowdy Gaines stated "I've never circled that lane before!"
Biggest Heartbreaker
Missy Franklin (USA) failing to make the finals in both her individual events (women's 200 freestyle and backstroke).
The Dara Torres "Age Is Just A Number" Performance Award
Anthony Ervin (USA): Won his second gold in the men's 50 freestyle sixteen years after winning his first at the 2000 Sydney Olympics.
The Reactions
Best Reaction
Women: Simone Manuel (USA) after tying for gold in the women's 100 freestyle and becoming the first African American woman to win an individual Olympic swimming medal.
Men: First-time Olympian Cody Miller (USA) after winning bronze in the men's 100 breaststroke.
Most Obnoxious Reaction
Katinka Hosszu (HUN) pointing at herself while sitting on the lane line after her world record setting performance in the women's 400 I.M. (and her husband simultaneously pounding his chest on the pool deck).
Best Show of Tears
Ryan Held (USA): the First-time Olympian sobbed on the medal stand after winning gold in the men's 4×100 freestyle relay.
Best Interview
Lilly King (USA) calls out Yulia Efimova (RUS) for doping violations, causing the IOC to essentially ask athletes not to comment on the doping scandal. Thankfully, King and NBC Commentator Rowdy Gaines chose not to keep quiet.
"If you're shaking your finger number one and you've been caught for drug cheating, I'm just not a fan." – Lilly King
The Drama
Best Rivalry
Michael Phelps (defending Olympic gold medalist) and Ryan Lochte (world record holder) in the men's 200 IM: These two combine for the 15 fastest times in history in this event, so this is a nod to the longevity of this rivalry.
Most Hyped Rivalry That Wasn't A Rivalry
Michael Phelps vs. Chad Le Clos in the men's 200 butterfly: After Le Clos out-touched Phelps for gold in London and talked trash in the media over the past four years, Phelps wins gold while Le Clos fails to medal.
Biggest Choke
Emily Seebohm (AUS): Coming into Rio with the fastest time in the world this year in the women's 100 backstroke, she finished a disappointing 7th place.
*You may be wondering why Missy Franklin doesn't occupy this spot…and it's because she hasn't looked like her old self for the past two years and barely made the U.S. team at Trials. Conversely, Seebohm has looked fantastic all year until these Games.
Best Recovery from a Choke
Katinka Hosszu (HUN): After failing to medal in a single event at the London 2012 Games, she wins three golds (200 and 400 IM, 100 backstroke) and a silver (200 backstroke) in Rio.
Most Intriguing Scandal
Katinka Hosszu's marriage/coaching relationship: NBC Commentator Dan Hicks brought this issue to the forefront with his comment crediting Shane Tulup (Hosszu's husband) with being "responsible" for her turnaround following the London Olympics. There is more to this story. Former friends of Hosszu's have spoken out about the unhealthy nature of her marriage and coaching relationship with Tulup (you can read more about this here and here). I don't think this one is over and will be interested to see where she is four years from now.
The Superficial
Hottest
Male: Camille Lacourt (FRA)
Female: Pernille Blume (DEN), gold medalist in women's 50 freestyle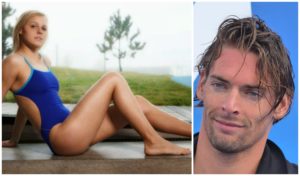 Best Nail Color
Missy Franklin (the top hand below)

Cutest Personality
Adam Peaty (GBR): After winning gold and breaking his own world record in the men's 100 breaststroke, Peaty gave an adorable and humble interview to NBC poolside commentator Michele Tafoya.
Weirdest Ready Room Routine
Chad Le Clos (RSA) shadow boxing and weirdly vibrating his shoulders.
Most Intimidating Face
Michael Phelps' reaction to Chad Le Clos's weird ready room routine, which has since inspired countless internet memes.