At the end of this post, I will link to my spoilers discussion for those of you who have read the book. Because, let's face it, this is one that needs some rehashing! 
For those who haven't read this one yet, there are no spoilers in this post.
Fiction – Mystery / Thriller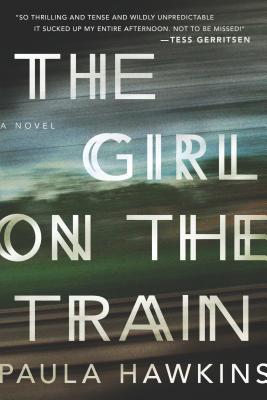 Released January 13, 2015
336 Pages
Bottom Line: Read it.
Affiliate Link: Buy from Amazon

Source: Purchased
Plot Summary
When divorced and down on her luck Rachel sees "something shocking" at the house of "Jess and Jason", the couple she watches out the window of her daily commuter train, she's drawn into a mess that "changes everything". (quotes from Goodreads)
My Thoughts
Paula Hawkins' debut novel has been getting a lot of hype lately…it's one of those books that I think will be talked about quite a bit both inside and outside of the book world over the coming months. For this reason, I purposely tried to ignore all the chatter and avoid reading reviews until after I'd read the book. I seem to have better luck with these types of books when I go in blind and I'm glad I did in this case. So, this review will be a bit vague to preserve some surprise for those of you who intend to read it!
The Girl on the Train is a psychological thriller that, for me, gets 5 stars for the psychological element and 3 stars for the thriller piece…averaging out to a 4-star "I really liked it" rating (on Goodreads, as I don't use a 5 star rating system for my blog).
This book started a bit slowly for me. It took me about 20% of the book to really engage in the psychological piece and the thriller aspect picked up steam after that. But once I got through the beginning, this was definitely an "I can't put it down" type of read.
Rachel takes the exact same commuter train every day, passing the same houses at the same time. Therefore, she sees the inhabitants going about their daily routines. She fixates on one young couple who seem happy together (and whose life she probably aspires to have) and names them "Jess and Jason". She gives them backgrounds, personalities, and careers (She imagines "Jason" as a medical doctor who travels to Third World countries and "Jess" doing something artsy). So, you know right out of the gates that Rachel has at least one issue (borderline obsession with these people she doesn't know). But, suffice it to say that there are psychological issues all over the place in this book.
My problem with the thriller aspect (and thus the 3 star rating for that part) is that I guessed the outcome well before Hawkins put it out there. I'll elaborate more on this in the spoilers discussion, but I'll say here that I kept hoping my guess would be wrong and she would surprise me. Sadly, that wasn't the case.
The Girl on the Train will no doubt be a popular thriller this year and I'm adding it to my Page Turners and Book Club Recommendations lists. It will also make an appearance on my 2015 Summer Reading List coming in May (click here to see last year's list).
You May Also Like:
Binds That Tie by Kate Moretti
Gone Girl by Gillian Flynn
The Double Bind by Chris Bohjalian
CLICK HERE FOR SPOILER DISCUSSION