I'm linking up with Beth Fish Reads' Weekend Cooking.
If you've read any of my recent Weekend Cooking posts, you know that I gave my husband a membership to The Lobster Place's Fish of the Month Club for Christmas this year. We receive a package at the beginning of the month with 5 different types of fish (which can be frozen) and accompanying recipes.

I love some sort of Asian dipping sauce as an accompaniment for tuna, but I haven't been happy with any I've tried to concoct at home. So, I was thrilled to find that I loved the Asian sauce from this recipe (even though I was surprised to see that it includes ketchup!) and it's super easy to make.
I've included the cooking method for the tuna from the recipe, but I just pan seared it over very high heat for about a minute per side instead. I like my tuna raw most of the way through, so obviously cook it longer if you're not partial to raw tuna!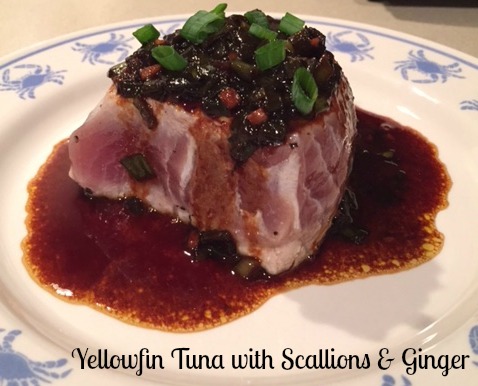 Yellowfin Tuna with Scallions and Ginger
Ingredients
1 1/2 cups extra-virgin olive oil
1 1/2 pounds fresh yellowfin tuna steaks (at least 1 inch thick, cut into 8 pieces)
Salt and freshly ground pepper
10 large scallions
1 1/2 teaspoons minced ginger
3 tablespoons balsamic vinegar
2 tablespoons soy sauce
1 tablespoon ketchup
1/2 tablespoon cold, unsalted butter
Directions
In a medium saucepan, heat the olive oil until a piece of scallion sizzles in it. Season the tuna pieces with salt and pepper and carefully add them to the saucepan; they should be completely immersed. Cook over low heat at a bare simmer until the tuna is just cooked through and a fork inserted in the fish comes out easily, about 7 minutes. Transfer the tuna to a plate and cover with foil to keep warm.
*I just pan seared the tuna for about a minute per side on very high heat instead.
In a small saucepan, heat 3 tablespoons of the tuna cooking oil (I just used regular olive oil). Add the scallions and ginger and saute over low heat until the scallions are tender, about 10 minutes (it took me less than 10 minutes). Add the balsamic vinegar and simmer for 1 minute. Stir in the soy sauce and ketchup and simmer gently for 1 minute. Remove from the heat and stir in the butter until smooth. Season with salt and pepper.
Set 2 pieces of tuna on each plate. Using a slotted spoon, spread a layer of the scallions on top of the tuna. Spoon the sauce on the fish and serve.
Recipe originally adapted from Food & Wine Magazine