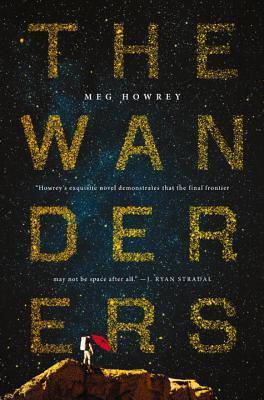 Fiction
Released March 14, 2017
384 Pages
Bottom Line: Read it.
Affiliate Link: Buy from Amazon

Source: Purchased (published by G.P. Putnam)
Headline
The Wanderers
will appeal to fans of Andy Weir's The Martian
 (my review), but manages to be its own thing entirely in a more psychological, less page-turnery way…and is the most unique book I've read all year.
Plot Summary
Prime Space (a private space exploration company) puts Helen, Sergei, and Yoshi (the meticulously selected crew for Prime's first manned mission to Mars) through an incredibly life-like, seventeen months-long simulation (called Eidolon) of the mission.
Why I Read It
I really liked The Martian and Station Eleven
 (two books The Wanderers has been compared to) and heard good reports from Rebecca Schinsky on Book Riot's All the Books podcast and from Michelle at That's What She Read.
Major Themes
Space travel, psychological implications of long separations from family, how people behave when they're being monitored 24/7, extreme stress
What I Loved
If her mother goes to Mars, then that will be the only story of Mireille's life. It will wipe out everything. Mireille wants to stay with that thought a little, but promises herself she will return to it later, when she has more time to savor how awful it is.
Nobody is allowed to say the words crash or explosion within a ten-kilometer radius of Prime Space. Suggested alternatives are: RUSE (Rapid Unplanned Separation Event) and learning experience.
What I Didn't Like
A Defining Quote
There are many things that can go wrong in the first minutes of leaving Earth and most of them come with a decision-making window of less than five seconds. If you are an astronaut it means that you are someone who can assess and react quickly. If you are a great astronaut it means that while your mental and physical reactions operate at top speed, your emotional reactions are stately and glacial. The combination that works best is someone who only needs four seconds to get to: This is what we need to do, and four months to get to: Gee, I'm a little bit uncomfortable.
Good for People Who Like…
Space, Mars, stories about mothers and daughters, stories about fathers and sons, unconventional families, gorgeous writing, unexpected humor, snarky humor, style books.
Other Books You May Like
Another novel about humans on Mars:
The Martian by Andy Weir
A nonfiction book about the scientific oddities of space:
Packing for Mars
 by Mary Roach