This post is part of fellow book blogger, Beth Fish Reads', weekly meme (a "community" blog post, for all those non-bloggers out there) called Weekend Cooking.
Sometimes I crave Thai flavors, but don't want to mess with long lists of ingredients (including some hard to find ones!). This is a quick and easy recipe that brings the Thai flavor using only a few ingredients that can be found in most grocery stores. And, it's relatively healthy!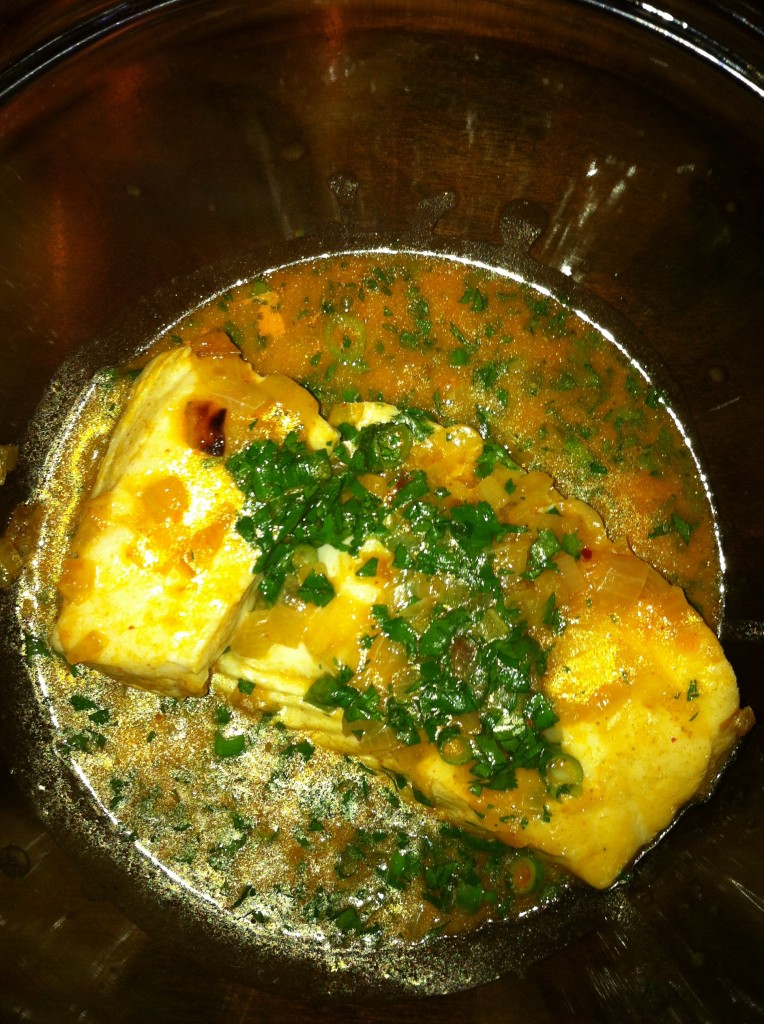 The recipe calls for the fish and broth to be served with brown rice, but I also like it with crusty bread for dipping or "soup style". When I made this Friday night, I served it soup style and then ate the broth with a spoon after I was done with the fish. Delicious!
Thai-Style Halibut with Coconut-Curry Broth
Courtesy of Food Network's Ellie Krieger: Link to recipe on Foodnetwork.com
2 teaspoons vegetable oil
4 shallots, finely chopped (about 3/4 cup)
2 1/2 teaspoons red curry paste, or 2 teaspoons curry powder (I use curry paste)
2 cups low-sodium chicken broth
1/2 cup light coconut milk
1/2 teaspoon salt, plus 1/4 teaspoon, plus more for seasoning
4 (6-ounce) pieces halibut fillet, skin removed (I've also made this recipe with sea bass and it's delicious!)
1/2 cup coarsely chopped fresh cilantro leaves
2 scallions, green part only, thinly sliced
2 tablespoons fresh lime juice
Freshly ground black pepper
2 cups cooked brown rice, for serving

In a large saute pan, heat the oil over moderate heat. Add the shallots and cook, stirring occasionally, until beginning to brown, 3 to 5 minutes. Add the curry paste and cook, stirring, until fragrant, about 30 seconds. Add the chicken broth, coconut milk, 1/2 teaspoon salt and simmer until reduced to 2 cups, about 5 minutes.
Season the halibut with 1/4 teaspoon salt. Arrange the fish in the pan and gently shake the pan so the fish is coated with the sauce. Cover and cook until the fish flakes easily with a fork, about 7 minutes.
Top with the fish fillets. Stir the cilantro, scallions, and lime juice into the sauce and season, to taste, with salt and pepper. Ladle the sauce over the fish and serve with rice.