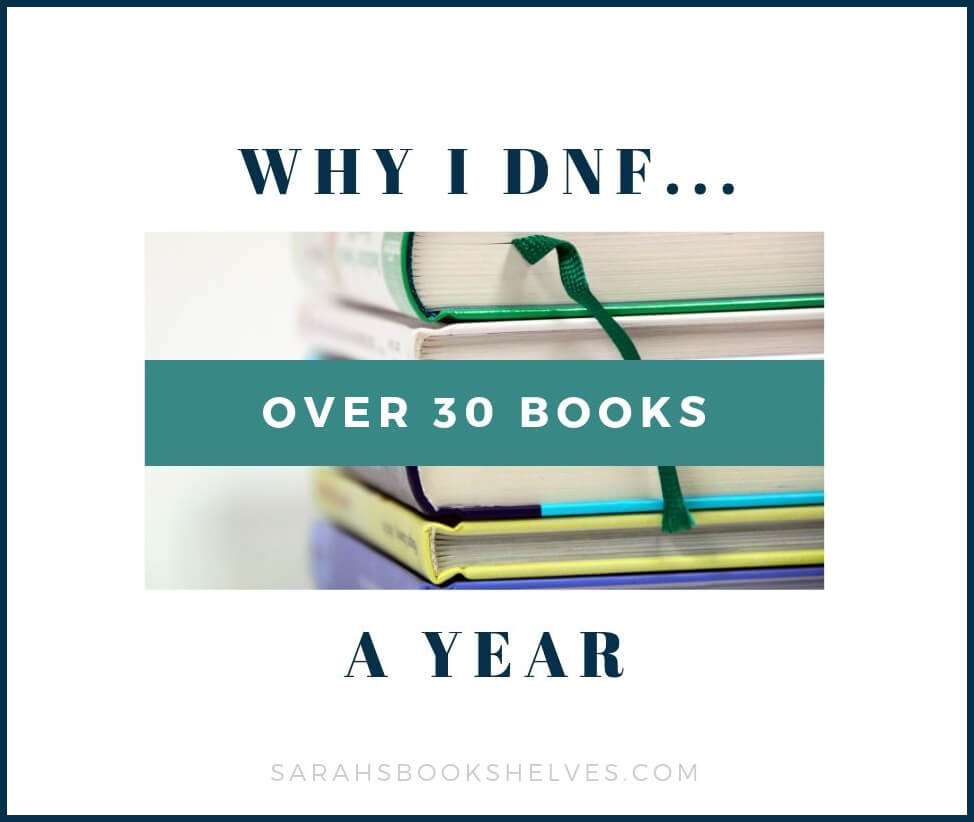 My regular readers / podcast listeners (my podcast is Sarah's Book Shelves Live) know that I'm an unapologetic DNF'er of books. And, that I wouldn't have it any other way. But, I recently realized that not all my readers / listeners understand why I DNF over 30 books a year (so far this year, I've DNF'd 18 books, 32% of the books I've attempted).
Given this feedback, I thought it would be helpful if I laid out exactly why I DNF so many books. Keep in mind, the reasons below work for me and may not work for you…and that's OK! But, if you were to ask me the single best tip for jumpstarting your reading life…I'd tell you to DNF more books.
Why I DNF Over 30 Books a Year
I'm scouting books to recommend to my readers / listeners…
As a blogger/podcaster/Bookstagrammer, one of the primary purposes of my reading is to find great books to recommend to other people. And, I want to find as many of these as possible.
Once I realize I'm not going to recommend a particular book to others, there's really no purpose in me continuing to read it. And, abandoning books I know I'm not going to recommend frees me up to find the books I will recommend!
For more discussion on this, check out Episode 21 of the podcast with Mary Laura Philpott!
In many cases, I'm reading books before they're published….
Also because of my role as a blogger/podcaster/Bookstagrammer, many of the books I read are Advanced Review Copies (aka "ARCs") that I get from publishers well before the books are released to the general public.
This means there isn't as much feedback or as many reviews available about many of the books I read when I'm reading them. The number one way readers find new books is through word of mouth…and that recommendation source is often not available to me. So, the books I'm reading are often untested…which means there will be more duds for me than for someone who reads books that have lots of positive feedback built up.
My reading time is limited and I want to spend it reading books I'm enjoying (aka the "I read for pleasure" reason)…
We're all adults here! We're not in school anymore (well, I assume most of my readers / listeners aren't…if you are, then keep plugging away at that assigned reading)! We can read what we want without feeling bad about it. 
If you don't believe me, author John Irving has this to say about it:
Grown-ups shouldn't finish books they're not enjoying. When you're no longer a child, and you no longer live at home, you don't have to finish everything on your plate. One reward of leaving school is you don't have to finish books you don't like.
Being free to DNF enables me to take more risks on books outside of my comfort zone…
If I know I can put a book down if I don't like it, I'm much more willing to try books I may not initially think I'll like. Would you try a book you weren't really interested in if you thought you were committed to spending 6 hours reading it?
Most recently, this played out for me with Daisy Jones & the Six by Taylor Jenkins Reid (my review) and City of Girls by Elizabeth Gilbert. I wasn't particularly interested in either, but I decided to give them a try because of all the buzz and I ended up rating both 5 stars.
DNFing helps me minimize reading slumps…
Nothing will slow my reading down faster than trying to push through a book I don't like. It takes me much longer to get through that kind of book because I'm not motivated to find every available moment to read it.
Why do you DNF books? Or, why do you not?
Pin this post…