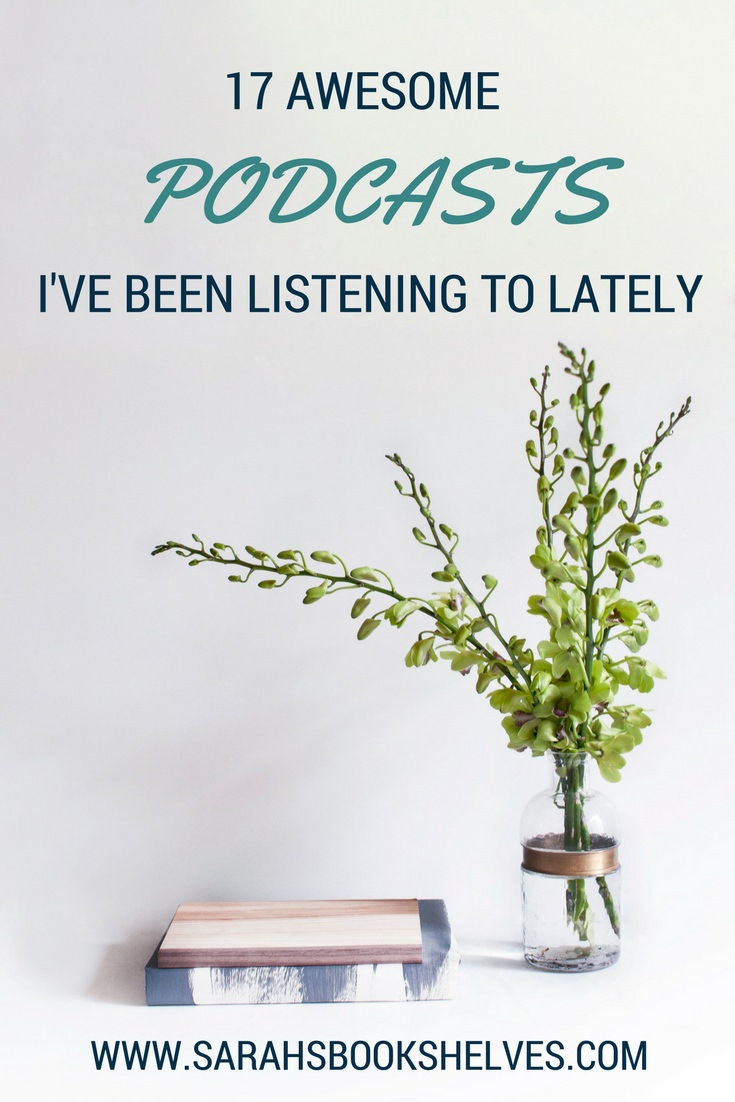 Podcasts are my one of my favorite forms of entertainment these days…mostly because they make boring tasks way more interesting and they work for me during times when audiobooks don't. So, I thought it was about time to share the awesome podcasts I've been listening to lately (some of which are brand, spankin' new!)!
I should absolutely be embarrassed about some of these (I know my mom will be), but I like a healthy mix of high and lowbrow entertainment.
I focused on newer-to-me podcasts for this post, so I haven't included a few huge podcasts that I've been listening to for a long time (The Book Riot Podcast, All the Books, and What Should I Read Next?). 
Podcasts about Books and Reading
Annotated
Just launched (as in 2 weeks ago) by the folks at Book Riot, Jeff O'Neal and Rebecca Schinsky (co-hosts of The Book Riot Podcast) host what they've described as "This American Life for books." Only one episode has dropped so far ("Is It 1984 Yet?"), but it was a fascinating one!
Drunk Booksellers
In this monthly podcast, hosts Kim and Emma interview different booksellers about books and bookstores…and feature a special cocktail. The talk is often boozy and profane, which is fine with me! There hasn't been a new episode since May, but I'm hoping that will change soon.
From the Front Porch
Annie Jones and Chris Jensen of The Bookshelf in Thomasville, Georgia talk "books, small business, and life in the South." I've recently gotten some fantastic book recommendations from this podcast, especially from Annie. She steered me in the right direction on Rabbit Cake and Standard Deviation…and now I'm anxiously awaiting American Fire
 (out today) thanks to her (and Book of the Month Club). I'm a big fan of their monthly reading recaps and "Love it or Loathe it" feature (where they break down whether they loved or hated a particular book…most recently A Separation).
Just the Right Book with Roxanne Coady
Hosted by the owner of R.J. Julia Booksellers (an independent bookstore in Madison, CT), Just the Right Book features author interviews, reading discussions, and book recommendations. I'm partial to her author interviews and have recently loved episodes featuring Kareem Abdul-Jabbar, John Grisham, and Yewande Omotoso (author of The Woman Next Door).
Reading Glasses
I literally just started listening to this podcast hosted by Brea Grant and Mallory O'Meara where they "help you get more out of your literary experiences." I enjoyed a recent episode on caring about book awards and am planning to dig into their backlist with Readers in a Non-Reader World and Navigating New Releases.
Podcasts with Great Blogging Tips
Brilliant Business Moms
Hosted by Beth Anne Schwamberger, owner of Brilliant Business Moms, which provides practical business advice and community support for "Mamapreneurs." The podcast highlights practical business advice from mom entrepreneur guests. While not every episode is pertinent to bloggers, many of them are! I've learned a ton about social media, email marketing, branding, and how to think creatively from Beth Anne and her guests.

The Chopped Podcast
Hosted by Marly McMillen of NamelyMarly.com, this podcast is actually for food bloggers, but much of the information is applicable to blogging in general. She generally interviews a guest and recent episodes on SEO (#124) and Google Analytics (#129) are chock full of awesome information that bloggers should know, but probably don't.
The Strategy Hour Podcast
Abagail and Emylee help female online entrepreneurs "break down their Oprah-sized dreams to create a functioning command center to tame the chaos of their business." Their podcast, blog, and online courses are chock full of tips that are applicable to book bloggers…email marketing, social media, how to run a successful launch, how to stay mentally positive, and much more. Their "badass boss babe" attitude will make you feel like you can do literally anything!

Non-Trashy Entertainment Podcasts
30 for 30 Podcasts
Y'all have probably heard of ESPN's 30 for 30 documentary series…well, it just became a brand spanking new podcast! 30 for 30 tackles sports stories "that touch on larger themes beyond sports." The first episode featuring the U.S. decathlon duo (and Reebok marketing juggernauts) Dan and Dave grabbed my Olympics-loving heart.  
Revisionist History
Malcolm Gladwell (author of Outliers
and The Tipping Point
) "reinterprets something from the past: an event, a person, an idea. Something overlooked. Something misunderstood." Season 2 premiered recently with episodes on L.A. golf courses (I swear, this is fascinating) and a look at a terrorist who switched sides. Some of my favorite episodes from Season 1 are The Big Man Can't Shoot (about granny-style free throw shooting in the NBA) and Carlos Doesn't Remember (about how hard it is to overcome hardship in the American school system).
Sorta Awesome
Co-hosted by Megan Tietz, Rebekah Hoffer, Laura Tremaine, and Kelly Gordon, Sorta Awesome is "geared toward women who want to stay current on all things awesome, including culture, media, trending conversations and general girlfriend chat." They talk about anything and everything and I'm not always interested in every episode. But, a couple episodes have really stuck with me (The Awesome Freedom of the Don't Do List and S-Town by Serial: Thoughts and Theories) and they often talk books, including a monthly preview of the Book of the Month Club selections.
Trashy Entertainment Podcasts (i.e. The Bachelor franchise and other reality TV)
Channel 33's Bachelor/ette Party
Juliet Litman and a guest host break down The Bachelor franchise shows without spoilers. I'm generally on Juliet's page about which contestants are terrible and which are pretty awesome…and she has a massive and awkwardly open crush on Ben Higgins.
Channel 33's Jam Session
The Ringer's Juliet Litman (also co-host of Bachelor/ette Party, mentioned above) and Mallory Rubin talk celebrity gossip and pop culture. Juliet, in particular's, take on things is right up my alley. She and I are often on the same page about the celebrities who are douchebags and general douchebag behavior.
Mouthing Off with Olivia Caridi
Olivia Caridi, resident Bachelor villain from Ben Higgins' season, talks to various reality TV stars. She's a smart and witty interviewer (she was a broadcast journalist before going on The Bachelor) and isn't afraid to call B.S. on some of her guests. She interviews lots of past Bachelor contestants, but also branches out from Bachelor Nation (into Southern Charm, which makes me happy!).
Reality Steve Podcast
Y'all have probably heard me talk about Reality Steve before…he's the blogger that spoils all the Bachelor franchise shows every season. And, provides a look behind the curtain of reality TV and The Bachelor/ette in particular. He's gotten me to watch the show an entirely different way. On the podcast, he interviews past contestants who are no longer under contract with ABC (so they spill tons of dirt) and is now branching out into other people from the reality TV world.
The Ben and Ashley I Almost Famous Podcast
Co-hosts ex-Bachelor Ben Higgins and ex-Bachelor and Bachelor in Paradise contestant/resident crier Ashley Iaconetti chat about all things Bachelor and interview past contestants. They have a silly dynamic and I promise Ashley is actually smart and articulate (despite her showing on the Bachelor shows). Though there are definitely some things that annoy me about this podcast (particularly Ben's tendency to talk down to and over Ashley and the cheesy "call-ins" they do), but the juicy gossip does outweigh the bad.
Do you listen to podcasts? What awesome ones have you been listening to lately?