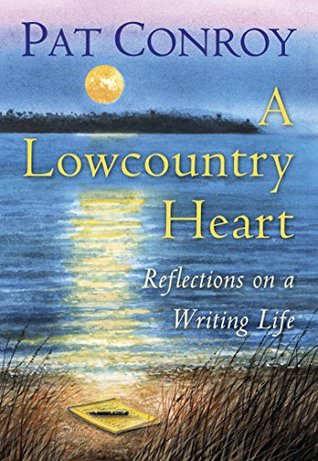 Nonfiction – Memoir/Essays
Released October 25, 2016
320 Pages
Bottom Line: Read it…if you're a Pat Conroy fan.
Affiliate Link: Buy from Amazon

Source: Publisher (Nan A. Talese) via NetGalley

Summary
A collection of Pat Conroy's writing on a range of topics (including letters to readers and thoughts on reading, writing, and beloved friends and family) and his most popular speeches and interviews.
My Thoughts
If you read this blog regularly, you know I'm a huge Conroy fan and will gobble up pretty much anything he writes. I'll even forgive him the occasional divergences into over-the-top writing. So, after his death earlier this year, I was thrilled to hear we'd get one last collection of Conroy nonfiction. This entire book feels like an homage to Conroy, his career, and the most important people in his life…even though most of the pieces are written by Conroy himself. You feel like you're reading his final words and thoughts…though he couldn't have known that when he was writing these pieces.
As I was reading, I kept marveling at the new things I was learning about Conroy…despite having already read everything there is to read about his life. Here are some of my favorites.
On South Carolina…
South Carolina is not a state; it is a cult.
On sports…
Sports can teach you everything you need to know about yourself.
On literary taste (no fantasy, dystopian, or sci-fi for him, except Margaret Atwood and George R.R. Martin)…
Literary taste is the defining thing in all of us. It is as unpredictable as it is fascinating.
On promoting his books (and I suspect this is rare for authors)…
I got out to sell books and it has become one of the greatest things about being a writer during my lifetime. No writer should turn down the chance of meeting the readers of his work.
On specific books and authors…
Yes to The World According to Garp by John Irving, Ann Patchett, Anne Rivers Siddons, Leo Tolstoy, Richard Russo, Jonathan Franzen, Serena by Ron Rash
No to Infinite Jest by David Foster Wallace, Thomas Pynchon, Martin Amis
On writing style…
Tim never liked anything I wrote. As an English teacher, he insisted the prose be spare, unadorned, unflashy, but hard-hitting and severe. From the beginning of my career in Beaufort, Tim found my writing overcaffeinated, pretentious, and blowsy.
On the Citadel's plebe system…
It let me know exactly the kind of man I wanted to become. It made me ache to be a contributing citizen in whatever society I found myself in, to live out a life I could be proud of, and always to measure up to what I took to be the highest ideals of a Citadel man – or, now, a Citadel woman.
A primer for his most famous novels…
In The Great Santini, it was – why did I hate my father? In The Lords of Discipline – why I hated the plebe system. In The Prince of Tides – why did my sister go crazy?
On My Losing Season…
It might be the best book I will ever write.
On the first line of The Lords of Discipline ("I wear the ring.")…
I think it is the best line I have ever written and best English sentence I am capable of writing. I love that phrase; I love that sentence.
On his career overall…
Though I wish I'd written a lot more, been bolder with my talent, more forgiving of my weaknesses, I've managed to draw a magic audience into my circle. They come to my signings to tell me stories, their stories. The ones that have hurt them and made their nights long and their lives harder.
A Lowcountry Heart is a book for Conroy fans and feels almost like a commemorative artifact. It has a gift-y feel, so would make a perfect holiday gift for Conroy fans this Christmas/whatever you celebrate.