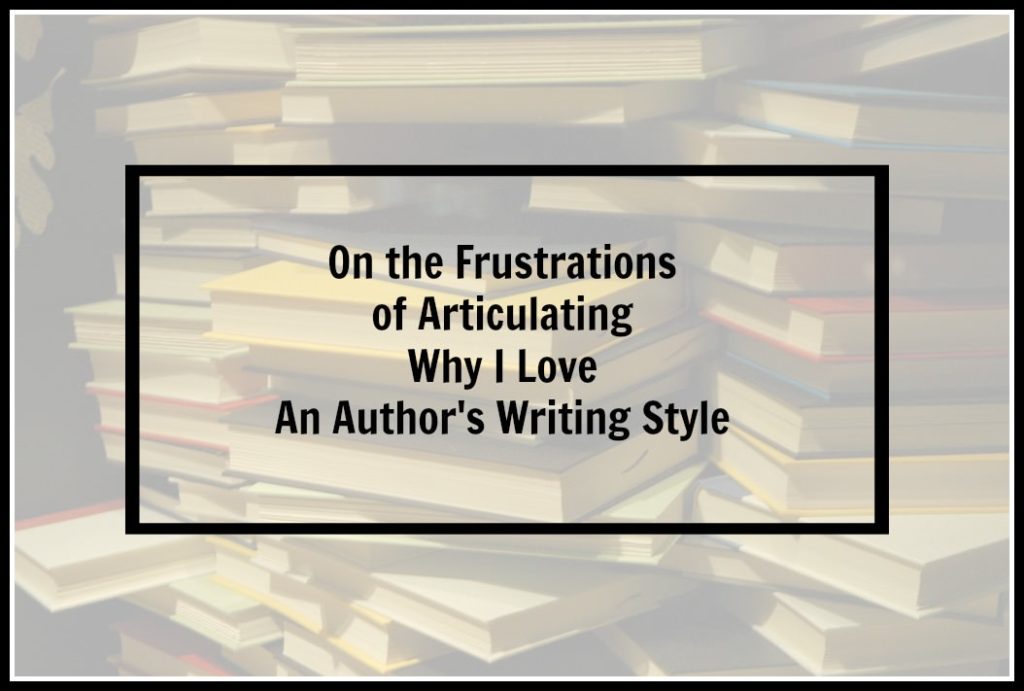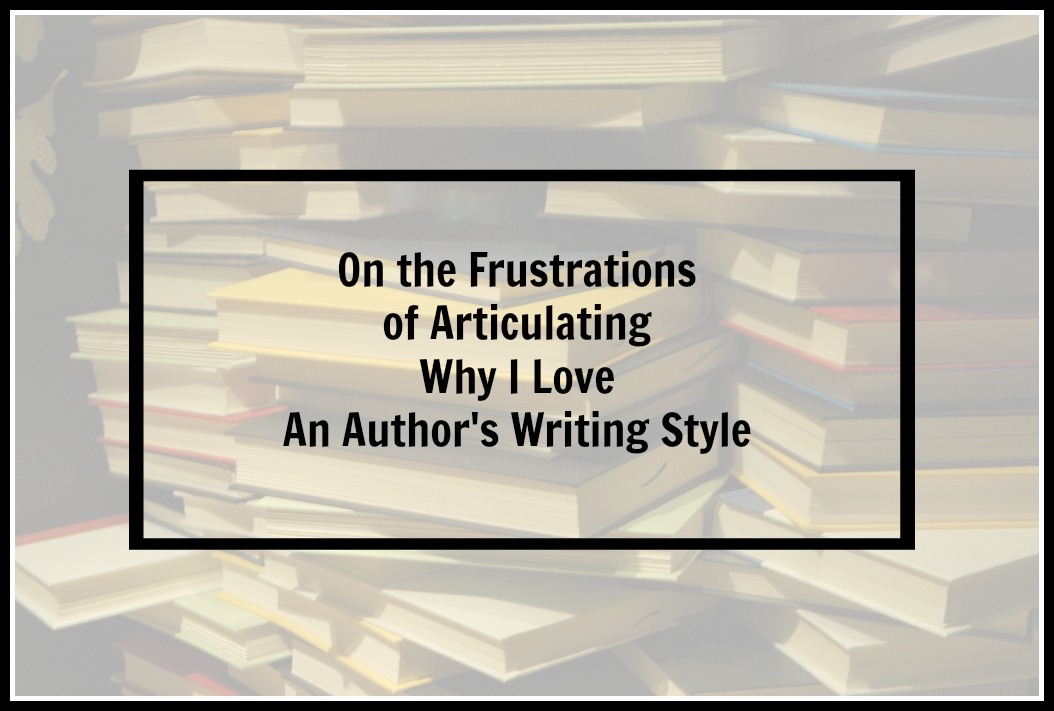 I've found myself in a conundrum involving some of the best books I've read recently. Generally, the overriding factor that makes me love a book is the writing style truly speaking to me. But, what does that even mean?! It's one of the hardest things to clearly articulate in a book review. So, I end up with less than convincing reviews of some of my favorite books.
I've found myself just typing "gorgeous writing!" over and over or, if I'm feeling motivated, trying to use a different word combination that also means "gorgeous writing." I've jammed reviews with quotes from the book…or written reviews almost entirely in quotes. What I haven't done is intelligibly explain exactly what about an author's writing style makes it appeal to me. It's almost easier for me to articulate why I don't like a particular writing style than why I do. So, I'm going to attempt to articulate what type of writing appeals to me here.
Writing that appeals to me…
Is, as Pat Conroy's friend Tim Belk put it: "spare, unadorned, unflashy, but hard-hitting and severe." (from

A Lowcountry Heart

)
From The Mothers by Brit Bennett:

How could she be proud of lapping her mother, when she had been the one to slow her down in the first place?

From Darling Days by iO Tillett Wright:

Later, she would say that there was never a gun in the house. She would swear to this, like a Mafia wife, blinded by passion or loyalty. Either way it wasn't completely true. There was a gun under her pillow. Whether or not he pulled it out before they shot him, nobody knows.
Makes me feel – either straight-up emotion or a strong sense of place
From Did You Ever Have A Family by Bill Clegg (emotion):

She heard her name called out—timidly, unsure—but she did not stop or turn around to respond. She was, she sensed sharply as she reached the far side of the parking lot, an untouchable. Not from scorn or fear, but from the obscenity of the loss. It was inconsolable, and the daunting completeness of it—everyone, gone—silenced even those most used to calamity.

From The Prince of Tides by Pat Conroy (sense of place):

These are the quicksilver moments of my childhood […]. Irresistible and emblematic […]. There is a river, the town, my grandfather steering a boat through the channel, my sister fixed in that suspended rapture that she would later translate into her strongest poems, the metallic perfume of harvested oysters, the belling voices of children on the shore. When the white porpoise comes there is all this and transfiguration too.
Clearly communicates that the author is an astute observer of life (i.e. "yes, that's exactly how it is" writing)
Maggie Shipstead (author of Seating Arrangements) used the phrase "yes, that's exactly how it is" to describe Adelle Waldman's portrayal of NYC dating in The Love Affairs of Nathaniel P. It's the first thing that comes to mind when I find writing that just perfectly captures the essence of something…in a way I may not have heard before.
From Shotgun Lovesongs by Nicholas Butler:

On old male friendships:
"[…] that familiarity, that ability to run together, to move together without ever talking. That kind of stillness."

From The Wife by Meg Wolitzer:

Everyone knows how women soldier on, how women dream up blueprints, recipes, ideas for a better world, and then sometimes lose them on the way to the crib in the middle of the night, on the way to the Stop & Shop, or the bath. They lose them on the way to greasing the path on which their husband and children will ride serenely through life.
Delivers spot-on social commentary
From The Dinner by Herman Koch:

He never used to have such a powerful handshake, but in the last few years he had realized that "the people of this country" had to be met with a firm grip – that they would never vote for a fishy handshake.
"Gets to the nasty heart of things" – Catherine at Gilmore Guide to Books used this phrase to describe the writing in Herman Koch's

Dear Mr. M

. Koch is unafraid to say the things that most people wouldn't dare say in polite company.
From Dear Mr. M by Herman Koch

Women have more time to read than men. Once their vacuuming is done they open a book – your book – and start to read. And that evening in bed they're still reading. When their husband rolls onto his side and places a hand on their stomach, close to the navel or just below the breasts, they push that hand away. "Leave me alone, okay, I just want to finish this chapter," they say, then read on. Sometimes women have a headache, sometimes they're having their period, sometimes they're reading a book.
Writing Characteristics that Don't Appeal to Me
Flowery language / just too over the top
From The Prince of Tides by Pat Conroy (though I adore Conroy, he can sometimes go too far):

When there were no roses to be thrown, she brought forward the disturbed angels of nightmare who sang the canticles of knives and the blue vulnerable veins in her pale wrists.
From A Gentleman in Moscow by Amor Towles 

The sky was the very blue that the cupolas of St. Basil's had been painted for. Their pinks, greens, and golds shimmered as if it were the sole purpose of a religion to cheer its Divinity.
Other Books I've Loved Because of the Writing Style…
Commonwealth by Ann Patchett
My Sunshine Away by M.O. Walsh
Only Love Can Break Your Heart by Ed Tarkington
Sweetbitter by Stephanie Danler
The Interestings by Meg Wolitzer
The Throwback Special by Chris Bachelder
What characteristics are important in writing styles you love? Who are some of the authors whose writing styles really speak to you?