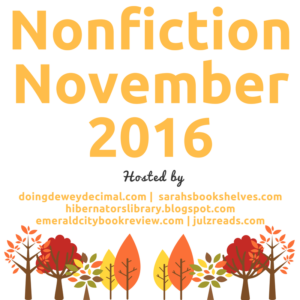 This week's Nonfiction November (hosted by Katie at Doing Dewey, Lory at Emerald City Book Review, Rachel at Hibernator's Library, Julz at Julz Reads, and me) topic is Be The Expert/Ask the Expert/Become the Expert:
Three ways to join in this week! You can either share 3 or more books on a single topic that you have read and can recommend (be the expert), you can put the call out for good nonfiction on a specific topic that you have been dying to read (ask the expert), or you can create your own list of books on a topic that you'd like to read (become the expert).
Hop on over to Julz Reads to link up your posts!
If you're a regular reader of this blog, you know I love books about dysfunctional families. And, lucky for me, there's a plethora of those in the world of fiction. But, turns out heartbreaking childhoods, for better or for worse, lend themselves to fantastic memoirs as well. Here are some of my favorites…
Dysfunctional Childhood Memoirs
A Wolf at the Table by Augusten Burroughs
An abusive and emotionally distant father.
All Over But the Shoutin' by Rick Bragg
Extreme poverty in the deep South, an alcoholic and volatile father, and a mother trying to hold her family together through it all.
Darling Days by iO Tillett Wright
Wright's tough upbringing on New York City's Lower East Side in the late 80's/early 90's…including poverty, her parents's addictions, and her struggle with gender identity and sexuality.
Fiction Ruined My Family by Jeanne Darst
An alcoholic mother and a father forever trying to publish the "Great American Novel" at the expense of providing for his children…and Darst's struggle not to repeat her parents's mistakes in adulthood.
Hillbilly Elegy by J.D. Vance
Growing up poor in Appalachia with an erratic mother plus social analysis of the Appalachian poor's struggle to achieve upward mobility.
Hungry Heart by Jennifer Weiner
Overcoming body image issues and managing life with an erratic father.
Still Points North by Leigh Newman
Navigating Newman's parents's divorce and disparate lifestyles.
The Death of Santini by Pat Conroy
Reflections on rebuilding a relationship with literature's most famous abusive father.
The Glass Castle by Jeannette Walls
A vibrant, yet destructively alcoholic father and an eccentric mother averse to domestic stability.