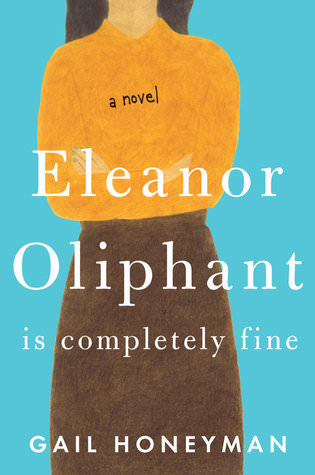 Fiction – Debut
Released May 9, 2017
336 Pages
Bottom Line: Read it…if you like heart-warming stories with tidy endings. Otherwise, Skip it.
Affiliate Link: Buy from Amazon
Source: Purchased (published by Pamela Dorman Books)
Headline
I liked Eleanor Oliphant Is Completely Fine
alright, but I'm not on the bandwagon with the level of hype it's getting.
Plot Summary
Quirky and broken Eleanor Oliphant is living a solitary life when she strikes up a friendship with Raymond, the IT guy at her office, which opens her eyes to a different way of living.
Why I Read It
This book has been getting tons of buzz and two book bloggers whose taste I generally agree with recently loved it (Susie at Novel Visits and Tara at Running N Reading).
Major Themes
Childhood Trauma, Abuse, Family Secrets, Friendship, Redemption
What I Liked
I loved Eleanor…and I suspect she is why this book is getting such high praise from some. She's quirky, solitary, and doesn't fit in well with the world, but she makes no bones about who she is and is completely endearing. And, with her tragic childhood, I was rooting for her to figure out how to actually participate in the world rather than just skim the surface of life.

I was super curious about Eleanor's past. How did she get her scars? How did she end up in foster care? What happened with her mother? What was the big incident that blew up her life? These questions kept me reading, but I wish the book had delved deeper into them.

Eleanor went on some spectacular rants about things that irked her about everyday life. They were salty and funny and I completely agreed with most of them. Here's one:




On wedding gifts/registries:
Of all the compulsory financial contributions, that is the one that irks me most. Two people wander around John Lewis picking out lovely items for themselves, and then they make other people pay for them. It's bare-faced effrontery. They choose things like plates, bowls and cutlery—I mean, what are they doing at the moment: shoveling food from packets into their mouths with their bare hands? I simply fail to see how the act of legally formalizing a human relationship necessitates friends, family and coworkers upgrading the contents of their kitchen for them.
What I Didn't Like
While I can see appeal of this book for some people (it's a heart-warming, feel-good story), it didn't live up to the hype for me. I liked it fine, but I expected to like it much more based on the reviews and the hype. That being said, I am still recommending it for a certain type of reader (those that like heart-warming stories that are neatly tied up) because I know there are lots of this type of reader out there…it's just not me.

I was so curious about Eleanor's childhood and her relationship with her mother. Those issues were one of the main hooks that kept me reading. But, I felt like the story focused more on Eleanor's friendship with Raymond and learning how to interact with the world again. I wish Honeyman had gone darker and delved deeper into Eleanor's childhood and the nitty, gritty of what went down. I kept thinking it would happen, but it never really did.

While the story is certainly heart-warming, it felt a little cliche to me…in a bit of a rom-com way.

The ending was too neat and tidy. And, there was one particular element that is often used in novels that absolutely drives me crazy every time I see it. It feels like a cop out. I don't want to spoil anything, so I won't say anymore.
A Defining Quote
My life, I realized, had gone wrong. Very, very wrong. I wasn't supposed to live like this. No one was supposed to live like this. The problem was that I simply didn't know how to make it right. Mummy's way was wrong, I knew that. But no one had ever shown me the right way to live a life, and although I'd tried my best over the years, I simply didn't know how to make things better. I could not solve the puzzle of me.
Good for People Who Like…
Dysfunctional childhoods, heart-warming stories, neat and tidy endings, quirky characters
Other Books You May Like
Another heart-warming story about people facing an unconventional situation:
This Is How It Always Is
by Laurie Frankel (my review)