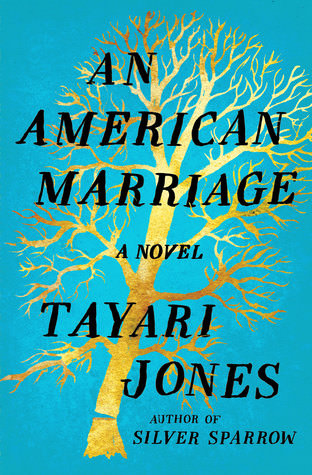 Fiction
Released February 6, 2018
320 Pages
Bottom Line: Read it.
Affiliate Link: Buy from Amazon
Source: Publisher (Algonquin Books)
Headline
An American Marriage
 is an intimately written novel that tackles a number of weighty current issues in an organic way…and is my favorite novel of 2018 so far!
Plot Summary
When Roy goes to prison for a crime he didn't commit only a year and a half into their new marriage, Celestial must figure out how to cope with his absence and shape her life in the face of this massive upheaval.
Why I Read It
This year, I'm trying to select books that come highly recommended by people whose recommendations I trust and that have already read the book (rather than are just excited to read it). An American Marriage
came with a 5 star review from Nicole Bonia of The Readerly Report Podcast. Since then, it's been chosen as an Oprah Book Club pick and a Book of the Month February selection.
Major Themes
Marriage (obviously), race, class, incarceration, love, friendship, family, grief, fidelity, recovery
What I Liked
You see how many major themes An American Marriage tackles? You'd think the story would feel cluttered with all that, but it doesn't. It's about so many things, but not overwhelmingly about any one of them (kind of like The Mothers). And, Jones handles them in a completely organic way that doesn't make the book feel overwhelmingly like "an issue book."
I loved the writing. It's not "gorgeous" in the traditional sense, rather it's casual, intimate, and has personality. I felt like I was hanging out in the backyard with each character (the story is told through multiple perspectives) as he/she told me his/her side of a crazy story.


I hate using that word, career. It always feels like the word bitch is hiding out between the letters.

Roy and Celestial's story digs deeper into race to the class divisions within the African American community. Roy comes from poverty and is driven to improve his station in the world, while Celestial comes from an upper class family. The ripple effects of these different mentalities has a large impact on their marriage.

The last quarter of the book is absolutely riveting. You want action? You'll get it here.

With all the issues addressed in An American Marriage, it's not surprising that it would make a great book club selection. There's a ton to discuss here including a big "what would you do in their shoes?" question.
What I Didn't Like
When I heard Nicole talk about this book on The Readerly Report Podcast, she advised to go in blind and I'm so glad I did. The publisher's blurb gives away far too many plot details and I'd advise you to avoid it if you're interested in reading this one! Sadly, I feel like I've had to list this item under "What I Didn't Like" for far too many books over the past couple years…

I'm not a fan of Epilogues in general and this one didn't drive me crazy, but it didn't add much to the story.
A Defining Quote
We were properly married for a year and a half, and we were happy for that time, at least I was. Maybe we didn't do happy like other people, but we're not your garden-variety bourgeois Atlanta Negroes where the husband goes to bed with his laptop under his pillow and the wife dreams about her blue-box jewelry. I was young, hungry, and on the come-up. Celestial was an artist, intense and gorgeous. We were like Love Jones, but grown. What can I say? I always had a weakness for shooting-star women.
Good for People Who Like…
Southern fiction, marriage, hard-hitting writing, books about "issues" that don't feel like "issue books"
Other Books You May Like
Another book that tackles weighty issues, but isn't overwhelmingly about any one of them:
The Mothers by Brit Bennett (my review)