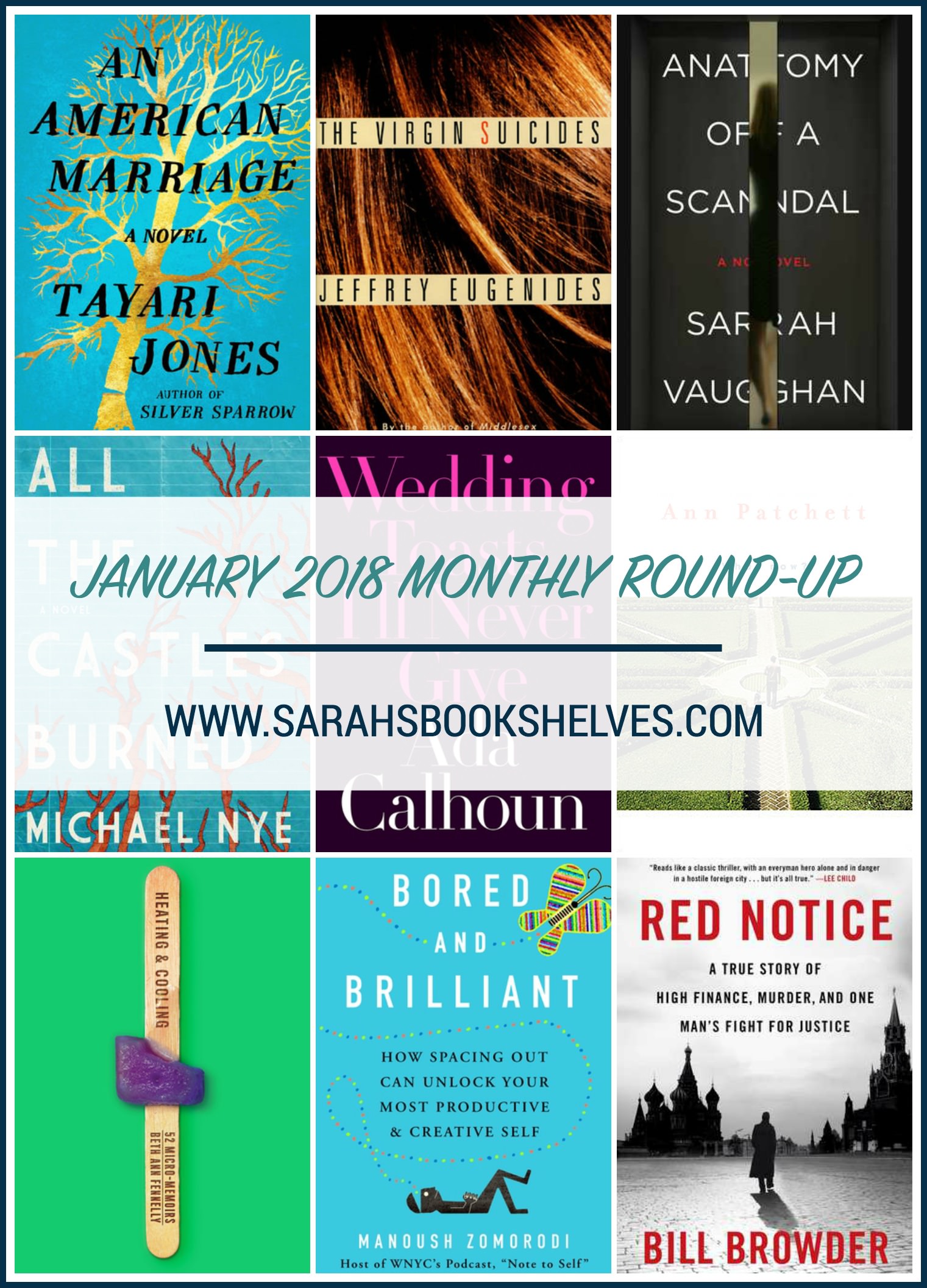 It was a rocky month on the personal front, which definitely impacted my reading. I still read 9 books, but only thanks to some super short ones! It was also a big month for backlist and audiobooks. But, I'm thrilled with my reading quality (see below for details) so far in 2018…I improved my "successful books" percentage from last year and DNF'd mostly the right books.
Winners
Losers
DNF's
Announcements
I'm going to leave the Sarah's Book Shelves Reader Survey open until the end of this week, so get your responses in if you want them included in my summary blog post (coming once I can compile all the data, hopefully by the end of the month).
January Book of the Month Club selections are due today! As always, I have commentary on all the selections.
January Quality and Recommendation Sources
Reading Quality
% Successful Books Attempted (includes DNF's) = 53% (improved from my 43% 2017 success rate!) 
% Successful Books Finished (does not include DNFs) = 89% (yay!)
Successful Recommendation Sources
If you're interested in tracking these types of stats, my "Rock Your Reading" Tracker does all the heavy lifting for you! Enter your book details and it automatically compiles everything into Summary Charts in real time! Go here for more details.
February Releases I'm Excited About
An American Marriage
 by Tayari Jones (February 6)
All the Castles Burned
by Michael Nye (February 13)
The Lost Girls of Camp Forevermore
 by Kim Fu (February 13)
Sunburn
by Laura Lippman (February 20)
I'll Be Gone in the Dark
 by Michelle McNamara (February 27)
Most Popular Posts
Posts Actually Published in January
Book of the Month Club January 2018 Selections: What Book Should You Choose?
Eight 2017 Books I Missed
What I'm Reading Now (1/8/18) and a Quick Catch-Up
Overall Posts
Book Club Recommendations
Behind Her Eyes and THAT Ending: Spoiler Discussion (#WTFthatending)
Most Anticipated Books of Winter 2018
Favorite Posts by Fellow Bloggers
How was your reading month?