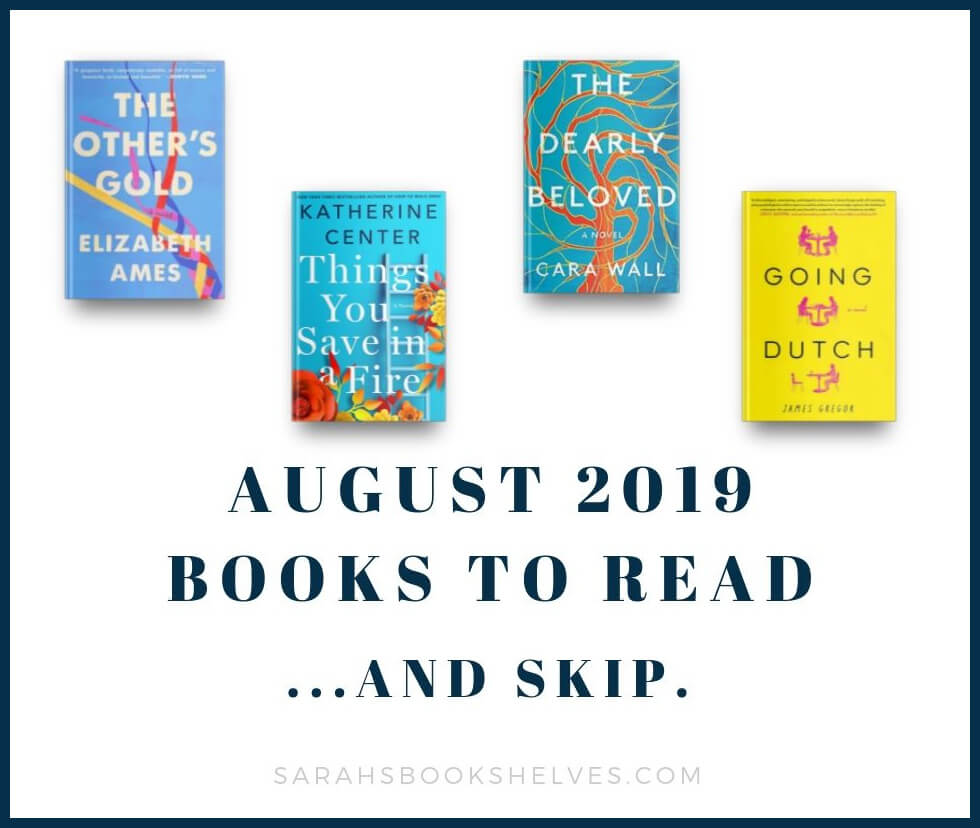 I didn't have many August releases (August is generally a slow month for publishing), but two of them were excellent…and I'll take that any month!
Hosted by Modern Mrs. Darcy.
This post contains affiliate links (plus: here's your Amazon Smile-specific affiliate link
).
Favorite Book of August 2019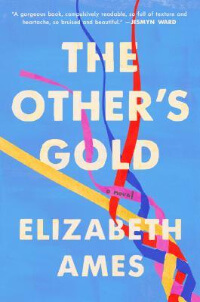 The Other's Gold
by Elizabeth Ames
Fiction – Literary (Release Date: August 27, 2019)
352 Pages
Affiliate Link: Buy from Amazon

Source: Publisher (Viking Books)

Plot Summary: The story of four female friends who meet at Quincy-Hawthorn College and face four large mistakes (one for each friend) in their lives.
My Thoughts: I was incredibly nervous about this debut novel…the premise is everything I normally love in a character-driven story (campus setting, female friendship, etc), but the intangibles are key to these types of novels working well. I shouldn't have worried because it was 5 stars for me! The writing style took me a minute to get used to (it has some very long sentences and requires a bit of concentration), but it's gorgeous and Ames is an astute observer of life. The four friends are each dazzling in their own way and, together, their light shines even brighter, making you want to be in their orbit. And, this extends to their pull on each other, creating intriguing dynamics. Ames's structure of the four mistakes could have been cliche, but her choices of what those mistakes were were brilliant. They are not ones you'd ever guess (trust me, these are not your run-of-the-mill life screw-ups) and I loved exploring the ripple effects of each one on the group. The Other's Gold is ultimately a story about these characters' chosen family seeing each other at their very worst moments and exploring how that impacts their relationships moving forward…and, it reminded me of The Interestings (my review) and The Ensemble (my review).
But Alice knew by now that most people lived in that same place, that everyone around her was just between escaping something and not knowing what might come for them next. All they could do was find those people whose hands they would hold fast when they ran.
Also Read This One
The Dearly Beloved
by Cara Wall
Fiction – Literary (Release Date: August 13, 2019)
338 Pages
Affiliate Link: Buy from Amazon

Source: Publisher (Simon & Schuster)

Plot Summary: Ministers Charles and James are hired to co-lead the congregation of New York City's Third Presbyterian Church in the 1960's and their families become inextricably linked despite their different beliefs.
My Thoughts: The Dearly Beloved is a yet another gorgeously written character-driven novel (we've been swimming in riches with these this year and I'm not mad about it!) involving two families. The writing style reminded me of Mary Beth Keane's in Ask Again, Yes (my review). But, I wasn't sure if I'd like this novel in the beginning…would be it too much religion (I'm not a super religious person)? Or, too quiet? It is relatively quiet and is most definitely a story about the characters' inner lives. But, it gradually got under my skin, really made me think, and I wanted to know what would happen to these people. Each character has a very different outlook on faith…making it easy to find at least one person to identify with. And, they all struggle with what exactly they believe for various reasons and they all evolve throughout the book. My one quibble is that I had a hard time keeping the characters' backgrounds straight in the beginning, but that worked itself out as I got farther into the story. The Dearly Beloved would make an excellent book club pick and is also going on my list of character-driven novels I couldn't put down!
They were, the four of them, married to each other, in a strange way. They had turned in their quarters and the church had given them a silver dollar. She was not James's only wife, now; he was just as committed to the church, and through the church, to Charles and Lily.
The DNF's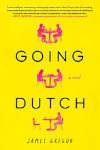 Going Dutch by James Gregor (August 20, 2019)
DNF at 13%
It was supposedly similar to The Love Affairs of Nathaniel P, which I loved (my review), with a gay protagonist. But, this version didn't work as well for me. The writing is good, but also kind of pompous in a Jay McInerney, New York City way (but, having lived in NYC for over 10 years, I didn't mind this that much). But, I just got kind of bored listening to this guy whine about everything in his life.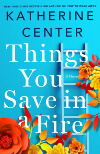 Things You Save in a Fire by Katherine Center (August 13, 2019)
DNF at 26%
I loved Center's previous novel, How to Walk Away (my review), but I had trouble getting into this one. Cassie is a badass leading lady, but her relentless schtick about not having feelings and not being interested in love got old quick for me.
What's the best book you've read so far this month?
Pin this post…