Today, I'm sharing the best nonfiction audiobooks I've listened to in the second half of 2019. But, I also wanted to share my overall favorite nonfiction audiobooks I listened to in 2019…
Favorite Audiobooks of 2019
I'd also be remiss if I didn't mention The Only Plane in the Sky by Garrett Graff (guest on podcast Ep. 38). I read this book in hardcover and it's one of my favorites of 2019. I haven't actually listened to the audiobook yet, but I've heard it's amazing and am planning to listen to it in 2020.
This post contains affiliate links (plus: here's your Amazon Smile-specific affiliate link
), through which I make a small commission when you make a purchase (at no cost to you!).
The Best Nonfiction Audiobooks I Listened to in 2019 (Second Half)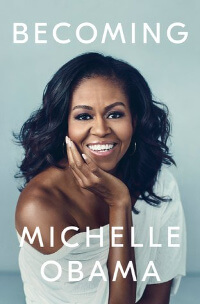 Becoming
by Michelle Obama, Narrated by the author
Memoir, Released November 13, 2018
19 Hours, 3 Minutes
Affiliate Link: Buy from Amazon
Plot Summary: Obama's story of her childhood and experience being the wife of Barack Obama and the First Lady of the United States.
My Thoughts: I don't typically like political books…especially Presidential (or, First Lady in this case!) memoirs…so I didn't initially think I'd read Becoming. But, I do really like politically adjacent memoirs (i.e. memoirs of life in the political world, but that are light on the politics themselves.) And, I kept hearing there weren't much actual politics in the book, so I decided to try it. And, that turned out to be true. I loved Michelle's perspective as a person who was not particularly interested in politics and found that whole world overwhelming. I loved hearing about how she struggled to keep her own identity through the political process and how she tried to maintain as normal a life as possible for Sasha and Malia despite the limelight. I preferred the middle half of the book that focused on these elements…and wasn't as interested in the beginning or the very end (which read like a rundown of key Presidential accomplishments). I commend her for her candidness about living what, in some respects, is a very strange existence in the White House.
Burnout
by Emily and Amelia Nagoski, Narrated by the authors
Self Improvement, Released March 26, 2019
7 Hours, 1 Minutes
Affiliate Link: Buy from Amazon
Plot Summary: Emily (a PhD) and Amelia (a DMA) investigate how women experience stress differently than men and share strategies for processing that stress.
My Thoughts: I listened to this book on the recommendation of Annie Jones (she wants all her employees to read it!) because I was feeling burned out at the time. I loved how the Nagoski sisters explained stress and burnout for women…the concept of human givers (and human giver syndrome) vs. human beings…and gave women permission to think about their own health and well-being despite society's pressure for them to put their own needs last. I also liked how the Nagoskis explained how stress works its way through your body and provided strategies to "complete the stress cycle." However, this book went deep into a number of tangents (i.e. weight loss) that I thought were unnecessary and felt a bit like the authors were trying to stretch what could have been a long-form article into a full length book. But, I did pick up enough helpful information that I do recommend it to women feeling like their stress will never end!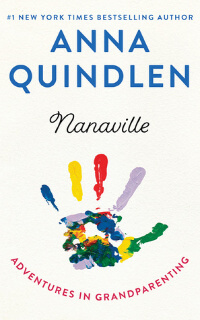 Nanaville
by Anna Quindlen, Narrated by Cynthia Farrell
Memoir, Released April 23, 2019
3 Hours, 34 Minutes
Affiliate Link: Buy from Amazon
Plot Summary: Quindlen's take on her experience being a grandmother.
My Thoughts: I'll more or less read anything Anna Quindlen writes…especially her nonfiction about motherhood, so I was obviously excited to hear what she'd have to say about being a grandmother. Her view on life is always relatable and down to earth, but she doesn't sugar-coat…and all that is on display in Nanaville. She also talks about how parent/grown child relationships evolve when grandchildren arrive and the mother-in-law/daughter-in-law relationship in particular. Nanaville is a tiny book that would make a great Mother's Day or holiday gift for your Mom or Grandmother (I included it on my 2019 Holiday Gift Guide).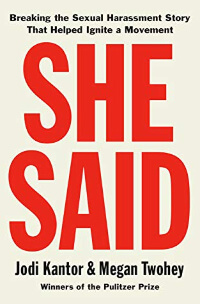 She Said: Breaking the Sexual Harassment Story That Helped Ignite a Movement
by Jodi Kantor and Megan Twohey, Narrated by Rebecca Lowman, Jodi Kantor and Megan Twohey
Nonfiction – Investigative Journalism (Released September 10, 2019)
9 Hours, 52 Minutes
Affiliate Link: Buy from Amazon
Plot Summary: Kantor and Twohey's story of how they broke the Harvey Weinstein sexual harassment story for The New York Times.
My Thoughts: I love investigative journalism, particularly on audio. And, She Said is a standout. I knew the general framework of the Harvey Weinstein story going in, but I truly didn't understand the breadth and scope of his abuse or the investigation itself until I listened to this book. This book is important, but it's also a riveting listen. I often chose to listen to this over podcasts (which is my personal sign of a winning audiobook). I understand why they included a section about the Brett Kavanaugh scandal at the end, but I wish it had been kept to the context of illustrating the Weinstein investigation's broader impact on the #metoo movement (along with other high profile sexual harassment scandals). Rather, they went into so much detail about it that it felt like another 1/4 of a book tacked on at the end. Despite this, She Said is one of my favorite audiobooks of 2019!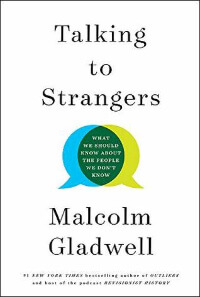 Talking to Strangers
by Malcolm Gladwell, Narrated by the author
Social Science, Released September 10, 2019
8 Hours, 42 Minutes
Affiliate Link: Buy from Amazon
Plot Summary: Gladwell uses examples pulled from history (Sylvia Plath's suicide) and the headlines (the Sandra Bland police tragedy, the Amanda Knox trial, the Bernie Madoff scandal, etc) to examine "what happens when we encounter people we don't know, why it often goes awry, and what it says about us."
My Thoughts: In case you haven't heard, the audio version of Talking to Strangers is produced like a podcast. You hear many of the actual interviews that Gladwell included in the book. I feel like this is somewhat ground-breaking for an audiobook and I loved this format (not surprising since I love podcasts). But, it's the kind of ground-breaking that makes you say "duh, why has no one else done this already?"…which is the best kind of ground-breaking, in my opinion. Gladwell uses data to look at situations that many people use intuition to examine…and comes up with different conclusions (similar to Michael Lewis). He examines people's mentality about trust…and essentially lays out why people tend to trust too much. While I found his take on each scenario he examined intriguing (though I didn't agree with them all…especially relating to Jerry Sandusky), the most intriguing being Bernie Madoff and the white collar criminal investigator he interviewed about the Madoff scandal, the thread tying all these examples together was a bit loose. It felt like he wanted to talk about these particular events and then shoved them into some connecting idea…not the other way around. But, I'm not sure I really care. The bottom line is I was fascinated by his take on each individual example.
Tell Me a Story: My Life with Pat Conroy
by Cassandra King Conroy, Narrated by Susan Bennett
Memoir, Released October 29, 2019
13 Hours, 2 Minutes
Affiliate Link: Buy from Amazon
Plot Summary: Cassandra King Conroy (author Pat Conroy's third wife) tells the story of her life with Pat Conroy, including their first meeting, long-distance dating, and finally marriage.
My Thoughts: Y'all know I could listen to stories about Pat Conroy for hours on end, so I obviously loved this book. King (I'm going to use that here to avoid confusion with Pat Conroy) is candid about her relationship with Pat and doesn't sugar-coat his faults. But, they were a uniquely good match for each other and that shines through in the way she talks about him and their relationship. She talks about her first marriage to a preacher, the marriage between two writers, Pat's complicated relationships with his family (including his daughter, Savannah), and the inspiration behind their books. It also made me want to go read King's novel that was inspired by her first marriage, The Sunday Wife.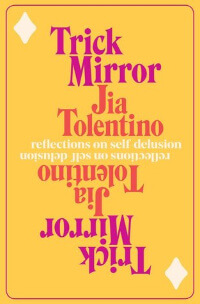 Trick Mirror: Reflections on Self-Delusion
by Jia Tolentino, Narrated by the Author
Memoir, Released August 6, 2019
9 Hours, 46 Minutes
Affiliate Link: Buy from Amazon
Plot Summary: Tolentino's essay collection about various issues that have made her who she is (mostly issues impacting millennial women).
My Thoughts: Sara Hildreth from @fictionmatters recommended this essay collection on Ep. 34 of my podcast. I liked each individual essay in this collection (she covers women in literature, barre class, Instagram, the reality show she was on, the UVA sexual assault story in Rolling Stone, and more). And, I particularly loved the essay about the real estate crash's and student loan bubble's impact on millennials in the workplace. My issue with this collection is the subtitle (and really the connecting thread)…I think it's a stretch. What does "reflections of self-delusion" even mean and how does it apply here? And, I couldn't really find a substitute connecting thread on my own. The collection sort of felt like various essays about young women these days and probably the topics impacting Tolentino in particular, but I think it's missing a strong, cohesive theme. This seems to be a running theme in the audiobooks I listened to over the last few months!
What's your favorite audiobook you listened to in 2019?
Pin this post…