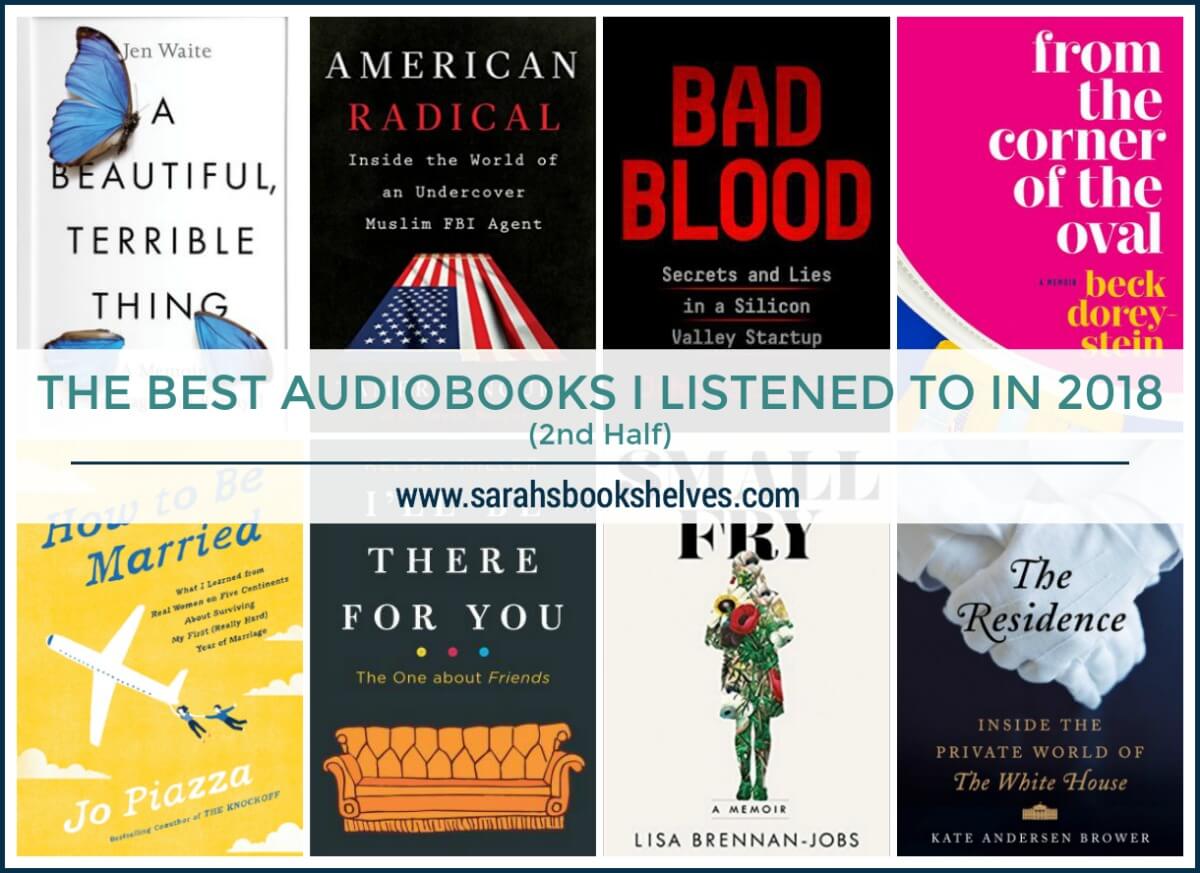 My audiobook listening really picked up in the second half of this year…mostly because I balanced it better with my podcast listening. I tend to do this when I'm listening to audiobooks that are catching my interest more.
Here are my best audiobooks I listened to in 2018…the second half (check out my post on the best audiobooks I listened to in the first half of 2018 here)…
This post contains affiliate links (plus: here's your Amazon Smile-specific affiliate link
), through which I make a small commission when you make a purchase (at no cost to you!).
The Best Audiobooks I Listened to in 2018 (Second Half)
A Beautiful, Terrible Thing by Jen Waite (Memoir, Released July 11, 2017)
Waite's memoir of her marriage to a psychopath / sociopath (Marco) is every wife's nightmare come to life. There's cheating and then there's cheating as part of a pattern of psychotic or sociopathic behavior. Jen's husband does the latter. She discovers Marco is cheating on her soon after having their first child. Then, she discovers a whole web of lies and starts to realize he's not the man he seemed. I was absolutely riveted to this audio…I ignored new podcasts to listen, something I don't normally do. Jen chronicles her slow process of realization and recovery, which definitely made me wonder if some people I know are also sociopaths.
Affiliate Link: Buy from Amazon
American Radical: Inside the World of an Undercover Muslim FBI Agent
 by Tamer Elnoury (Memoir, Released October 23, 2017)
Written under a pseudonym for the author's safety, this is his story of working undercover for an elite counterterrorism unit following 9/11. Elnoury made a career change from going undercover in the drug world to undercover in the terrorism world. And, his story is absolutely chilling. It illuminates terrorism plots that were thankfully thwarted and characters who are the worst of the worst. But, the most interesting part about it for me was the exploration of Elnoury's version of Islam and how he feels about those that practice the radicalized version of his religion. And, I wondered if the terrorists in this book read it and recognized themselves…and what that means for Elnoury's safety. Great pick fans of cloak and dagger.
Affiliate Link: Buy from Amazon

Bad Blood
 by John Carreyrou (Business, Released May 21, 2018)
Bad Blood is the true story of the meteoric rise and spectacular fall of the Silicon Valley biotech startup, Theranos. My favorite types of business books are the explosive, behind-the-scenes tell-all kinds and Bad Blood fits the bill. Though I did get lost in some of the science and engineering details, I was fascinated / horrified at the arrogance of Elizabeth Holmes, Theranos's young CEO who viewed herself as the next Steve Jobs, and the lengths Theranos went to to create a "unicorn" whether or not they actually had a viable product.
Affiliate Link: Buy from Amazon
From the Corner of the Oval
by Beck Dorey-Stein (Memoir, July 10, 2018)
This quarter life crisis memoir set in the world of politics is my favorite audiobook of the year! It's like listening to your fun friend who happens to have a White House job (stenographer) with extensive access to the President give you all the very best anecdotes (plus, a good dose of her love life) over a glass of wine! It's fun, snarky, and heart-felt and Beck is the rare "DC creature" who doesn't take herself too seriously. Many Goodreads reviewers complained about the focus on her love life (and bad decisions), but I think it made her more endearing and relatable…and let's get real, many of us (including me) have been there at some point in our lives! This is a great pick if you loved Who Thought This Was a Good Idea? by Alyssa Mastronmonaco or The Hopefuls by Jennifer Close (my review) and would make a great graduation gift.
Affiliate Link: Buy from Amazon
How to Be Married
 by Jo Piazza (Memoir, Released August 18, 2017)
Piazza chronicles her own difficult first year of marriage as she travels to five continents learning about views on marriage in different cultures. This memoir is really part memoir and part travelogue. I've been drawn to books about marriage over the last few years (both fiction and nonfiction)…especially those that keep it real. And, Piazza definitely keeps it real, focusing on both the good parts and tough parts of a year of huge adjustment that often gets papered over with "newlywed bliss" expectations. She also explores the cultural rationale for certain types of marriage structures that Americans view as demeaning to women (i.e. polygamy). I can't say I agree, but I do now have a better understanding of why women in some cultures participate in these types of traditions. Piazza comes across as independent, yet relatable and I loved her narration! Great choice for fans of Kelly Corrigan.
Affiliate Link: Buy from Amazon
I'll Be There for You: The One About Friends
 by Kelsey Miller (Television, Released October 23, 2018)
Yep, you guessed it…a behind-the-scenes history of Friends. This book is one big ball of 90's nostalgia and, upon finishing it, I immediately started binge-watching Friends on Netflix. Not only do you get all the cute anecdotes you'd expect from a book like this, but there's some interesting discussion about some ways the show is problematic when viewed through today's cultural lens. An easy listen and a great gift for fans of Friends!
Affiliate Link: Buy from Amazon
Small Fry by Lisa Brennan-Jobs (Memoir, Released September 4, 2018)
This memoir from Steve Jobs' first daughter that he alternately claimed and refused to claim for many years is first and foremost a coming of age story…it doesn't read like a celebrity tell-all. It does highlight the incredible juxtaposition of Lisa's and Steve's daily lives…Lisa's mom is a hippy artist and they live a very modest lifestyle. Jobs sporadically helps them out financially, but they can't rely on any consistency. Jobs comes off as a weird, overly particular, arrogant, prick. He's incredibly hot and cold with his daughter…almost toying with her. However, Lisa isn't super likable either…giving the book an overall cold feeling. This inside look is fascinating, but I do think it could've been a hundred pages shorter. And, I would've liked more focus on the end of Jobs' life…when Apple truly took off with the iPad, etc. and he was battling cancer, but maybe that's to be found in a different book.
Affiliate Link: Buy from Amazon
The Residence: Inside the Private World of the White House
 by Kate Andersen Brower (Politics, Released August 7, 2015)
This portrait of life in the White House for the first families is told from the perspective of the residence service staff. I love a good "behind-the-scenes of anything Presidential" book, especially one that doesn't really get into politics…and I've read a lot of them. The household service staff brings a unique viewpoint, since they see the first families at their most unguarded. Perfect if you're interested in the inner workings of the White House (especially if you liked Ronald Kessler's books, In the President's Secret Service and The First Family Detail)!
Affiliate Link: Buy from Amazon
What are the best audiobooks you listened to in the second half of 2018?
Pin this post…