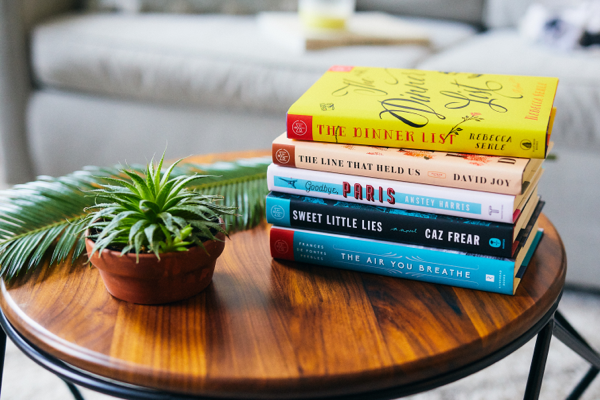 Welcome to my monthly feature "Book of the Month Selections: What Book Should You Choose?"! Every month, I provide commentary on the books that are chosen as that month's Book of the Month selections that will hopefully help you choose your pick, and tell you which book(s) I'm going to choose. AND, I provide you with the most up to date version of my Ultimate Guide to the Book of the Month Judges with free, downloadable template (below).
This month Book of the Month brings us chick-lit romance and music…plus, Grit Lit, a police procedural, and a complicated female friendship. 
Choose the best Book of the Month selection for you every time!
Check out my fun new tool to help you pick the best Book of the Month selection for your taste: my Ultimate Guide to the Book of the Month Judges and free, downloadable template to help you find your go-to BOTM judge!
Book of the Month August 2018 Selections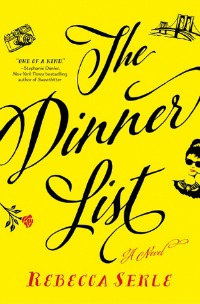 The Dinner List by Rebecca Serle (Release Date: September 11, 2018)
288 Pages
Average Goodreads Rating: 3.91 on 170 ratings
Selected By: Natalie Reece (Creator of Birchbox Book Club)

At one point or another, we've all been asked to name five people, living or dead, with whom we'd like to have dinner. Why do we choose the people we do? And what if that dinner was to actually happen?

When Sabrina arrives at her thirtieth birthday dinner she finds at the table not just her best friend, but also three significant people from her past, and well, Audrey Hepburn. As the appetizers are served, wine poured, and dinner table conversation begins, it becomes clear that there's a reason these six people have been gathered together.
My Thoughts:
Rebecca Serle is known for her YA romances (including the Famous in Love series). The Dinner List is chick-lit / romance, but is not YA as far as I can tell. It sounds a bit like a rom-com and has been compared to One Day by David Nichols. The premise sounds completely ridiculous to me, but may appeal to you! Amanda from the Gun in Act One book blog rated it 5 stars and said she was "expecting a fluffier read", but got "totally caught up." She "felt like a fly on the wall watching Sabrina between her BFF, her ex-boyfriend and the amazing Audrey Hepburn." Goodreads reviewers said it's heart-wrenching and heart-warming, will make you feel, and alternates chapters between the dinner table and Sabrina's past. Other reviewers said it has a slow start before the story really takes off (but it apparently does) and couldn't get past the unrealistic premise. This one might be best for the type of reader who can just suspend disbelief and go with the story. P.S. – three authors I love blurbed this book, but I've learned not to put too much stock in author blurbs: Stephanie Danler (Sweetbitter), Gabrielle Zevin (The Storied Life of A.J. Fikry, Young Jane Young), and Jennifer Close (The Hopefuls).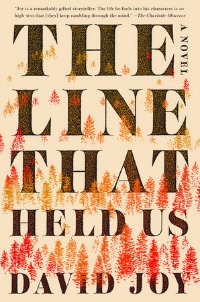 The Line That Held Us by David Joy (Release Date: August 14, 2018)
272 Pages
Average Goodreads Rating: 4.29 on 55 ratings
Selected By: Siobhan Jones (Book of the Month Editorial Director)
[…] a remarkable novel about the cover-up of an accidental death, and the dark consequences that reverberate through the lives of four people who will never be the same again.

The Line That Held Us is a story of friendship and family, a tale balanced between destruction and redemption where the only hope is to hold on tight, clenching to those you love. What will you do for the people who mean the most, and what will you grasp to when all that you have is gone? The only certainty in a place so shredded is that no one will get away unscathed.
My Thoughts:
David Joy writes gritty, Southern fiction (aka Grit Lit) set in Appalachia and I really liked his debut novel, Where All Light Tends to Go (my review). I've already read the first half of The Line That Held Us and, so far, it has a very similar feel to Where All Light Tends to Go. Gritty, bleak, yet containing characters trying to do their best within their messed up world. The plot clips along and I'm turning the pages quickly. If things continue like this, it'll be a 4 star read for me. Goodreads reviewers said it's bleak, disturbing, violent, and not for the squeamish, but also profound. Joy makes the familiar feel fresh and avoids many Grit Lit cliches (drugs, senseless violence). They also warned of some graphic descriptions of a body decomposing (which I think I've already read and they weren't that bad). If you liked Bull Mountain (my review), The Line That Held Us will probably be up your alley!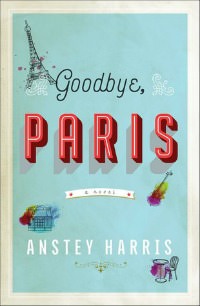 Goodbye, Paris by Anstey Harris (Release Date: August 7, 2018)
288 Pages
Average Goodreads Rating: 4.09 on 65 ratings
Selected By: Steph Opitz (Book Reviewer at Marie Claire)

Jojo Moyes meets Eleanor Oliphant in Goodbye, Paris, an utterly charming novel that proves that sometimes you have to break your heart to make it whole.

Grace […] built a quiet life for herself in her small English village, repairing instruments and nurturing her long- distance affair with David, the man who has helped her rebuild her life even as she puts her dreams of a family on hold until his children are old enough for him to leave his loveless marriage.

But when David saves the life of a woman in the Paris Metro, his resulting fame shines a light onto the real state of the relationship(s) in his life. Shattered, Grace hits rock bottom and abandons everything that has been important to her, including her dream of entering and winning the world's most important violin-making competition. Her closest friends–a charming elderly violinist with a secret love affair of his own, and her store clerk, a gifted but angst-ridden teenage girl–step in to help, but will their friendship be enough to help her pick up the pieces?
My Thoughts:
Goodbye, Paris seems to be the "happy book" of the bunch (possibly along with The Dinner List). It's also a romance…sort of. Goodreads reviewers said it's about disappointment and heart-break, but ultimately hopeful. They mentioned the memorable side characters (which can sometimes make the book!) and the quirkiness of the story. And, though this is a romance, reviewers talked about the focus on friendship, especially in times of crisis. Finally, some mentioned that Grace's decisions are hard to understand and empathize with.
Sweet Little Lies by Caz Frear (Released: August 14, 2018)
352 Pages
Average Goodreads Rating: 3.96 on 7,720 ratings
Selected By: Louisa Luna (Author of Two Girls Down)
Cat Kinsella was always a daddy's girl. Until the summer of 1998 when she sees her father flirting with seventeen-year-old Maryanne Doyle.

When Maryanne later disappears and Cat's father denies ever knowing her, Cat's relationship with him is changed forever.

Eighteen years later, Cat is now a Detective Constable with the Met. Called to the scene of a murder in Islington, she discovers a woman's body: Alice Lapaine has been found strangled, not far from the pub that Cat's father runs.

When evidence links Alice to the still missing Maryanne, all Cat's fears about her father resurface.
My Thoughts:
This debut novel is the winner of the UK's Richard & Judy "Search for New Talent Competition" (previous finalists include Fiona Barton's The Widow) and is the first in a series. Goodreads reviewers, more than anything else, cautioned that this is NOT a psychological thriller despite what the title and cover would lead you to believe. It's actually a British police procedural with a psychological angle. They said there is late 1990's nostalgia, a past/present dual narrative, that you don't know who to believe, and that the ending was surprising, yet made sense in hindsight (super important for me). They also mentioned it's overly long and some said it was slow. Sweet Little Lies is being marketed to fans of Tana French, Kate Atkinson, Flynn Berry, Megan Abbott (based on just the descriptions, this comparison seems like a stretch to me), Susie Steiner, and Lisa Gardner.
The Air You Breathe by Frances de Pontes Peebles (Release Date: August 21, 2018)
464 Pages
Average Goodreads Rating: 4.13 on 45 ratings
Selected By: Diane Guerrero (Actress, Orange is the New Black and Jane the Virgin)
The story of an intense female friendship fueled by affection, envy and pride–and each woman's fear that she would be nothing without the other.

Skinny, nine-year-old orphaned Dores is working in the kitchen of a sugar plantation in 1930s Brazil when in walks a girl who changes everything. Graça, the spoiled daughter of a wealthy sugar baron, is clever, well fed, pretty, and thrillingly ill behaved. Born to wildly different worlds, Dores and Graça quickly bond over shared mischief, and then, on a deeper level, over music.

[…] Music will become their shared passion, the source of their partnership and their rivalry, and for each, the only way out of the life to which each was born. But only one of the two is destined to be a star. Their intimate, volatile bond will determine each of their fortunes–and haunt their memories.
My Thoughts:
de Pontes Peebles is an internationally successful author and The Air You Breathe is historical fiction about a complicated female friendship and a musical theme. It seems to have the "females locked in professional competition" vibe of Megan Abbott's Give Me Your Hand and the "friendship between a wealthy woman and her maid" vibe of Fruit of the Drunken Tree. Goodreads reviewers compared it to Elena Ferrante's Neapolitan Series and the movie Beaches (with Bette Midler). They said the setting came alive and the writing was gorgeous (I read the first few pages and I did really like the writing).
What Book of the Month Club August 2018 selection(s) will I choose?
I'm choosing The Line That Held Us…I'm currently reading the e-galley and would love a hardcover to photograph for Instagram!
I'm also adding The Air You Breathe…after researching this one, I'm intrigued.
Make your Book of the Month selections by Monday, August 6th.
What book will you choose this month?
This Month's Special Deals
NEW MEMBER DEAL: Anyone who purchases a new BOTM subscription will get a credit for a free book! Use code HEATWAVE.
ANNUAL PAYMENT DEAL: BOTM is now a monthly subscription service. However, given that some members preferred paying upfront, they are now offering a 12-month option. Members who sign up for 12 months will pay $149.99/year. That's $12.50/book, instead of the standard price of $14.99/month.
How to Join Book of the Month…
Book of the Month is a subscription service for people who like to try new books from a curated selection and like to read in hardcover format. Through Book of the Month, you can get a hardcover book for generally significantly less than you'd pay in a bookstore or through Amazon. And, you get to try something new that has been vetted by one of Book of the Month's well-read judges!
Sign up for any of the subscription plans below and you get to choose one of five books selected by Book of the Month's panel of judges (including a surprise guest judge). Book of the Month will then mail your chosen book to your house with a cute note. You also have the option to purchase additional books for $9.99 each and to skip a month if you want.
Sign up for a Book of the Month membership (NEW pricing below)!
New members will sign up for a membership that renews monthly:
A book of your choice for $14.99 / month
Add extra books to your shipment for $9.99 each
Skip any month you want
Free shipping, always
Support Sarah's Book Shelves on Patreon!
(and get personalized book recommendations and access to our private Facebook Group)