Do you want to know more about the five Book of the Month Club May 2017 selections before making your choice(s)?
Welcome to my monthly feature "Book of the Month Club Selections: What Would I Choose?"! Every month, I provide commentary on the books that are chosen as that month's Book of the Month Club selections and tell you which book(s) I would choose.
In addition to the five August selections, Book of the Month Club is offering three extras this month (which Book of the Month Club members can add to their boxes for only $9.99 each):
I have to admit that I hadn't even heard of a single one of the August 2017 selections! This might be the first time that's ever happened. 
And one announcement: I'm working on an additional tool to help you make the best Book of the Month Club selection for you! Look for that in the coming weeks…
Book of the Month Club August 2017 Selections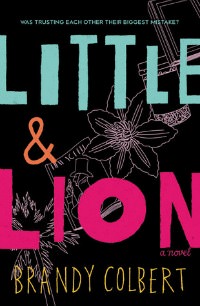 Little & Lion by Brandy Colbert (Release Date: August 8, 2017)
336 Pages
Average Goodreads Rating: 4.45
Selected By: Katie Cotugno (Bestselling Author)

When Suzette comes home to Los Angeles from her boarding school in New England, she isn't sure if she'll ever want to go back. L.A. is where her friends and family are (along with her crush, Emil). 

But as she settles into her old life, Suzette finds herself falling for someone new…the same girl her brother is in love with. When Lionel's disorder spirals out of control, Suzette is forced to confront her past mistakes and find a way to help her brother before he hurts himself–or worse.
My Thoughts:
Little & Lion is a diverse (author and characters) Young Adult novel that's been getting a fair amount of hype (which I totally missed because I don't follow the YA world closely). Nicola Yoon (author of smash hit Everything, Everything
) said "Brandy's ability to find larger meaning in small moments is nothing short of dazzling." In a starred review, Kirkus said "readers will empathize with Suzette as she explores both her sexuality and the tricky line between honesty and betrayal." I don't particularly gravitate towards the YA genre, so this one is not for me, but it might be for you!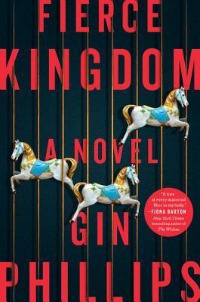 Fierce Kingdom by Gin Phillips (Release Date: July 25, 2017)
288 Pages
Average Goodreads Rating: 3.83
Selected By: Sarah Weinman (writer, editor and "Crime Lady"
)

An electrifying novel about the primal and unyielding bond between a mother and her son, and the lengths she'll go to protect him.
My Thoughts:
Fierce Kingdom is set entirely in a suburban zoo over the course of three hours. It's supposedly very fast-paced and is a "read in one sitting" type book. In fact, Liberty Hardy called it "the most stressful book she's ever read" on the July 25th episode of All the Books podcast. It's being compared to The Couple Next Door
and Reconstructing Amelia. Fiona Barton (author of The Widow
and July Book of the Month Club selection The Child
) said "it tore at every maternal fiber in my body. I couldn't put it down." It got a review in the New York Times (which is hard to come by!) and Kirkus gave it a starred review. Though I've bombed on thrillers lately, the zoo setting and condensed timeline have me intrigued about this one!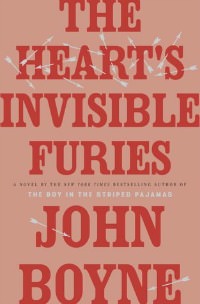 The Heart's Invisible Furies by John Boyne (Released: August 22, 2017)
592 Pages
Average Goodreads Rating: 4.47
Selected By: Liberty Hardy (co-host of Book Riot's All the Books podcast)

[…] a sweeping, heartfelt saga about the course of one man's life, beginning and ending in post-war Ireland.

Cyril Avery is not a real Avery — or at least, that's what his adoptive parents tell him. And he never will be. But if he isn't a real Avery, then who is he?
My Thoughts:
The author of The Boy in the Striped Pajamas
(hit YA novel that was made into an award-winning movie) is back with his 10th novel for adults…and it's supposedly a tear-jerker. In its starred review, Kirkus said the novel "examines one man's life over the course of 70 years to reveal the personal and societal toll of Ireland's repression of homosexuality." Boyne dedicated the book to John Irving, who called it "a heartbreaker" and "an amazing novel." Despite the heavy topic and emotion of this novel, it's also supposedly funny…and I absolutely adore tear-jerkers that also make me laugh.
Eat Only When You're Hungry by Lindsay Hunter (Released: August 8, 2017)
304 Pages
Average Goodreads Rating: 4.29
Selected By: Nina Sankovitch (Bestselling Author)

A father searches for his addict son while grappling with his own choices as a parent (and as a user of sorts).
My Thoughts:
This novel is supposed to be dark and sounds like it could be pretty depressing (not surprising, given it's about addiction). But, it's getting some pretty eye-opening praise: Roxane Gay said "the frailties of the human body and the human heart are laid bare in Lindsay Hunter's utterly superb novel." Kirkus calls it "a savage tale of parenthood" (but, not in a starred review). I am a little skeptical of this one because, according to her Twitter feed, she is obsessed with Stephen Florida
, which I couldn't even get through the sample of.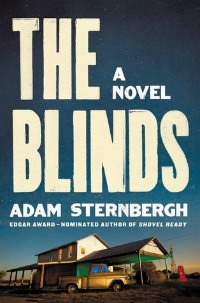 The Blinds by Adam Sternbergh (Release Date: August 1, 2017)
400 Pages
Average Goodreads Rating: 4.00
Selected By: Tyler Coates (Culture Editor at GQ)

Imagine a place populated by criminals-people plucked from their lives, with their memories altered, who've been granted new identities and a second chance. Welcome to The Blinds, a dusty town in rural Texas populated by misfits who don't know if they've perpetrated a crime, or just witnessed one. What's clear to them is that if they leave, they will end up dead. 
My Thoughts:
The Blinds is a "speculative Western thriller" (I'm not even sure what that means?!) that's supposedly really different and darkly funny. And, it's supposedly a "grab you immediately and not let you go until it's over" type of book. Sternbergh's debut novel (Shovel Ready
) was nominated for an Edgar Award and this follow-up is being turned into a TV show. Publisher's Weekly said "it's a clever premise, but the many contrivances that support the plot don't hold up as the novel moves briskly toward its conclusion, whose twists are telegraphed a little too clearly to preserve the element of surprise." Kirkus had a more positive view of it, saying it moves "like a championship stock car toward a climax that, however shattering, implies there's more to come" in its starred review. Check out Sternbergh on Twitter…he has a huge following!
What Book of the Month Club August 2017 selection(s) would I choose?
This is a tough one for me because I'm not over the moon about any of the choices. There's a chance I would skip this month.
But, if I'm going to make a choice, it would be The Heart's Invisible Furies…it's kind of hard to ignore a John Irving endorsement!
And, if you're looking for a page turner, I'd go with Fierce Kingdom.
Make your Book of the Month Club selections by Sunday, August 6th.
How to Join Book of the Month Club…
Book of the Month Club is a subscription service for people who like to try new books from a curated selection and like to read in hardcover format. Through Book of the Month Club, you can get a hardcover book for generally significantly less than you'd pay in a bookstore or through Amazon. And, you get to try something new that has been vetted by one of Book of the Month Club's well-read judges!
Sign up for any of the subscription plans below and you get to choose one of five books selected by Book of the Month Club's panel of judges (including a surprise guest judge). Book of the Month Club will then mail your chosen book to your house with a cute note. You also have the option to purchase additional books for $9.99 each and to skip a month if you want.
Sign up for a Book of the Month Club membership (BRAND NEW pricing below)!
New members will sign up for a membership that renews monthly:
A book of your choice for $14.99 / month
Add extra books to your shipment for $9.99 each
Skip any month you want
Free shipping, always
Special August Deal:
Try your first month for just $9.99! 

*All book descriptions are from Goodreads.