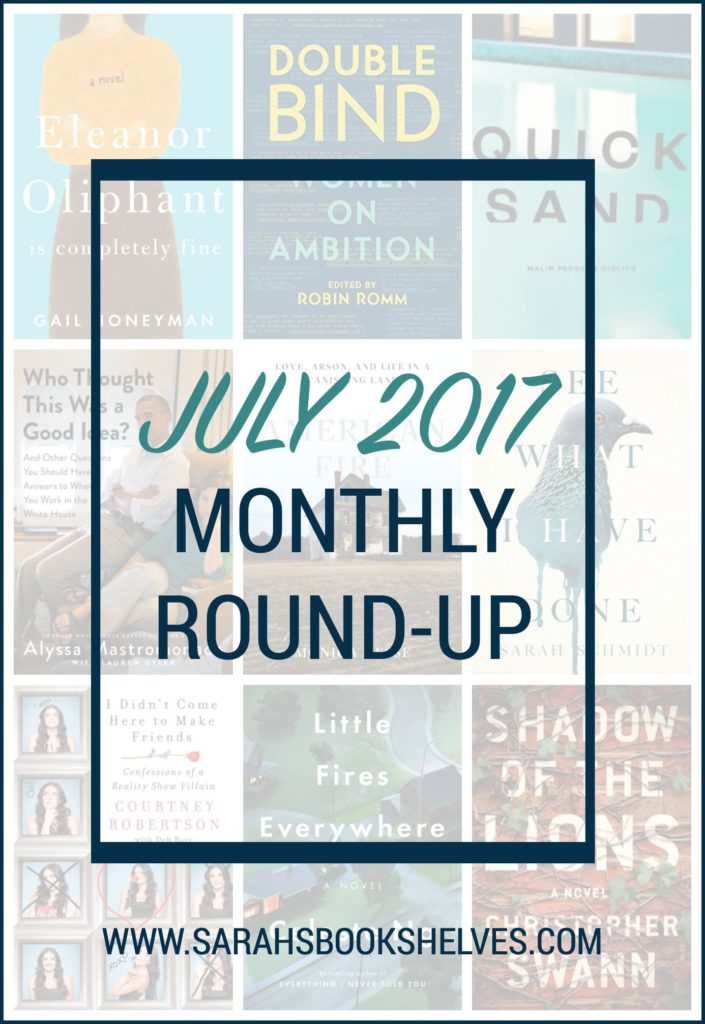 This post contains affiliate links and I will make a small commission if you make a purchase after clicking on my links.
July Reading / Life
July has continued my summer of slumpiness. I seriously think I DNF'd the same number of books I actually read this month.

I also didn't read as much (9 books) as in the previous few months…mostly because we're moving in a couple weeks and I've been a bit frazzled preparing for that. Our move is actually happening in August, so you might see a quieter blog next month.

July seemed to be a month of crime books…some winners (Quicksand, American Fire) and some not (See What I Have Done). While we're on the topic of fire, Celeste Ng's hotly anticipated Little Fires Everywhere (out 9/12) is smokin' GOOD!
I expected to love Eleanor Oliphant Is Completely Fine…but, it appears I'm one of the only ones who didn't love it.
Shadow of the Lions was a solid 4 star boarding school mystery…it's out on 8/1, so keep your eyes peeled!
And to round out my nonfiction, I read and listened to a couple solid choices: Double Bind: Women on Ambition, Who Thought This Was a Good Idea? (audiobook), and I Didn't Come Here to Make Friends (audiobook). Yes, this last one is, in fact, Bachelor winner Courtney Robertson's behind-the-scenes tell-all. I should probably be embarrassed about including it here…but it was a fun, juicy listen for this Bachelor fan!
Check out my commentary on the August Book of the Month Club selections…though I'm not jumping for joy over this month's choices. On the bright side, I'm working on a new addition to my monthly Book of the Month Club feature…another tool to help you pick the Book of the Month Club selection that you're most likely to enjoy!
Finally, I'm putting together a small, but highly selective library for my new, built-in bookshelves and will be tracking my progress over on Instagram. Follow me at @sarahsbookshelves to see what books make the cut!
My Favorite Book(s) of the Month
Best Book of the Month
Quicksand
 by Malin Persson Giolito (March 7, 2017)
Fiction, 512 Pages
Affiliate Link: Buy from Amazon
PS – last year's Best Book of July was Mudbound by Hillary Jordan (my review)!
Best Selling Book(s) of the Month (via my affiliate links)
It's a tie between…
Quicksand
 by Malin Persson Giolito (my review)
Final Girls
by Riley Sager (how is this possible?! I didn't even like it and didn't review it!)
Beartown by Fredrik Bachman (my review)
August Releases I'm Excited About
Shadow of the Lions
by Christopher Swann (August 1)
Young Jane Young
by Gabrielle Zevin (August 22)
Stay With Me
 by Ayobami Adebayo (August 22)
The Burning Girl
 by Claire Messud (August 29)
Most Popular Posts
Posts Actually Published in July
Best Books of 2017 So Far
Book of the Month Club July 2017 Selections: What Would I Choose?
17 Awesome Podcasts I've Been Listening to Lately (Bookish and Non)
Overall Posts
Best Books of 2017 So Far
Book Club Recommendations
Page Turner Books
Favorite Posts by Fellow Bloggers
How was your reading month?