Welcome to my monthly feature "Book of the Month Club Selections: What Book Should You Choose?"! Every month, I provide commentary on the books that are chosen as that month's Book of the Month Club selections that will hopefully help you choose your pick, and tell you which book(s) I'm going to choose. AND, I provide you with the most up to date version of my Ultimate Guide to the Book of the Month Club Judges with free, downloadable template (below).
December is traditionally a desert for new book releases. So, it's not surprising this month's selections don't contain a single December release. Instead, we have a mid-2017 release, two November releases, and three January 2018 releases. This month's picks are also thriller heavy…so, page-turner lovers, this is your month! Sadly, none of my go-to judges made an appearance this month.
Choose the best Book of the Month Club selection for you every time!
If you missed it, check out my fun new tool to help you pick the best Book of the Month Club selection for your taste: my Ultimate Guide to the Book of the Month Club Judges and free, downloadable template (below) to help you find your go-to BOTM judge!
I've updated the template since last month to make it even better and added in the most recent judge's selections, so download the new version even if you grabbed it last month!
Book of the Month Club December 2017 Selections
The Chalk Man by C.J. Tudor (Release Date: January 9, 2018)
288 Pages
Average Goodreads Rating: 4.24 on 380 ratings
Selected By: Kristen Iversen (Author)

In 1986, Eddie and his friends are just kids on the verge of adolescence. The chalk men are their secret code; little chalk stick figures they leave for one another as messages only they can understand. But then a mysterious chalk man leads them right to a dismembered body, and nothing is ever the same.

Expertly alternating between flashbacks and the present day, The Chalk Man is the very best kind of suspense novel, one where every character is wonderfully fleshed out and compelling, where every mystery has a satisfying payoff, and where the twists will shock even the savviest reader.
My Thoughts:
The Chalk Man is a British debut and was inspired by Tudor's daughter's sidewalk chalk (creepy!!). The publisher is calling The Chalk Man the "must-read thriller of 2018," and said the twists "manage to be simultaneously totally shocking, as well as completely grounded in the clues laid along the way." This criteria for plot twists is a must-have for me to love a psychological thriller and Goodreads readers are (mostly) backing up the publisher's claims. They also said Tudor's writing and character development are top notch, which are sometimes lacking in thrillers. There's apparently some 80's nostalgia and I've seen comparisons to a couple different Stephen King works (The Stand
, It
, and The Body
, which became the movie Stand By Me
). Chelsea at The Suspense is Thrilling Me loved it just a tad. I've gotta say, as skeptical as I normally am of psychological thrillers, this one piques my interest.

Eleanor Oliphant is Completely Fine by Gail Honeyman (Release Date: May 9, 2017)
327 Pages
Average Goodreads Rating: 4.33 on 41,808 ratings
Selected By: Guest Judge Gabrielle Union (Actress and Author of her memoir, We're Going to Need More Wine)

Meet Eleanor Oliphant. She struggles with appropriate social skills and tends to say exactly what she's thinking. Nothing is missing in her carefully time-tabled life of avoiding social interactions, where weekends are punctuated by frozen pizza, vodka, and phone chats with Mummy.

Then everything changes when Eleanor meets Raymond, the bumbling and deeply unhygienic IT guy from her office. […] it is Raymond's big heart that will ultimately help Eleanor find the way to repair her own profoundly damaged one.
My Thoughts:
Lots of people love this book, including some bloggers I trust (Susie at Novel Visits and Tara at Running N Reading), but I just didn't. It's a feel-good, heart-warming story that's neatly tied up at the end and this kind of book generally doesn't appeal to me. I found it too cliche in a rom-com type of way. I loved that Eleanor is a quirky, endearing character who goes on hilarious, salty rants about things that annoy her in everyday life. And, I was very curious about the dark backstory with her Mom, but was disappointed the book didn't delve into this further. Check out my full review. Though I didn't love it, you might if you like feel-good stories with endearing characters and neat, tidy endings.
The City of Brass by S.A. Chakraborty (Release Date: November 14, 2017)
528 Pages
Average Goodreads Rating: 4.31 on 553 ratings
Selected By: Liberty Hardy (co-host of Book Riot's All the Books podcast)

Nahri has never believed in magic. Certainly, she has power; on the streets of 18th century Cairo, she's a con woman of unsurpassed talent. But she knows better than anyone that the trade she uses to get by—palm readings, zars, healings—are all tricks, sleights of hand, learned skills; a means to the delightful end of swindling Ottoman nobles.

But when Nahri accidentally summons an equally sly, darkly mysterious djinn warrior to her side during one of her cons, she's forced to accept that the magical world she thought only existed in childhood stories is real.
My Thoughts:
The City of Brass is the first novel in a debut series that "combines the tropes of epic fantasy with a rich Middle Eastern setting, an exploration of the classical Islamic world, and elements of Arab, Persian, and South Asian history and folklore in a fast-paced novel that will cast its spell on both genre and general readers, as well as fans of YA fantasy." Whew! That's a lot to swallow…and none of it is in my wheelhouse. It apparently has fantasy, romance, paranormal – all elements that have me running for the hills. But, Goodreads readers seem to love it and so did Kirkus.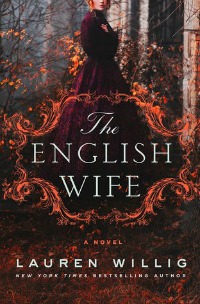 The English Wife by Lauren Willig (Release Date: January 9, 2018)
384 Pages
Average Goodreads Rating: 4.11 on 130 ratings
Selected By: Dana Schwartz (Author and Correspondent at Entertainment Weekly)

From the New York Times bestselling author, Lauren Willig, comes this scandalous New York Gilded Age novel full of family secrets, affairs, and even murder.
My Thoughts:
The English Wife is historical fiction, but the dark, twisted, "wealthy people behaving badly" kind. I haven't been loving much historical fiction lately, but this kind could be an exception. Goodreads reviewers say it's gothic, has a bit of romance, starts a bit slowly but soon turns unputdownable, has an intricate plot, and leaves some questions open at the end (a good or bad thing depending on what type of reader you are, but Goodreads reviewers viewed it as mostly bad). Pam Jenoff (author of The Orphan's Tale
) called it a "scintillating tale of betrayal, secrets and a marriage gone wrong."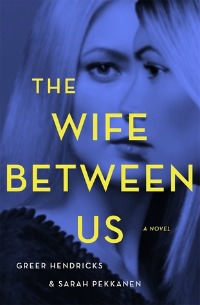 The Wife Between Us by Greer Hendricks and Sarah Pekkanen (Release Date: January 9, 2018)
352 Pages
Average Goodreads Rating: 4.27 on 1,248 ratings
Selected By: Nina Sankovitch (Bestselling Author)

When you read this book, you will make many assumptions.
You will assume you are reading about a jealous wife and her obsession with her replacement.
You will assume you are reading about a woman about to enter a new marriage with the man she loves.
You will assume the first wife was a disaster and that the husband was well rid of her.
You will assume you know the motives, the history, the anatomy of the relationships.
Assume nothing.
My Thoughts:
How about that blurb?! The Wife Between Us is yet another psychological thriller about marriage, which have become ubiquitous since the success of Gone Girl
and The Girl on the Train
. I'm always a little skeptical of them because the copycats rarely live up to the original. Goodreads reviewers said this one is certainly addictive and unputdownable, but that the ending could be over the top for some and that the twisty plot had been done before. Kirkus called it "easy to read" and "a good airport book," while Publisher's Weekly gave it a starred review. Nina Sankovitch is not a go-to judge for me, so I'm going to wait for more reports from readers I trust on this one.
What Book of the Month Club December 2017 selection(s) will I choose?
Honestly, I'm going to skip this month.
But, if I wasn't, I'd choose The Chalk Man because of the 80's nostalgia and reports of Tudor's stellar character development. I might end up picking this up later if I hear good reports from readers I trust.
Make your Book of the Month Club selections by Wednesday, December 6th.
What book will you choose this month?
This Month's Special Deals
In addition to the five December selections, Book of the Month Club is offering one extra this month (which Book of the Month Club members can add to their boxes for only $9.99 each):
NEW MEMBER DEAL: Anyone who purchases a 1-month BOTM subscription will get 1 month free! That's two months for the price of one––two brand new hardcover books for only $14.99!

HOLIDAY OFFER: 
If you'd like a physical gift card to put under the tree or in your book lover's stocking, you can get one starting next week on the Book of the Month Club website.
How to Join Book of the Month Club…
Book of the Month Club is a subscription service for people who like to try new books from a curated selection and like to read in hardcover format. Through Book of the Month Club, you can get a hardcover book for generally significantly less than you'd pay in a bookstore or through Amazon. And, you get to try something new that has been vetted by one of Book of the Month Club's well-read judges!
Sign up for any of the subscription plans below and you get to choose one of five books selected by Book of the Month Club's panel of judges (including a surprise guest judge). Book of the Month Club will then mail your chosen book to your house with a cute note. You also have the option to purchase additional books for $9.99 each and to skip a month if you want.
Sign up for a Book of the Month Club membership (NEW pricing below)!
New members will sign up for a membership that renews monthly:
A book of your choice for $14.99 / month
Add extra books to your shipment for $9.99 each
Skip any month you want
Free shipping, always