Welcome to my monthly feature "Book of the Month Selections: What Book Should You Choose?"! Every month, I provide commentary on the books that are chosen as that month's Book of the Month selections that will hopefully help you choose your pick, and tell you which book(s) I'm going to choose. AND, I provide you with the most up to date version of my Ultimate Guide to the Book of the Month Judges with free, downloadable template (below).
I haven't read any of this month's picks and none are jumping out at me, but maybe one will be right for you!
This post contains affiliate links and I will be compensated if you make a purchase after clicking on my links, but I'm also a paying customer.
Choose the best Book of the Month selection for you every time!
I've just updated my Ultimate Guide to the Book of the Month Judges to reflect the February 2018 structural changes that significantly changed the judges that appeared regularly. Here's a free, downloadable template to help you find your go-to BOTM judge!
Book of the Month January 2020 Selections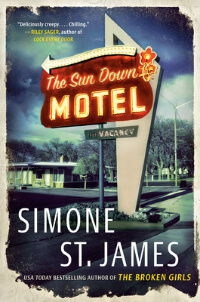 The Sun Down Motel
by Simone St. James
Fiction – Mystery / Thriller (Release Date: February 18, 2020)
336 Pages
Average Goodreads Rating: 4.35 on 281 ratings
Selected By: Siobhan Jones (Book of the Month Editorial Director)
The secrets lurking in a rundown roadside motel ensnare a young woman, just as they did her aunt thirty-five years before, in this new atmospheric suspense novel from the national bestselling and award-winning author of The Broken Girls.

Upstate NY, 1982. Every small town like Fell, New York, has a place like the Sun Down Motel. Some customers are from out of town, passing through on their way to someplace better. Some are locals, trying to hide their secrets. Viv Delaney works as the night clerk to pay for her move to New York City. But something isn't right at the Sun Down, and before long she's determined to uncover all of the secrets hidden…
My Thoughts:
Simone St. James (author of The Broken Girls) is a repeat author for Book of the Month. The Sun Down Motel is described as creepy, spooky and atmospheric. Goodreads reviewers said it has multiple timelines and perspectives, has a supernatural element (some say it's a big element while others said they don't normally like supernatural elements, but didn't mind this one), and would make a good Halloween book. They also said it was hard to tell the two main characters apart at times (i.e. keep their storylines straight). Jan Belisle (one of my blog readers whose reading taste aligns with mine) didn't love it (she did like The Broken Girls, but thought this one was a "campy B movie type thriller" and felt like she had to suspend belief too much). And, Tina from TBR, etc. had a bit of trouble in the beginning, but ended up loving it (she mentioned short chapters, strong writing, a lot of characters, and the way it came together in the end).
Topics of Conversations by Miranda Popkey
Literary Fiction (Release Date: January 7, 2020)
224 Pages
Average Goodreads Rating: 4.11 on 47 ratings
Selected By: Cristina Arreola (BOTM Judge)

Miranda Popkey's first novel is about desire, disgust, motherhood, loneliness, art, pain, feminism, anger, envy, guilt–written in language that sizzles with intelligence and eroticism. The novel is composed almost exclusively of conversations between women–the stories they tell each other, and the stories they tell themselves, about shame and love, infidelity and self-sabotage–and careens through twenty years in the life of an unnamed narrator hungry for experience and bent on upending her life. 
My Thoughts:
This debut is being compared to Jenny Offill's Dept. of Speculation and it supposedly packs a big punch in a small package. Goodreads reviewers said the story is told by an unnamed narrator in vignettes that each focus on a different stage of this woman's life through a particular conversation. They said it's honest, raw, smart, darkly funny, and reads like a stream of consciousness. Karen Russell blurbed it and Jenny Offill called it "a pleasingly unsentimental novel about attraction and repulsion and the fluid line between the two." Tyler Goodson also rated it 5 stars. This sounds appealing to me, but also like it could go horribly wrong, so I'm going to hold off for now. But, I will probably read it if readers I trust love it.
Things in Jars by Jess Kidd
Fiction – Mystery (Release Date: February 4, 2020)
384 Pages
Average Goodreads Rating: 4.12 on 960 ratings
Selected By: Dayle Zimmer (BOTM Ambassador, @theliteraryllama)

In the dark underbelly of Victorian London, a formidable female sleuth is pulled into the macabre world of fanatical anatomists and crooked surgeons while investigating the kidnapping of an extraordinary child in this gothic mystery—perfect for fans of The Essex Serpent and The Book of Speculation.
My Thoughts:
Things in Jars is a Gothic mystery with supernatural elements. Goodreads reviewers said it's a gritty portrait of criminals and circus freaks in Victorian London and that it's magical, weird. It also features strong women, fairytale elements, and imaginative storytelling. Some complaints were that it's not realistic at all, it has a distinctive writing style (which some reviewers loved, while others didn't), and that the story is narrated by a number of characters and inanimate objects. Diane Setterfield (author of The Thirteenth Tale and Once Upon a River) called it "miraculous and thrilling."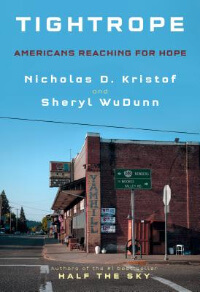 Tightrope by Nicholas D. Kristof and Sheryl WuDunn
Nonfiction (Release Date: January 14, 2020)
320 Pages
Average Goodreads Rating: 0.00 on 0 ratings
Selected By: Dave Eggers (Author of The Parade)
The Pulitzer Prize-winning authors of the acclaimed, best-selling Half the Sky now issue a plea–deeply personal and told through the lives of real Americans–to address the crisis in working-class America, while focusing on solutions to mend a half century of governmental failure.
My Thoughts:
Kristof and WuDunn (both with New York Times reporting experience) illustrate the struggles of working class America partly by telling the stories of people Kristof grew up with in rural Oregon. According to Publisher's Weekly, the authors do make policy suggestions to improve these problems. For the first time since I've been writing these posts, we have a book that does not have a single review or rating on Goodreads (I'm not sure what to make of this!). Tara Westover (author of Educated) said it's "a deft and uniquely credible exploration of rural America, and of other left-behind pockets of our country. One of the most important books I've read on the state of our disunion." It was also blurbed by Bono and Katie Couric (that's some star power!). There is also a two part PBS documentary coming out right after Tightrope's publication.
When We Were Vikings by Andrew David MacDonald
Literary Fiction (Release Date: January 28, 2020)
336 Pages
Average Goodreads Rating: 4.31 on 190 ratings
Selected By: Bryn Greenwood (Author of The Reckless Oath We Made)
For Zelda, a twenty-one-year-old Viking enthusiast who lives with her older brother, Gert, life is best lived with some basic rules:

1. A smile means "thank you for doing something small that I liked."
2. Fist bumps and dabs = respect.
3. Strange people are not appreciated in her home.
4. Tomatoes must go in the middle of the sandwich and not get the bread wet.
5. Sometimes the most important things don't fit on lists.

But when Zelda finds out that Gert has resorted to some questionable—and dangerous—methods to make enough money to keep them afloat, Zelda decides to launch her own quest. Her mission: to be legendary. It isn't long before Zelda finds herself in a battle that tests the reach of her heroism, her love for her brother, and the depth of her Viking strength.
My Thoughts:
This debut novel by a Canadian author is being compared to Eleanor Oliphant is Completely Fine (my review) and The Curious Incident of the Dog in the Nighttime. Goodreads reviewers said Zelda is a young adult who was diagnosed with fetal alcohol syndrome and the story is about Zelda's growth and coming of age. They said it was inspiring, quirky, and included lots of bad language and sex (including some sex-related trigger warnings). Some were also frustrated with the tidy ending (though this could appeal to others). Though it's not officially designated as YA (at least according to Edelweiss and probably because of the language and sex), some have said it feels a bit like YA. Kailey from KMC_Reads rated it 5 stars.
What Book of the Month January 2020 selection(s) will I choose?
I'm going to skip this month. None of this month's selections appeal to me, but maybe one will be up your alley!
Make your Book of the Month selections by Monday, January 6th.
What book will you choose this month?
This Month's Special Deals
NEW MEMBER DEAL: Get your first book for $9.99 with Code NEWPAGE (enter at checkout).
ANNUAL PAYMENT DEAL: BOTM is now a monthly subscription service. However, given that some members preferred paying upfront, they are now offering a 12-month option. Members who sign up for 12 months will pay $149.99/year. That's $12.50/book, instead of the standard price of $14.99/month.
How to Join Book of the Month…
Book of the Month is a subscription service for people who like to try new books from a curated selection and like to read in hardcover format. Through Book of the Month, you can get a hardcover book for generally significantly less than you'd pay in a bookstore or through Amazon. And, you get to try something new that has been vetted by one of Book of the Month's well-read judges!
Sign up for any of the subscription plans below and you get to choose one of five books selected by Book of the Month's panel of judges (including a surprise guest judge). Book of the Month will then mail your chosen book to your house with a cute note. You also have the option to purchase additional books for $9.99 each and to skip a month if you want.
Sign up for a Book of the Month membership (NEW pricing below)!
New members will sign up for a membership that renews monthly:
A book of your choice for $14.99 / month
Add extra books to your shipment for $9.99 each
Skip any month you want
Free shipping, always
Pin this post…