Welcome to my monthly feature "Book of the Month Selections: What Book Should You Choose?"! Every month, I provide commentary on the books that are chosen as that month's Book of the Month selections that will hopefully help you choose your pick, and tell you which book(s) I'm going to choose. AND, I provide you with the most up to date version of my Ultimate Guide to the Book of the Month Judges with free, downloadable template (below).
There's a great group of books this month…I've already read and loved two of them! Plus, I'm getting a third add-on.
This post contains affiliate links and I will be compensated if you make a purchase after clicking on my links, but I'm also a paying customer.
Book of the Month May 2020 Selections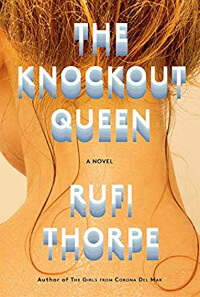 The Knockout Queen
by Rufi Thorpe
Fiction – Literary (Release Date: April 28, 2020)
288 Pages
Average Goodreads Rating: 4.43 on 82 ratings
Recommended By: Siobhan Jones (Book of the Month Editorial Director)
A dazzling and darkly comic novel of love, violence, and friendship in the California suburbs.

Bunny Lampert is the princess of North Shore⁠–beautiful, tall, blond, with a rich real-estate-developer father and a swimming pool in her backyard. Michael⁠⁠–with a ponytail down his back and a septum piercing⁠–lives with his aunt in the cramped stucco cottage next door. When Bunny catches Michael smoking in her yard, he discovers that her life is not as perfect as it seems. At six foot three, Bunny towers over their classmates. Even as she dreams of standing out and competing in the Olympics, she is desperate to fit in, to seem normal, and to get a boyfriend, all while hiding her father's escalating alcoholism. Michael has secrets of his own. At home and at school Michael pretends to be straight, but at night he tries to understand himself by meeting men online for anonymous encounters that both thrill and scare him. When Michael falls in love for the first time, a vicious strain of gossip circulates and a terrible, brutal act becomes the defining feature of both his and Bunny's futures⁠⁠–and of their friendship. 
My Thoughts:
I've only read two 5 star books this year and The Knockout Queen is one of them (my full review)! It's a dark coming of age novel similar to Thorpe's debut, The Girls from Corona del Mar. It's a character-driven story (though there is a life-changing incident that drives the plot) of two teenagers who feel like outsiders in their own ways trying to come to terms with who they are amid their own family drama. It's about young people losing their innocence…both literally and figuratively. Thorpe's voice and writing are the stars of this show…as are the characters of Bunny and Michael, who are flawed, yet endearing. Kevin Wilson (author of Nothing to See Here) said "Michael and Bunny are two of the most unique characters I've ever met, drawn with such precision that it's impossible to leave them behind." Warning: this is not a "happy" book if that's what you're looking for during coronavirus.
The Boyfriend Project by Farrah Rochon
Fiction –  Romance / Rom-Com (Release Date: June 9, 2020)
352 Pages
Average Goodreads Rating: 4.06 on 190 ratings
Recommended By: Abby Jimenez (Author of The Happy Ever After Playlist)

Samiah Brooks never thought she would be "that" girl. But a live tweet of a horrific date just revealed the painful truth: she's been catfished by a three-timing jerk of a boyfriend. Suddenly Samiah – along with his two other "girlfriends," London and Taylor – have gone viral online. Now the three new besties are making a pact to spend the next six months investing in themselves. No men, no dating, and no worrying about their relationship status . . .

For once Samiah is putting herself first, and that includes finally developing the app she's always dreamed of creating. Which is the exact moment she meets the deliciously sexy, honey-eyed Daniel Collins at work. What are the chances? When it comes to love, there's no such thing as a coincidence. But is Daniel really boyfriend material or is he maybe just a little too good to be true?
My Thoughts:
The Boyfriend Project is an #Ownvoices book set in Austin, TX. Goodreads reviewers liked how the story focuses on the strong friendship between the three female friends (and addresses the challenges of making good female friends as an adult), the mystery element that runs in the background, that Samiah is a professionally accomplished protagonist that supports other women in the workplace (i.e. a good role model), and that the story challenges women to balance pursuing their dreams with pursuing love. They also mentioned that the story addresses racism and micro-aggressions in the workplace. Their major knock is that Daniel and Samiah seem a bit one-dimensional (in particular, Daniel seems too perfect). P.S. – it was blurbed by Jasmine Guillory.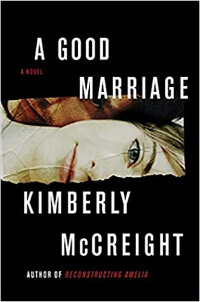 A Good Marriage by Kimberly McCreight
Fiction – Psychological Thriller  (Release Date: May 5, 2020)
400 Pages
Average Goodreads Rating: 4.13 on 176 ratings
Recommended By: Liberty Hardy (co-host of Book Riot's All the Books podcast)
Lizzie Kitsakis is working late when she gets the call. Grueling hours are standard at elite law firms like Young & Crane, but they'd be easier to swallow if Lizzie was there voluntarily. Until recently, she'd been a happily underpaid federal prosecutor. That job and her brilliant, devoted husband Sam—she had everything she'd ever wanted. And then, suddenly, it all fell apart.

The last thing Lizzie needs right now is a call from an inmate at Rikers asking for help—even if Zach Grayson is an old friend. But Zach is desperate: his wife, Amanda, has been found dead at the bottom of the stairs in their Brooklyn brownstone. And Zach's the primary suspect.

As Lizzie is drawn into the dark heart of idyllic Park Slope, she learns that Zach and Amanda weren't what they seemed—and that their friends, a close-knit group of fellow parents at the exclusive Grace Hall private school, might be protecting troubling secrets of their own. In the end, she's left wondering not only whether her own marriage can be saved, but what it means to have a good marriage in the first place.
My Thoughts:
Kimberly McCreight's debut novel, Reconstructing Amelia, was a huge hit (including with me) and she's one of my go-to mystery / thriller authors. McCreight went to law school at Penn and her legal expertise shows in A Good Marriage (an element I love to see in mysteries / thrillers). She sets a breadcrumb trail that leads up to an ending that is surprising, yet not too outlandish and still makes sense in the story. I also loved how she explored different issues that often mean trouble for marriages: addiction, workaholism, neglect, fidelity, money, and ambition (to name a few). And, the swanky Park Slope setting added some glitz (McCreight lives in Park Slope herself), while reminding readers that everything isn't always as perfect as it seems. Great pick for fans of mystery / thriller authors with legal backgrounds (i.e. Alafair Burke and Angie Kim). Annie Jones called it " little bit Gone Girl (plenty of unreliable characters) and a lot John Grisham circa 1990." Taylor Jenkins Reid called it "absolutely, positively riveting."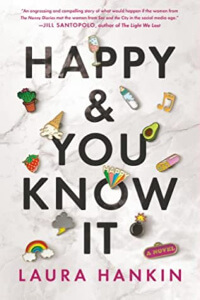 Happy and You Know It by Laura Hankin
Fiction – Brain Candy (Release Date: May 19, 2020)
272 Pages
Average Goodreads Rating: 4.27 on 245 ratings
Recommended By: Zibby Owens (Creator and Host of Moms Don't Have Time to Read Books Podcast)
A dark, witty page-turner set around a group of wealthy mothers and the young musician who takes a job singing to their babies and finds herself pulled into their glamorous lives and dangerous secrets….

After her former band shot to superstardom without her, Claire reluctantly agrees to a gig as a playgroup musician for overprivileged infants on New York's Park Avenue. Claire is surprised to discover that she is smitten with her new employers, a welcoming clique of wellness addicts with impossibly shiny hair, who whirl from juice cleanse to overpriced miracle vitamins to spin class with limitless energy.

There is perfect hostess Whitney who is on the brink of social-media stardom and just needs to find a way to keep her perfect life from falling apart. Caustically funny, recent stay-at-home mom Amara who is struggling to embrace her new identity. And old money, veteran mom Gwen who never misses an opportunity to dole out parenting advice. But as Claire grows closer to the cool women who pay her bills, she uncovers secrets and betrayals that no amount of activated charcoal can fix.
My Thoughts:
In addition to being an author, Laura Hankin is part of a comedy duo called Feminarchy that performs live and on video, so this book should have some humor! She also worked as a baby music teacher in Manhattan even teaching the children of celebrities, which should lend authenticity to this story. Goodreads reviewers said that each woman is dealing with her own issues, the women are easy to connect with, there is good commentary on motherhood and feminism, dark humor, sarcastic commentary about the wealthy, it deals with the pressure to portray a perfect life on social media, and it has a Real Housewives of New York feel. Tina from TBR, etc. rated it 5 stars and said "Great writing, solid ending, and rich people behaving badly- this gets my full approval!" Kaytee Cobb of the Currently Reading Podcast rated it 4 stars and said "I got all the #Momstagram/wellness industry/self-care craze vibes from this mixed with the woman-to-woman friendships and a bit of competitiveness and mystery like Big Little Lies."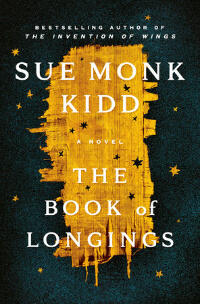 The Book of Longings by Sue Monk Kidd
Fiction – Literary (Release Date: April 21, 2020)
432 Pages
Average Goodreads Rating: 4.08 on 365 ratings
Recommended By: Glennon Doyle (Author of Untamed)
In her fourth work of fiction, Sue Monk Kidd brings her acclaimed narrative gifts to imagine the story of a young woman named Ana. Raised in a wealthy family in Sepphoris with ties to the ruler of Galilee, she is rebellious and ambitious, a relentless seeker with a brilliant, curious mind and a daring spirit. She yearns for a pursuit worthy of her life, but finds no outlet for her considerable talents. Defying the expectations placed on women, she engages in furtive scholarly pursuits and writes secret narratives about neglected and silenced women. When she meets the eighteen-year-old Jesus, each is drawn to and enriched by the other's spiritual and philosophical ideas. He becomes a floodgate for her intellect, but also the awakener of her heart.

Their marriage unfolds with love and conflict, humor and pathos in Nazareth, where Ana makes a home with Jesus, his brothers, James and Simon, and their mother, Mary. Here, Ana's pent-up longings intensify amid the turbulent resistance to the Roman occupation of Israel, partially led by her charismatic adopted brother, Judas. She is sustained by her indomitable aunt Yaltha, who is searching for her long-lost daughter, as well as by other women, including her friend Tabitha, who is sold into slavery after she was raped, and Phasaelis, the shrewd wife of Herod Antipas. Ana's impetuous streak occasionally invites danger. When one such foray forces her to flee Nazareth for her safety shortly before Jesus's public ministry begins, she makes her way with Yaltha to Alexandria, where she eventually finds refuge and purpose in unexpected surroundings.
My Thoughts:
This novel falls in a growing category of revisiting ancient stories from the often overlooked perspective of women (i.e. Circe by Madeline Miller). I think this novel could end up being divisive depending on your personal religious beliefs (i.e. the concept of Jesus having a wife, even if she's fictional). Goodreads reviewers said that Ana is a bold and passionate character, she's a feminist and a passion for reading and writing, the story gives women a voice during a time when they didn't have one, was meticulously researched, has gorgeous writing, and would be a great book club pick. Reviewers' major gripes were that the first third or so is a bit slow and some didn't buy the Jesus / Ana love story. 
What Book of the Month MAY 2020 selection(s) will I choose?
I'm going with The Knockout Queen and A Good Marriage this month…I've already read and loved both and I want hard copies for my shelves! Plus, I added on Untamed by Glennon Doyle (I'm listening to it on audio and loving it…and I want one of those beautiful hardcovers for my shelves!). Thank God it's my birthday month!
Make your Book of the Month selections by Wednesday, May 6th.
What book will you choose this month?
This Month's Special Deals
NEW MEMBER DEAL FOR SARAHSBOOKSHELVES READERS: Get your first book for $9.99 with Code SARAHSBOOKSHELVES (enter at checkout).
ANNUAL PAYMENT DEAL: BOTM is now a monthly subscription service. However, given that some members preferred paying upfront, they are now offering a 12-month option. Members who sign up for 12 months will pay $149.99/year. That's $12.50/book, instead of the standard price of $14.99/month.
How to Join Book of the Month…
Book of the Month is a subscription service for people who like to try new books from a curated selection and like to read in hardcover format. Through Book of the Month, you can get a hardcover book for generally significantly less than you'd pay in a bookstore or through Amazon. And, you get to try something new that has been vetted by one of Book of the Month's well-read judges!
Sign up for any of the subscription plans below and you get to choose one of five books selected by Book of the Month's panel of judges (including a surprise guest judge). Book of the Month will then mail your chosen book to your house with a cute note. You also have the option to purchase additional books for $9.99 each and to skip a month if you want.
Sign up for a Book of the Month membership (NEW pricing below)!
New members will sign up for a membership that renews monthly:
A book of your choice for $14.99 / month
Add extra books to your shipment for $9.99 each
Skip any month you want
Free shipping, always
Pin this post…