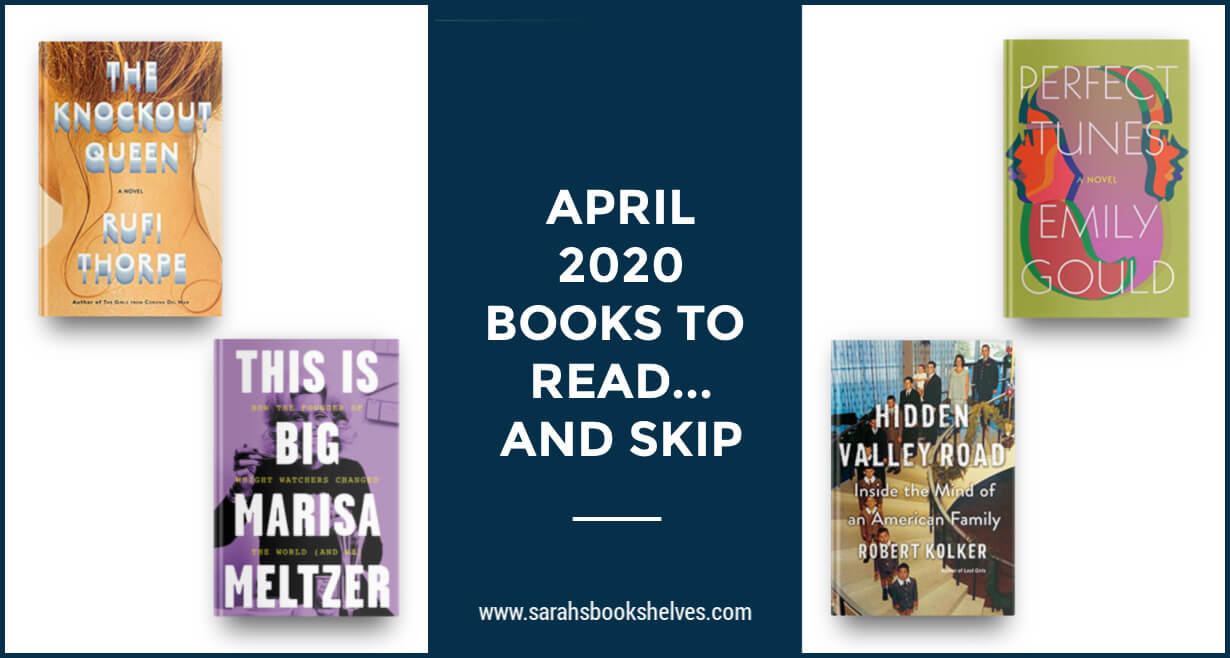 April books were all about quality over quantity for me…and, I was thrilled to finally find my second 5 star book of 2020 (it's rare that I only have two 5 star books at this point in the year).
Hosted by Modern Mrs. Darcy.
This post contains affiliate links (plus: here's your Amazon Smile-specific affiliate link
).
Favorite Book(s) of April 2020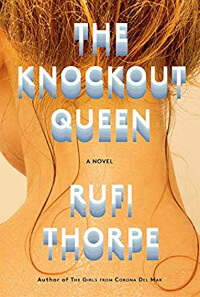 The Knockout Queen by Rufi Thorpe
Fiction – Literary (Release Date: April 28, 2020)
288 Pages
Affiliate Link: Buy from Amazon

Source: Publisher (Knopf)

Plot Summary: The story of a teenage friendship between Bunny, a 6 foot 3 girl whose mother died and father is a wealthy alcoholic, and Michael, a gay boy who's living with his Aunt after his mother was sent to prison and his father skipped town…set on the North Shore of California. 
My Thoughts: Finally…my second 5 star book of the year! I loved Thorpe's last novel (Dear Fang, With Love) and this "dark coming of age story" (per the publisher…and I agree) was even better. It's a character-driven story (though there is a life-changing incident that drives the plot) of two teenagers who feel like outsiders in their own ways trying to come to terms with who they are amid their own family drama. It's about young people losing their innocence…both literally and figuratively. It's full of teenage awkwardness…and reminded me a bit of My Sunshine Away in this respect. Thorpe's voice and writing are the stars of this show…as are the characters of Bunny and Michael, who are flawed, yet endearing. I think readers will be drawn to them. Plus, Bunny is an elite volleyball player and you know how much I love a female athlete protagonist!
She was so clumsy with artifice that she had no choice but to be absolutely and authentically herself, which gave me permission to be the same. And that had been part of it all along. That we were our truest selves when we were together.
Also Read These…
Perfect Tunes by Emily Gould
Fiction – Literary (Release Date: April 14, 2020)
288 Pages
Affiliate Link: Buy from Amazon

Source: Publisher (Avid Reader Press)

Plot Summary: Laura moves to New York's Lower East Side to pursue her music dreams, but her life is turned upside down by a love affair with a flaky fellow musician.
My Thoughts: I'll admit my plot summary is the tip of the iceberg about this book…and there's a reason for that. I went into Perfect Tunes fairly blind and, when I read the publisher's synopsis after finishing the book, I was shocked how much it gave away. Let me say this…if the theme of women struggling to pursue their dreams while being mothers and wives appeals to you (and you like character-driven novels), read this book. The story begins with a toxic relationship that reminded me of the one in Sweetbitter (my review) and turns into an exploration of motherhood and balancing time and attention to children with pursuing a dream of your own. Perfect Tunes packs a lot of themes and a long timespan into a small package, but the story and characters still feel fleshed out. It was the book about pursuing an artistic dream that I wanted Writers & Lovers (my review) to be…but, I identified with Laura far more than the main character in Writers & Lovers. Plus, pair it with Why We Can't Sleep by Ada Calhoun (which I happened to be listening to on audio at the same time as I was reading this in print), which addresses similar struggles women have from a nonfiction perspective.
"Seems like you set the bar pretty high for yourself. What would satisfy you, even? You want to raise a little kid and be a world-famous musician, knocking out the best songs of your life while also giving her everything she needs from you twenty-four hours a day?"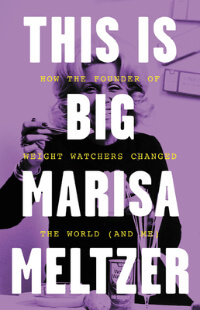 This is Big: How the Founder of Weight Watchers Changed the World (and Me)
by Marisa Meltzer
Nonfiction – Memoir (Release Date: April 14, 2020)
304 Pages
Affiliate Link: Buy from Amazon

Source: Publisher (Little Brown)

Plot Summary: Meltzer (a journalist covering beauty, health, and wellness) merges the story of Jean Nidetch (the Founder of Weight Watchers) with her own struggle with weight and journey through the Weight Watchers program.
My Thoughts: Meltzer's memoir is similar to Julia & Julia in that it mixes the author's personal journey through a program with the story of the Founder of that program. Meltzer is funny, relatable, and open with her story. Her role as a journalist covering the beauty / health / wellness space brings her into contact with celebrities, which adds a glitzy element to this book and gives her an interesting perspective on the industry given she's paid to try all kinds of strange diet methods. She's also a feminist and struggles with the fact that her appearance consumes much of her thinking, which isn't consistent with feminist viewpoints. Jean Nidetch is also quite the character…a female entrepreneur at a time when women predominantly stayed home and a complicated woman towards the end of her life. And, it went down easy during the coronavirus era!
People love to ask, "What is the best diet?" The answer is the one that you can live with and not simply endure, the healthiest way of life that also keeps you happy. It's up to the individual to do the calculus of what that looks like.
The DNF
Hidden Valley Road
by Robert Kolker (April 7, 2020)
DNF at 13%
I loved the chapters that dealt with the Galvin family (6 of their 12 children were schizophrenic), but they alternated with chapters about the history of mental illness and psychiatry, which were incredibly dry.
What's the best book you've read so far this month?
Pin this post…