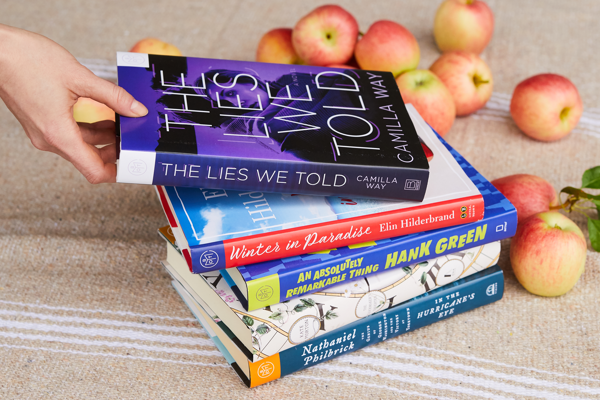 Welcome to my monthly feature "Book of the Month Selections: What Book Should You Choose?"! Every month, I provide commentary on the books that are chosen as that month's Book of the Month selections that will hopefully help you choose your pick, and tell you which book(s) I'm going to choose. AND, I provide you with the most up to date version of my Ultimate Guide to the Book of the Month Judges with free, downloadable template (below).
Honestly, I'm not a fan of this month's selections at all. There are so many great books coming out in October, some that I've already read. But, Book of the Month has given us two women's fiction authors that are so well known you definitely don't need Book of the Month to help you find them (Elin Hilderbrand and Kate Morton), the obligatory psychological thriller that seems to be included every single month, a YouTube sensation's book, and a thick, history tome. 
Choose the best Book of the Month selection for you every time!
Check out my fun new tool to help you pick the best Book of the Month selection for your taste: my Ultimate Guide to the Book of the Month Judges and free, downloadable template to help you find your go-to BOTM judge!
Book of the Month October 2018 Selections
The Lies We Told by Camilla Way
Release Date: October 9, 2018
336 Pages
Average Goodreads Rating: 4.27 on 623 ratings
Selected By: Liberty Hardy (co-host of Book Riot's All the Books podcast)

When Clara's boyfriend, Luke, disappears, everyone believes that he's left her, but Clara thinks she knows the truth. Recent evidence suggests that Luke had a stalker, and Clara worries that he's been kidnapped. Then Luke's older sister, Emma, who vanished twenty years ago, suddenly reappears.

Emma wants to help Clara with her search for Luke, but she refuses to talk about what happened–even though it nearly destroyed her family when she vanished. And the deeper Clara digs into Luke's mysterious disappearance, the more convinced she is that the two incidents are connected.
My Thoughts:
The Lies We Told is this month's obligatory psychological thriller…this time British and from the author of Watching Edie. It involves a possibly psychopathic child (sounds a bit like Baby Teeth to me) and a friendship gone wrong. Goodreads reviewers said there's a dual timeline and that it will test your detective skills, but some mentioned a lack of emotional connection and a frantic feeling plot. Most of the Goodreads reviews described it the exact same way every other psychological thriller is described (e.g. page-turner, twisty, shocking ending, secrets, lies, etc). I got blurbs from Fiona Barton, B.A. Paris, Heather Gudenkauf, and J.T. Ellison.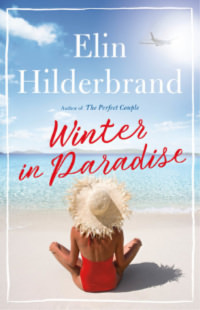 Winter in Paradise by Elin Hilderbrand
Release Date: October 9, 2018
272 Pages
Average Goodreads Rating: 4.27 on 67 ratings
Selected By: Etaf Rum (Book of the Month Brand Ambassador)

Welcome to Paradise, the first book in the Paradise series, has everything that readers have come to know and love about an Elin Hilderbrand novel, plus a healthy dose of intrigue. Irene Steele's idyllic life-house, husband, family-is shattered when she is woken up by a late-night phone call. Her beloved husband has been found dead, but before Irene can process this tragic news, she must confront the perplexing details of her husband's death. He was found on St. John island, a tropical paradise far removed from their suburban life. Leaving the cold winter behind, Irene flies down to the beautiful Caribbean beaches of St. John only to make another shocking discovery: her husband had a secret second family. As Irene investigates the mysterious circumstances of her husband's death, she is plunged into a web of intrigue and deceit belied by the pristine white sand beaches of St. John's.
My Thoughts:
Elin Hilderbrand probably doesn't need much explanation (she writes chick-lit / romance and is known for her series set in Nantucket). Winter in Paradise is the first in her new series set in St. John. Goodreads reviewers mentioned its  mystery elements, family drama, and secrets and said it focuses on 5 characters, but from the 3rd person perspective. The reviews also indicated this is more standard Elin Hilderbrand fare. There is somewhat of a cliffhanger ending, but I think that's to be expected from an early book in a series. Jessica Howard (of the Sorta Book Nerds Facebook Group) says it's "super fun, but also poignant."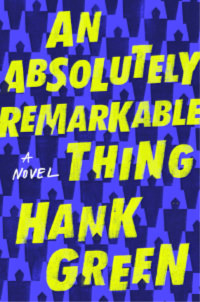 An Absolutely Remarkable Thing by Hank Green
Release Date: September 25, 2018
343 Pages
Average Goodreads Rating: 4.33 on 572 ratings
Selected By: Jennifer Dernievelle (BOTM Readers Committee)

The Carls just appeared. Coming home from work at three a.m., twenty-three-year-old April May stumbles across a giant sculpture. Delighted by its appearance and craftsmanship–like a ten-foot-tall Transformer wearing a suit of samurai armor–April and her friend Andy make a video with it, which Andy uploads to YouTube. The next day April wakes up to a viral video and a new life. News quickly spreads that there are Carls in dozens of cities around the world–everywhere from Beijing to Buenos Aires–and April, as their first documentarian, finds herself at the center of an intense international media spotlight.

Now April has to deal with the pressure on her relationships, her identity, and her safety that this new position brings, all while being on the front lines of the quest to find out not just what the Carls are, but what they want from us.
My Thoughts:
Hank Green has quite an Internet following as co-creator of Crash Course, Vlogbrothers (with John Green), and SciShow and is YA author John Green's brother. His debut novel is sort of sci-fi and set in NY. Tina at TBR, etc. is reading it right now and said she was immediately drawn in, that she identifies with April May (the protagonist), that is doesn't feel super sci-fi so far, but that there is something weird going on. Goodreads reviewers said it explores fame, the media, and sexuality. They described it as quirky, pop culture-filled, fast-paced, a little overly moralistic, and as having some political undertones. They said April May is snarky and is a love her or hate her type. The description "YA" was thrown around a fair amount even though it's technically not YA…but, it apparently has a YA-ish and millennial feel.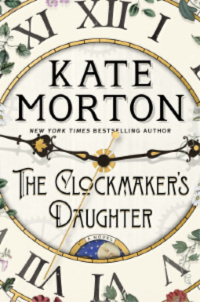 The Clockmaker's Daughter by Kate Morton
Release Date: October 9, 2018
496 Pages
Average Goodreads Rating: 3.92 on 845 ratings
Selected By: Steph Opitz (Book Reviewer at Marie Claire)

In the summer of 1862, a group of young artists led by the passionate and talented Edward Radcliffe descends upon Birchwood Manor on the banks of the Upper Thames. Their plan: to spend a secluded summer month in a haze of inspiration and creativity. But by the time their stay is over, one woman has been shot dead while another has disappeared; a priceless heirloom is missing; and Edward Radcliffe's life is in ruins.

Over one hundred and fifty years later, Elodie Winslow, a young archivist in London, uncovers a leather satchel containing two seemingly unrelated items: a sepia photograph of an arresting-looking woman in Victorian clothing, and an artist's sketchbook containing the drawing of a twin-gabled house on the bend of a river.
My Thoughts:
The Clockmaker's Daughter is a multi-generational family mystery spanning the 1860's to present day. Kelly Massry (one of my trusted book recommendation sources) read it and rated it 3 stars. She said it's part ghost story and a bit creepy. She was frustrated with the slow pace and chaotic structure, but loved the but great writing. Goodreads reviewers mention the intriguing premise and brilliant ending, but that it's cluttered with side stories, and is entirely too long. Almost every review I read (even the 4 and 5 star ones) mention that it's confusing to follow (jumping around in time periods and lots of points of view) and is a book that takes lots of concentration. It's an October Library Reads pick.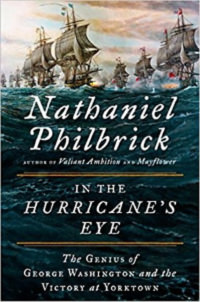 In the Hurricane's Eye by Nathaniel Philbrick
Release Date: October 16, 2018
416 Pages
Average Goodreads Rating: 3.82 on 17 ratings
Selected By: Siobhan Jones (Book of the Month Editorial Director)

In the Hurricane's Eye opens in the fall of 1780. For five years, American and British forces had clashed along the edge of a vast continent and were now at a stalemate. The Royal Navy, with its fleet of powerful warships (just one of which mounted more cannons than possessed by the entire rebel army), could attack the rebels' seaside cities at will. The Rebels could just fall back inland and wait. Neither side could inflict the killing blow. As Washington knew better than anyone, only the French navy could break Britain's stranglehold on the eastern seaboard and thus ensure an American victory.

In the Battle of the Chesapeake (1781 – called the most important naval engagement in the history of the world), a French admiral foiled British attempts to rescue the army led by General Cornwallis. By making the subsequent victory at Yorktown a virtual inevitability, this naval battle–masterminded by Washington but waged without a single American ship–was largely responsible for the independence of the United States. A riveting and wide-ranging narrative, full of dramatic, unexpected turns, In the Hurricane's Eye reveals that the fate of the American Revolution depended, in the end, on Washington and the sea.
My Thoughts:
Nathaniel Philbrick is apparently a very popular historical author…all his "major titles" have been NYT bestsellers (including Valiant Ambition and Bunker Hill). In the Hurricane's Eye is about the "less discussed in history books" Battle of Yorktown, which was the last major land battle of the Revolutionary War. Admittedly, this is not my kind of book at all…I glazed over just reading the synopsis! There are only 3 reviews on Goodreads, one of which just thanks Viking (the publisher) for sending an ARC. Another is written by a historian (probably not the perspective of most Book of the Month readers), but the third says it "fill[s] in some heavy knowledge gaps and help[s] give a solid handle on all that encompassed the amazing path to the final battle of the American Revolution" and calls it "exciting." 
What Book of the Month Club October 2018 selection(s) will I choose?
I'm skipping this month.
Make your Book of the Month selections by Saturday, October 6th.
What book will you choose this month?
This Month's Special Deals
NEW MEMBER DEAL: Anyone who purchases a new BOTM subscription will get a credit for a free book! Use code SUGARHIGH.
ANNUAL PAYMENT DEAL: BOTM is now a monthly subscription service. However, given that some members preferred paying upfront, they are now offering a 12-month option. Members who sign up for 12 months will pay $149.99/year. That's $12.50/book, instead of the standard price of $14.99/month.
How to Join Book of the Month…
Book of the Month is a subscription service for people who like to try new books from a curated selection and like to read in hardcover format. Through Book of the Month, you can get a hardcover book for generally significantly less than you'd pay in a bookstore or through Amazon. And, you get to try something new that has been vetted by one of Book of the Month's well-read judges!
Sign up for any of the subscription plans below and you get to choose one of five books selected by Book of the Month's panel of judges (including a surprise guest judge). Book of the Month will then mail your chosen book to your house with a cute note. You also have the option to purchase additional books for $9.99 each and to skip a month if you want.
Sign up for a Book of the Month membership (NEW pricing below)!
New members will sign up for a membership that renews monthly:
A book of your choice for $14.99 / month
Add extra books to your shipment for $9.99 each
Skip any month you want
Free shipping, always
Support Sarah's Book Shelves on Patreon!
(and get personalized book recommendations and access to our private Facebook Group)