Can a mini review include not one, not two, but three quotes, thus making it look more like a full length review?! Yes, I'm going with it. There's no other choice when the writing is as glorious as Jim Lynch's in Before the Wind.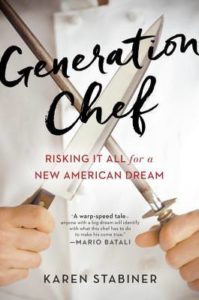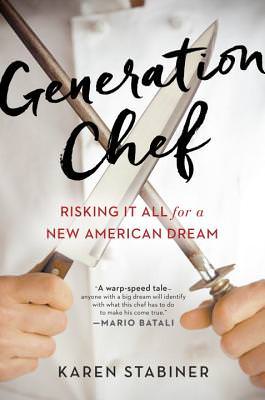 Generation Chef by Karen Stabiner
Nonfiction – Cooking / Food (Released September 13, 2016)
288 Pages
Bottom Line: Read it.
Affiliate Link: Buy from Amazon

Source: Publisher (Avery Books)

Plot Summary: Journalist Karen Stabiner follows young chef Jonah Miller as he opens his first New York City restaurant, the East Village Spanish spot, Huertas.
My Thoughts: Generation Chef's look into a new restaurant's first year of life is equal parts food and business book. I particularly loved getting a behind the scenes look at the ups and downs of an entrepreneurial restaurant venture. Running a new restaurant clearly takes courage and a steady hand and I was frighteningly nervous for Miller and his team as they approached each new milestone (applying for a liquor license, awaiting a New York Times review, etc). I realized how much I respect people who run small businesses and I'm fairly certain I couldn't pull it off without an emotional breakdown.
Specific to the restaurant business, Generation Chef highlighted how hard a new restaurant has to work to get noticed amidst the NYC clutter. Stabiner provides illuminating color about the frenzied restaurant environment of the early 2000's and the impact of social media. She also compares Miller and Huertas' story with that of other famous chefs including David Chang, Stephanie Izard, April Bloomfield, and Gavin Kaysen. Generation Chef reminded me of Stephanie Danler's Sweetbitter, minus all the drugs and sexual angst, and is a great choice for people interested in the business side of opening a new restaurant. Plus, it made an appearance on my 2016 Books That Make Perfect Holiday Gifts List!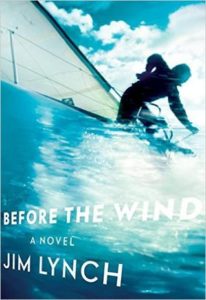 Before the Wind by Jim Lynch
Fiction (Released April 19, 2016)
306 Pages
Bottom Line: Read it.
Affiliate Link: Buy from Amazon

Source: Purchased (Publisher: Knopf)

Plot Summary: Josh Johannssen and his somewhat estranged family, a sailing dynasty, reunite in an attempt to win the Pacific Northwest's prestigious Swiftsure race.
My Thoughts: Behind the Wind is 100% up my alley and I have no idea why I'd never heard of it until Catherine at Gilmore Guide shoved it into my hands recently. It plops the dysfunctional family element of Ann Patchett's Commonwealth into a sailing environment with brilliant results.
For years, sailing bound us. We were racers, builders and cruisers. It was our family business, our sport, our drug of choice. Yet eventually, sailing blew us apart, too.
Within the first five pages, Lynch delves into the psyche of sailors and boaters in general and his writing about sailing is filled with "yes, that's exactly how it is" moments. 
Sailboats attract the loons and geniuses among us, the romantics whose boats represent some outlaw image of themselves. We fall for these things, but what we're slow to grasp is that it's not the boats but rather those inexplicable moments on the water when time slows.
His sense of humor sparkles when making fun of sailing (i.e. a hilarious rant about the ridiculous sailing lingo) and when describing his family's quirks (of which there are many), but a genuine love for both shines through it all.
Nobody forgets meeting my father. Loud, tall and meaty, he invades your space and claims the right-of-way. There is nothing moderate about him. A leader and a lout, a gentleman and an ass, he never concedes a weakness, admits a sickness or says he loves anybody. Yet the flip side is that when you please him, your body temperature climbs a degree or two.
As with many books I love, the suspense lies in what ends up happening to these characters. The questions of what made Josh's sailing prodigy sister (Ruby) abandon the sport, what shady antics are most of the family members up to now, and what incident figuratively blew up the family decades ago drove the novel's suspense. Lynch does go on sailing tangents fairly often, but I found them interesting because he adopts the tone of the rare tour guide that uses dry humor to make something you're not that interested in come alive. Before the Wind is an underrated gem that you should read immediately if you're a fan of dysfunctional family stories…and, I can't wait to read more of Lynch's work.