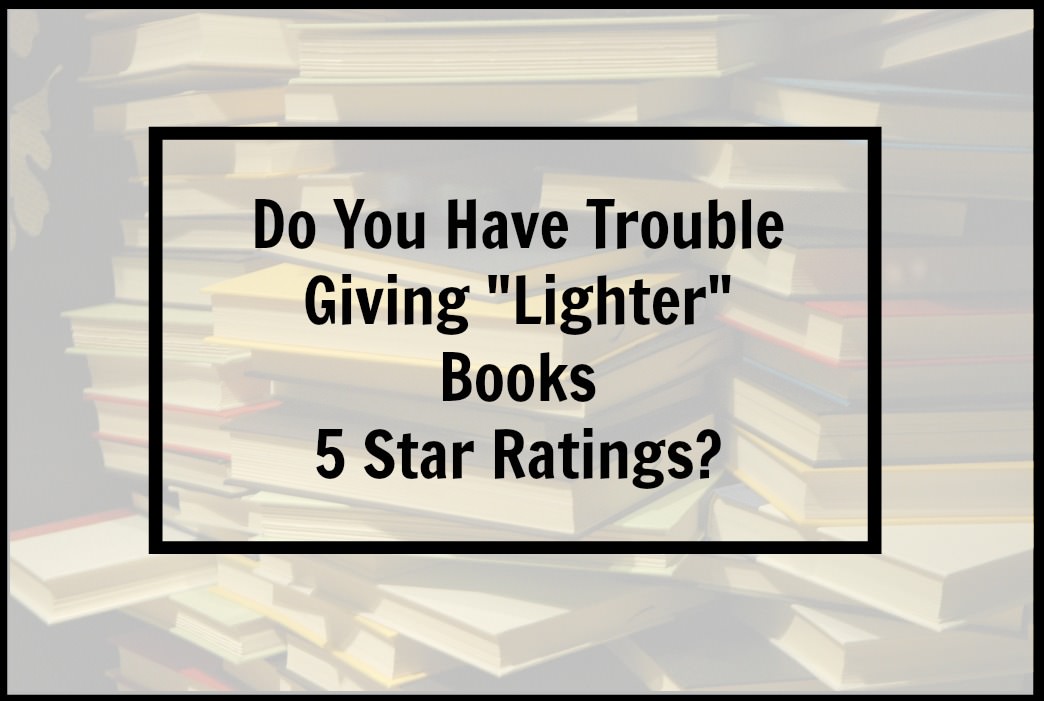 As I've mentioned over the past few months, lighter books have been working well for me this summer. I'm not sure whether it's because of the season, my overall slumpy reading year, or the general bustle of my life, but lighter books are hitting the spot more often than "serious" books. Some of my very favorite reading experiences could probably be considered "brain candy" and selecting lighter books overall has pulled me out of my 2016 reading slump.
So, if a book is among my favorite reading experiences of the year, it should probably have a 5 star rating and be a contender for my Best Books of 2016 List, right?! Unfortunately, it turns out that I've been giving these types of books 4 stars instead of 5. If those same books had been more serious, I likely would have given them 5 stars. It's like I've unintentionally self-imposed a 4 star ratings ceiling for "light" books. Or like comedies not being nominated for Oscars…instead being relegated to the Musical or Comedy category of Best Picture at the Golden Globes. I hate that this happens with movies and I hate that I've done it with books.
Why do I have such trouble giving "lighter" books 5 star ratings?
Am I really that much of a snob?! Do I think my favorite books of the year must all be serious and important? I would answer a vehement no to both of these questions if asked, yet my data proves me wrong. Of my twenty 4 star books this year, a quarter of them are light reads that I'd probably have given 5 stars if they were more serious books. A few of them are among my favorite reading experiences of the year (The Swans of Fifth Avenue, Siracusa). 
What about the blogging echo chamber? Am I feeling subconscious pressure to only give top ratings to serious books? 
Have I changed over time? When I look back at my Best Books of the Year lists, I included "lighter" books every year until 2015, which was also the year I started blogging more regularly.
So, what should I do now?
Change my ratings mentality moving forward? Make a conscious effort to be more open to giving "brain candy" a 5 star rating if it was a top notch reading experience.

Retroactively change the ratings of light books that I regret not rating 5 stars? I don't like the idea of retroactively changing ratings, but I'm also short-changing these books. Hmm…

Keep an ongoing recommendation list of Top-Notch Light Reads? I'm pretty sure I'm going to do this one.

Create a separate "Best Books of the Year" list for light reads in December? Or just make sure to include my favorite light reads of 2016 in my overall Best Books of the Year list?
Do you ever find yourself hesitating to rate a lighter book 5 stars? How do you handle it?