As many of you know, February has been an incredibly slumpy reading month for me. At this point, I'm not sure if it's me or the books. I have some logistical time suckers in my life right now…is this making it extra hard for books to stick? Or, am I just not picking the right books? 
I'm also incredibly unmotivated to write reviews of what I do read. I've always written at least something about every book I read and that's changed lately. Not reviewing some books wasn't a conscious decision…more of an "eh, don't really feel like doing this and can't find the words, so I'll just skip it" type of thing. I don't read as many books a year as some bloggers, so I really felt like I had to write about every single book. But, I'm not so sure anymore because this feels kind of liberating! Do you review every book you read?
February Reading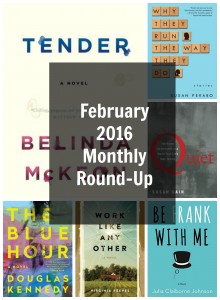 Well, amid a sea of DNF's and samples that didn't stick (which I won't go into here), I really liked/loved a third of my February reading. I'm trying to stay positive here, people! Tender mastered intensity of feeling and Why They Run the Way They Do came out of nowhere to become only the second short story collection I've ever really enjoyed. And, because I want this book to get more attention, I'll say it again: if you'd like to try short stories, this is a great collection to start with! Quiet was a bit of a slog, but did contain some fascinating nuggets that got me thinking (discussion post coming). Be Frank With Me served its purpose, but didn't blow me away. And, Work Like Any Other and The Blue Hour were flat out disappointments.
Best Book of the Month
Tender by Belinda McKeon (February 16, 2016)
Fiction, 416 Pages
Affiliate Link: Buy from Amazon
March Releases I'm Excited About


As Close to Us As Breathing by Elizabeth Poliner (March 15)
The Nest by Cynthia D'Aprix Sweeney (March 22)
The Association of Small Bombs by Karan Mahajan (March 22)
The Never Open Desert Diner by James Anderson (March 22)
Top Backlist Books on my "To Be Read" List
Salvage the Bones by Jesmyn Ward
Mudbound by Hillary Jordon
Most Popular February Posts
Anti-Valentine's Day: Ten Disastrous Literary Relationships
Top Ten Tuesday: Reading Outside My Comfort Zone
Are Your Book Ratings Biased Early in the Year?
Favorite Posts by Fellow Bloggers