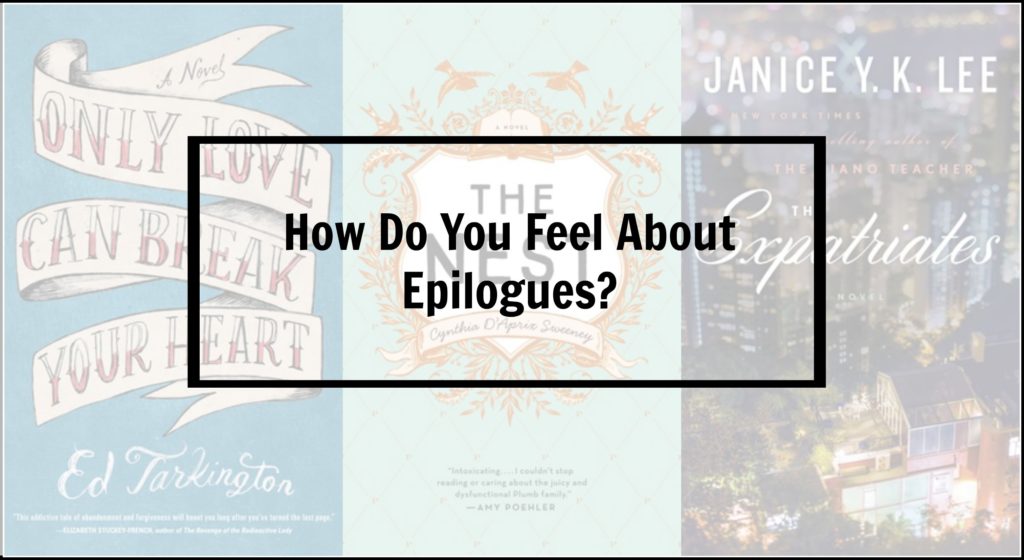 Prior to this year, I rarely noticed Epilogues and much less thought critically about them. But, this year, a few of my more successful reads (and their Epilogues) have gotten my wheels turning. In each of these examples, an unsatisfying Epilogue marred an otherwise enjoyable read. The silver lining is that, since Epilogues are tacked on at the end, it's easy to just mentally lop them off your memory of the book! Let's talk about a few of the specific types of Epilogues that rub me the wrong way…
The "Where Are They Now?" Epilogue
In this type of Epilogue, the story comes to a satisfying end…then, the Epilogue kindly offers an US Weekly "Where Are They Now?"-style rundown of where each character ends up decades later. Do we really need to know this? What if you end up hating a particular character's outcome? Why mess with that satisfying ending in the first place?
Recent Example: Only Love Can Break Your Heart 
The Neat and Tidy Epilogue
This type of Epilogue ties the story up in an overly neat and tidy bow…leaving no room for interpreting the ending. I used to like books that tied everything up in this way, but have moved away from that over the past couple of years.
Recent Example: The Nest 
The "I Don't Buy It" Epilogue
This type of Epilogue takes the story in a direction that rational thinking makes it hard to buy into…leading to lots of "oh please, that would never happen in real life" types of things floating around my brain.
Recent Example: The Expatriates 
What about successful Epilogues? Are there any? I had a very hard time coming up with any examples other than the Afterward (it's called Historical Notes in the book, but I think it can count as an Epilogue for our purposes) in Margaret Atwood's The Handmaid's Tale. That Epilogue served a clear purpose and added another dimension to the story.
How do you feel about Epilogues in general? Can you share any examples of Epilogues that worked for you?