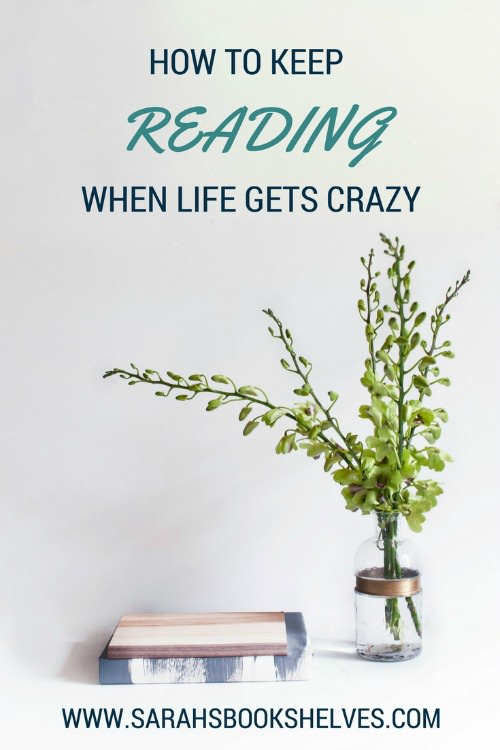 Life can get totally crazy sometimes…especially every May/June for parents of school age children (if you want more details, read this). All those permission forms to fill out, special events to attend at school, theme days to remember, and changes in schedule. It all makes my head spin.
Something like reading can be one of the first things to fall by the wayside during all the chaos. It's a hobby for most people. It's expendable.
I don't know about you, but reading has a calming influence on me. So, it's during these chaotic times that reading becomes even more of a sanity essential. Taking a few minutes here and there to squeeze in some reading does wonders for my patience, parenting, and ability to let things go.
So, how to keep reading when life gets crazy? Let's get to it…
Carry A Book Everywhere
Ladies, I know you carry those gigantic purses all over the place! There is room in there for a book, e-reader, or tablet.
And, if you're in the 1% of women that don't go the gigantic purse route, I'm sure you keep your phone on you most of the time…keep an e-book on it! Which will enable you to…
Take Advantage of Small Snippets of Time
I think some people feel like they need large blocks of quiet time to do any reading. If I thought that way, I would literally never read. I'd love to have a couple quiet hours to really dig into a book, but that doesn't really fit into my life right now. And, I bet the same goes for many of you.
But, a couple 5 or 10 minute increments can add up to an hour before you know it…
Here some places where you can squeeze in an extra bit of reading:
When you wake up before your alarm

During or after your workout (bet you'll hold those stretches longer if you're reading!)

When you arrive somewhere a few minutes early (i.e. picking up your children from school, meeting friends for dinner, etc)

During your commute…if you ride a bus or train.

During your lunch hour at work

While waiting in any line or waiting room

During your children's after-school activities (i.e. soccer practice, swimming lessons…just look up when it's your child's turn!)

Before bed (I can't fall asleep without reading)
Embrace Audiobooks
This one was admittedly tough for me, but when I finally figured it out I was able to add 1-2 books to my monthly reading! If you can find your audiobook niche (mine is lighter nonfiction), it will make mundane tasks a lot more enjoyable.
Tasks that can be improved with audiobooks:
Driving

Household chores (cleaning, laundry, organizing, yard work, paying bills, etc)

Grocery shopping…and putting away said groceries

Getting dressed in the morning / undressed at night

Cooking

Exercising (if that's your jam…audiobooks tend not to work for me while exercising)

While doing mundane tasks at work that don't require lots of concentration
Choose Some Things NOT to Do
This section is inspired by the eye-opening book The Life-Changing Magic of Not Giving a F*ck
by Sarah Knight (whose subtitle is "How to Stop Spending Time You Don't Have with People You Don't Like Doing Things You Don't Want to Do"), which teaches you how to de-clutter your life (rather than your house, a la Marie Kondo) and Episode 79 of the Sorta Awesome podcast, entitled The Awesome Freedom of the Don't Do List.
We can't do everything in life…or at least can't do it all well. Especially over the last few years, it's become clear that I have to choose a couple meaningful things to focus on doing well…and get comfortable with saying no to lots of stuff that doesn't fall those buckets.
Things I don't do:
Attend many weeknight activities…like Book Club (I know, this makes no sense!), wine nights, etc. I will occasionally grab dinner with a few close friends, but it's literally like once a month.
Join volunteer organizing committees at my children's schools. I've found that being on an organizing committee or in charge of really anything ends up taking far more time than you thought you'd committed to. Instead, I choose to contribute by being a pair of hands (chaperoning soccer, working a booth at Carnival, etc) and by providing items for various events (i.e. bottled water for Reading Celebration, etc).
Worry about keeping my house perfectly neat all the time.
Put on make-up or do my hair during the week (I literally don't even blow-dry my hair unless I'm going out to dinner on a weekend).
Run a lot of errands. I try to do everything I can online so I don't waste time running around town.
Shop. I genuinely don't like shopping, so that makes it pretty easy not to waste time doing it.
Where can you squeeze some extra reading into your day?
And, what can you add to your DON'T do list so you can spend more time doing the things you love?