Hosted by The Book Date.
Happy back-to-normal-life-day, everyone! I've been visiting family for the holidays, so have been out of my regular routine for quite awhile. I couldn't manage a Monday update post the day after Christmas, so I'm covering two weeks worth of ground here. But, I have been reading!
I finished reading…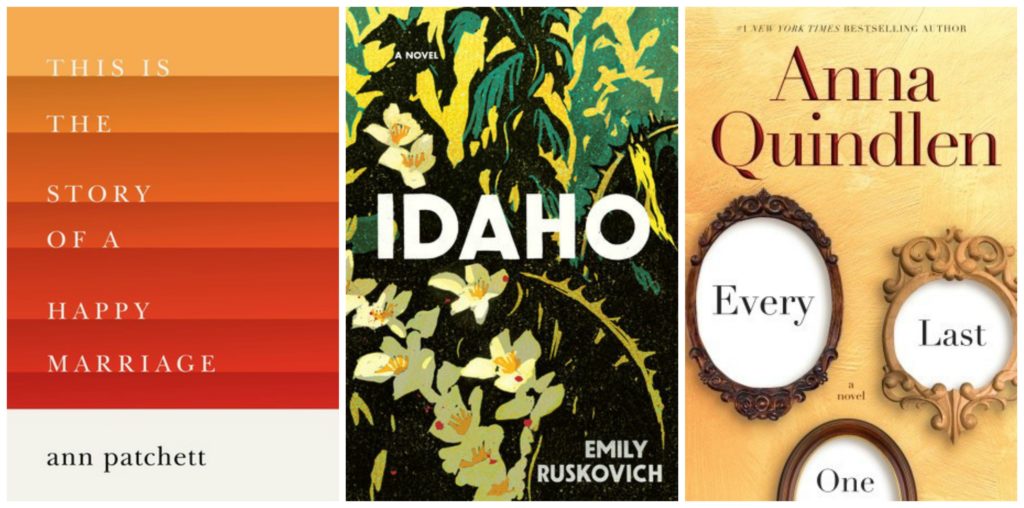 This is the Story of a Happy Marriage by Ann Patchett (December 11, 2011)
Pat Conroy is one of the rare authors whose fiction and nonfiction I've truly enjoyed. Now that he's gone, Ann Patchett might be taking his place (thanks to his recommendation in A Lowcountry Heart). She covers the gamut of topics in this essay collection: marriage (obviously), divorce, writing, book tours, opera (the only low point for me), friendship, being a caregiver, how to be productive, and the story behind the opening of Parnassus Books. She lives an interesting, yet fairly normal life and I like her outlook on things.
Affiliate Link: Buy from Amazon
Idaho by Emily Ruskovich (January 3, 2017)
Early readers have mostly loved this debut novel, but it didn't quite gel for me. Full review to come.
Every Last One by Anna Quindlen (April 13, 2010)
This is my second Anna Quindlen novel in the past month (thanks to Catherine at Gilmore Guide to Books) and she's fast becoming a new favorite. This novel showed me she "gets it" and wrapped up my 2016 on a 5 star note. Mini review to come.
Affiliate Link: Buy from Amazon
I'm currently reading…

The Sleepwalker by Chris Bohjalian (January 10, 2017)
Bohjalian is one of my go-to authors and reading his January new release seems to be a new holiday tradition for me. I'm flying through this one and it's got me thinking he's the new master of mysteries with…more.
Affiliate Link: Buy from Amazon
String Theory: David Foster Wallace on Tennis by David Foster Wallace (June 21, 2014)
My mom was a tennis player growing up, so I got this for her for Christmas (also, it was a wolf present). In the tradition of the wolf present, she's read it and has now passed it on to me. I've only read the first essay, but am not quite sure how I feel about Wallace's writing style. It might be a bit erudite/pretentious/pompous for my taste.
Upcoming reading plans…
I'm not sure…possibly one of these. Let me know if you've read any of them and have any feedback!

History of Wolves by Emily Fridlund (January 3, 2017)
This debut novel about a young girl living a somewhat eccentric life in Minnesota has been getting some pre-publication buzz…but some bloggers I trust have been lukewarm on it. I have the ARC sitting here, so I'm going to give it a try with reduced expectations.
Lucky Boy by Shanthi Sekaran (January 10, 2017)
This story about a Mexican immigrant living in the U.S. sounds promising, but the length (480 pages, which is long for me these days) is making me hesitate.
The Most Dangerous Place on Earth by Lindsey Lee Johnson (January 10, 2017)
Debut novel about the hidden lives of wealthy high school students…certainly not a unique storyline, but these types of things always suck me in nonetheless.
How was your reading week?