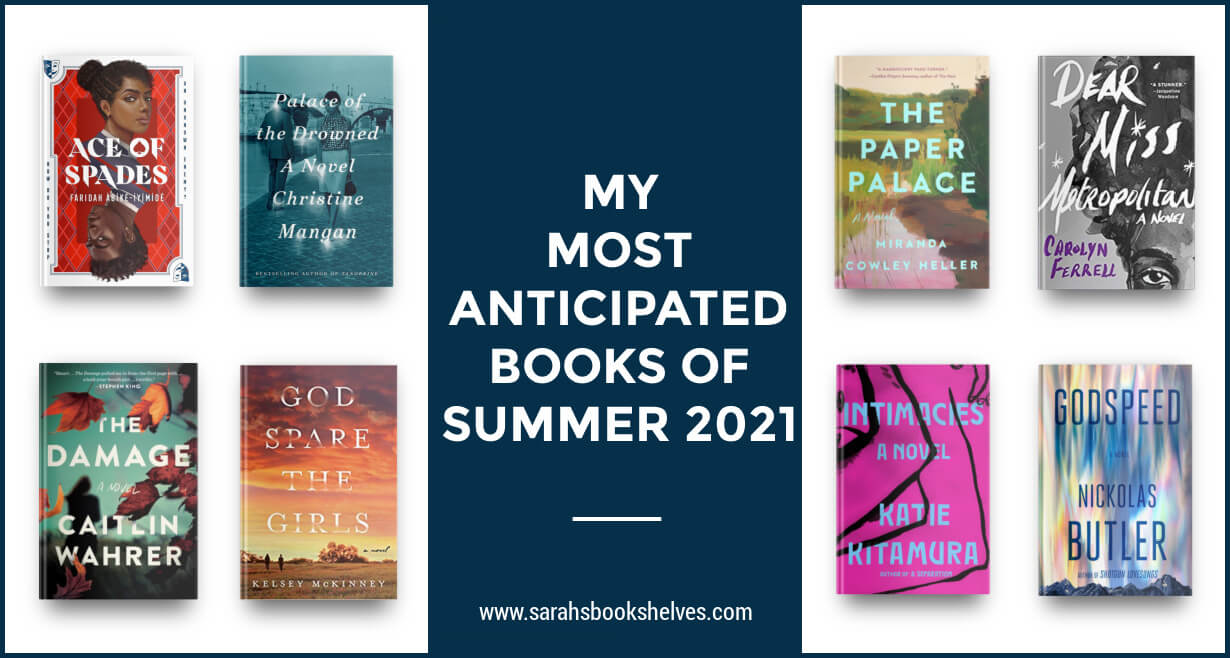 If you missed yesterday's episode of the Sarah's Bookshelves Live podcast (listen above), Catherine from Gilmore Guide to Books and I covered 12 books we're excited about that are coming out this Summer. I'm talking about 4 of them (and 4 I didn't share) again in today's blog post (noted by each book)…but, check out the podcast to hear about the rest! Just click on the time stamp link next to each book and it will take you right to the place in the podcast where we talk about that book.
Additional Summer 2021 Releases I Covered in the Podcast
As always, my Most Anticipated Books of Summer 2021 list is mostly made up of books from trusted sources who, in as many cases as possible, have already read the book. I did not look at a single publisher's catalog to create this list. I'm sharing the recommendation source for each book and will specify if that source has or has not read it yet.
I use my "Rock Your Reading" Tracker (available for purchase for $14.99) to keep an ongoing eye on my most trusted recommendation sources…and improved my reading success 42% from last year!
This post contains affiliate links (plus: here's your Amazon Smile-specific affiliate link
), through which I make a small commission when you make a purchase (at no cost to you!).
My Most Anticipated Books of Summer 2021
June
Ace of Spades
by Faridah Abike Iyimide (June 1, Feiwel & Friends)
Discussed on the podcast [7:17]
This debut YA novelist is only 22 years old, her favorite show is Gossip Girl and she believes that Black people belong in stories like Gossip Girl and Pretty Little Liars, and she got a 7 figure book deal for this book and a second one.
Gossip Girl meets Get Out in Ace of Spades, a YA contemporary thriller by debut author Faridah Àbíké-Íyímídé about two students, Devon & Chiamaka, and their struggles against an anonymous bully.
Recommendation Source(s): None, but it has a 4.42 average rating on Goodreads.
Palace of the Drowned
by Christine Mangan
(June 1, Flatiron)
I really liked Mangan's last novel, Tangerine. This story is giving me Who is Maud Dixon? vibes, but set in 1960's Venice.
It's 1966 and Frankie Croy retreats to her friend's vacant palazzo in Venice. Years have passed since the initial success of Frankie's debut novel and she has spent her career trying to live up to the expectations. Now, after a particularly scathing review of her most recent work, alongside a very public breakdown, she needs to recharge and get re-inspired.

Then Gilly appears. A precocious young admirer eager to make friends, Gilly seems determined to insinuate herself into Frankie's solitary life. But there's something about the young woman that gives Frankie pause. How much of what Gilly tells her is the truth? As a series of lies and revelations emerge, the lives of these two women will be tragically altered as the catastrophic 1966 flooding of Venice ravages the city.
Recommendation Source(s): Trusted author and blurbed by Paula McLain (author of When the Stars Go Dark).
The Damage by Caitlin Wahrer (June 15, Pamela Dorman Books)
This crime / legal drama does not read like a thriller…it's a study of the aftermath of a violent male-on-male sexual assault. And, Wahrer does a fantastic job highlighting how tough the U.S. legal system is for rape victims. Not for the faint of heart.
Tony has always looked out for his younger brother, Nick. So when he's called to a hospital bed where Nick is lying battered and bruised after a violent sexual assault, his protective instincts flare, and a white-hot rage begins to build.

As a small-town New England lawyer, Tony's wife, Julia, has cases involving kids all the time. When Detective Rice gets assigned to this one, Julia feels they're in good hands. Especially because she senses that Rice, too, understands how things can quickly get complicated. Very complicated.
Recommendation Source(s): Already read and loved by ME, Dennis at Scared Straight Reads, and Liz Hein (@lizisreading_).
God Spare the Girls
by Kelsey McKinney (June 22, William Morrow)
Discussed on the podcast [16:42]
I loved (4.25 stars) this debut about two high school / early adult age sisters struggling with their evangelical faith and what it means to live authentically in the aftermath of discovering secrets about their prominent pastor father. Great pick if you loved The Book of Essie!

A mesmerizing debut novel set in northern Texas about two sisters who discover a dark secret about their father, the head pastor of an evangelical megachurch, that upends their lives and community—a coming-of-age story of family, identity, and the delicate line between faith and deception.
Recommendation Source(s): Already read and loved by ME!
July
The Paper Palace by Miranda Cowley Heller (July 6, Riverhead Books)
I love the sound of the Cape Cod setting, long-held family secrets, and a structure similar to Malibu Rising (one historical timeline and one 24-style present day timeline).
A story of summer, secrets, love, and lies: in the course of a singular day on Cape Cod, one woman must make a life-changing decision that has been brewing for decades.

It is a perfect July morning, and Elle, a fifty-year-old happily married mother of three, awakens at "The Paper Palace"–the family summer place which she has visited every summer of her life. But this morning is different: last night Elle and her oldest friend Jonas crept out the back door into the darkness and had sex with each other for the first time, all while their spouses chatted away inside. Now, over the next twenty-four hours, Elle will have to decide between the life she has made with her genuinely beloved husband, Peter, and the life she always imagined she would have had with her childhood love, Jonas, if a tragic event hadn't forever changed the course of their lives. As Heller colors in the experiences that have led Elle to this day, we arrive at her ultimate decision with all its complexity.
Recommendation Source(s): Already read and loved by Annie Jones.
Dear Miss Metropolitan by Carolyn Ferrell (July 6, Henry Holt)
Discussed on the podcast [36:27]
I'm kind of stealing this from Catherine (Gilmore Guide to Books)…she shared it on our Summer 2021 Book Preview podcast episode and it immediately grabbed my attention. I love the sound of a debut novel about what happens after long-time kidnapping victims have been found…and what happens to the surrounding community.
Fern seeks refuge from her mother's pill-popping and boyfriends via Soul Train; Gwin finds salvation in the music of Prince much to her congregation's dismay and Jesenia, miles ahead of her classmates at her gifted and talented high school, is a brainy and precocious enigma. None of this matters to Boss Man, the monster who abducts them and holds them captive in a dilapidated house in Queens.

On the night they are finally rescued, throngs line the block gawking and claiming ignorance. Among them is lifetime resident Miss Metropolitan, advice columnist for the local weekly, but how could anyone who fancies herself a "newspaperwoman" have missed a horror story unfolding right across the street? And why is it that only two of the three girls–now women–were found? The mystery haunts the two remaining "victim girls" who are subjected to the further trauma of becoming symbols as they continuously adapt to their present and their unrelenting past.
Recommendation Source(s): None.
Intimacies by Katie Kitamura (July 20, Riverhead Books)
Discussed on the podcast [33:16]
Kitamura's last novel, A Separation, was 5 stars for me! It's a gorgeously dark rumination on a troubled marriage and Kitamura's voice and tone set this book apart.
An interpreter has come to The Hague to escape New York and work at the International Court. A woman of many languages and identities, she is looking for a place to finally call home.

She's drawn into simmering personal dramas: her lover, Adriaan, is separated from his wife but still entangled in his marriage. Her friend Jana witnesses a seemingly random act of violence, a crime the interpreter becomes increasingly obsessed with as she befriends the victim's sister. And she's pulled into explosive political fires: her work interpreting for a former president accused of war crimes becomes precarious as their relationship is unbound by shifting language and meaning.
Recommendation Source(s): Trusted Author.
Godspeed by Nickolas Butler (July 29, Faber Faber)
Nickolas Butler's novel, Shotgun Lovesongs, and his short story collection, Beneath the Bonfire, were both 5 stars for me…and are underrated backlist gems. 
Bart, Teddy and Cole have been best friends since childhood. Having founded their own small-town construction company, they yearn to build a legacy, something to leave behind to their families. So when Gretchen Connors, a mysterious millionaire lawyer from California, approaches them with a stunning, almost formidable project in the mountains above their town, the three friends convince themselves it's the job which will secure their future.

But what is Gretchen hiding from them? And why does the build have to be complete by Christmas, a near-impossible deadline? With the lines between ambition and greed more slippery and dangerous than the three friends ever imagined, how far will they push themselves and what will be the cost of their dream?
Recommendation Source(s): Trusted Author.
*All book summaries (in block quotes) are from Goodreads (edited for length).
What Summer 2021 books are you looking forward to?
Pin this post…