Welcome to the Summer 2021 Book Preview with Catherine of Gilmore Guide to Books!
Catherine and I share our most anticipated books coming out June – July 2021.
Also, stay tuned for my Most Anticipated Books of Summer 2021 blog post, which is coming out soon. I'll share some of the books I talked about in this podcast, but also some that I didn't!
This post contains affiliate links (plus: here's your Amazon Smile-specific affiliate link
), through which I make a small commission when you make a purchase (at no cost to you!).
Announcements
Join our Patreon Community ($5/mo) to get (get more details about all the goodies available to our patrons and sign up here!):

Our new monthly bonus podcast episode series called BEYOND BOOKSTAGRAM where a featured patron shares 3 books she/he loves that are not splashed all over Bookstagram.
Our semi-new quarterly bonus podcast episode series called BOOK PREVIEW EXTRAS! In these episodes, Catherine and I share at least 4 bonus books that we're excited about that we did not share in the regular Preview episode. 
Highlights
Sarah's and Catherine's #1 Summer book picks.
Summer 2021 Book Preview [5:57]
June
Sarah's Picks:
Catherine's Picks:
July
Sarah's Picks:
Catherine's Picks:
Other Books Mentioned
About Catherine Gilmore
Blog | Facebook | Twitter | Instagram
Catherine started The Gilmore Guide to Books over 6 years ago after wrapping up a career as a corporate librarian. She loves books and reading (surprise!) and currently lives in Ann Arbor, MI.
Next Episode
There will not be a new episode next week since the podcast is on a bi-weekly schedule.
The following week's episode will feature Tia Williams, author of Seven Days in June (airing June 23).
Support the Podcast
Support on Patreon
When you support the podcast on Patreon for $5/month, get bonus podcast episodes and other goodies!
Share
If you like the podcast, I'd love for you to share it with your reader friends…in real life and on social media (there's easy share buttons at the bottom of this post!).
Subscribe


…wherever you listen to podcasts, so new episodes will appear in your feed as soon as they're released.

Rate and Review
Search for "Sarah's Bookshelves" in Apple Podcasts…or wherever you listen to podcasts!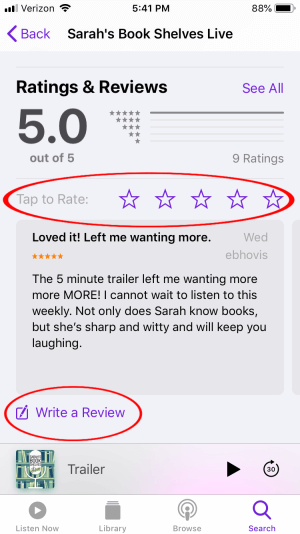 What Spring 2021 books are you most excited to read?
Pin this post…