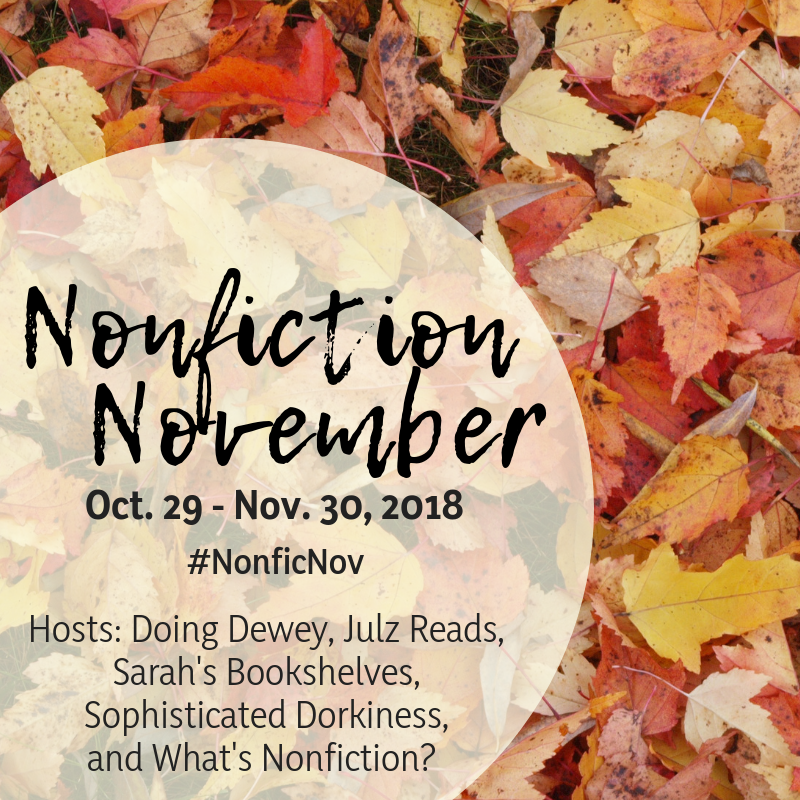 Today's Nonfiction November (hosted by Katie at Doing Dewey, Rennie at What's Nonfiction?, Julie at Julz Reads, Kim at Sophisticated Dorkiness, and me) topic is Be / Become / Ask the Expert:
Three ways to join in this week! You can either share 3 or more books on a single topic that you have read and can recommend (be the expert), you can put the call out for good nonfiction on a specific topic that you have been dying to read (ask the expert), or you can create your own list of books on a topic that you'd like to read (become the expert).
This post contains affiliate links (plus: here's your Amazon Smile-specific affiliate link
), through which I make a small commission when you make a purchase (at no cost to you!).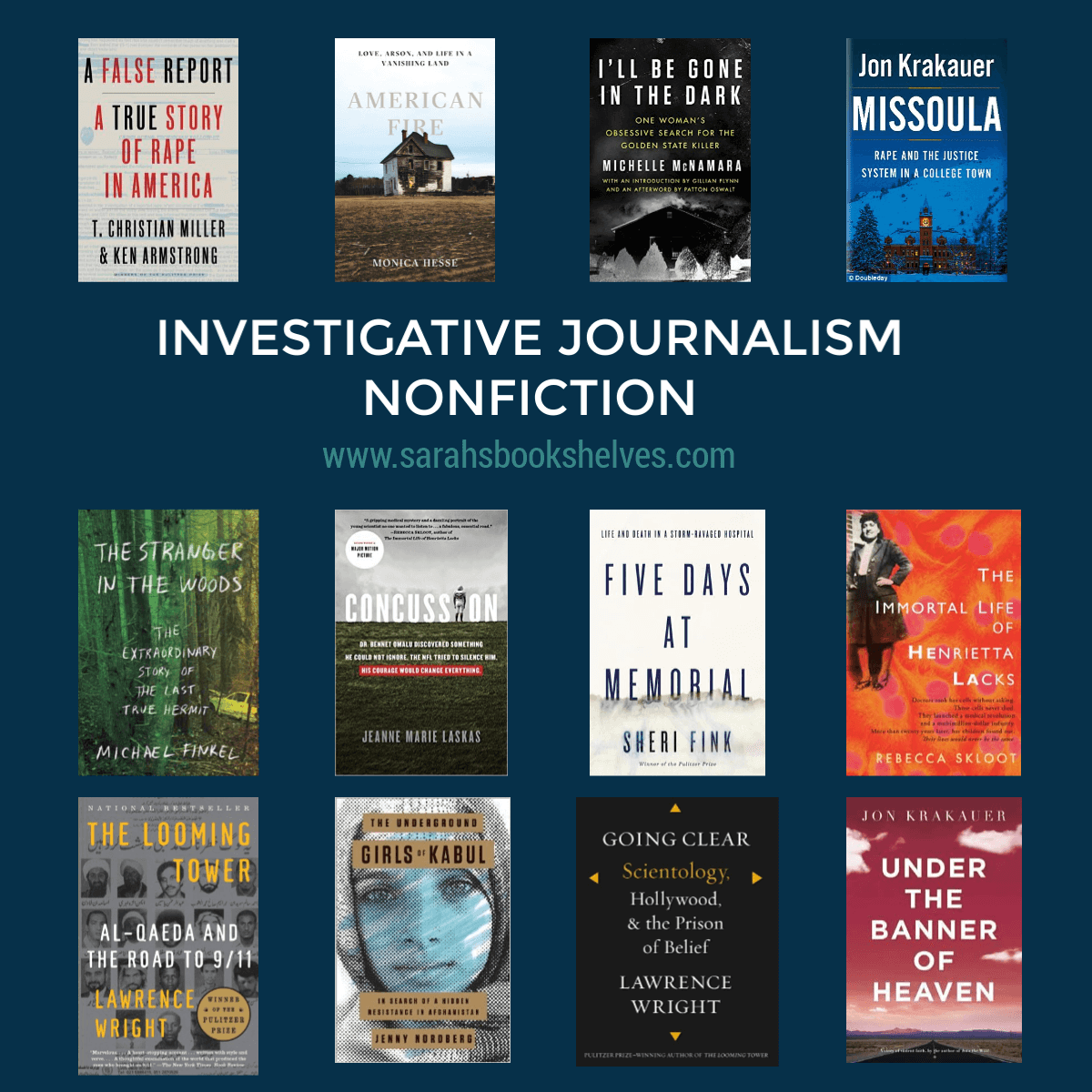 Investigative Journalism
I actually came to my Be the Expert topic by request! I mentioned in my My Year of Nonfiction post that I hadn't read enough investigative journalism this year and that I was looking forward to reading more during Nonfiction November. Multiple people mentioned in that post's comments that they were interested in seeing what investigative journalism books I end up reading this month (so far, I've read and really liked The Fifth Risk, Big Game, and Bad Blood…all of which I'll review at the end of the month!). Today, I thought I'd also share some of my past investigative journalism favorites!
But first, I want to share a couple new, investigative journalism podcasts I've been loving lately…all from Wondery, who seems to be cornering the market on investigative journalism podcasts these days:
Dr. Death


The story of Dr. Christopher Duntsch, a neurosurgeon who catastrophically hurt a number of patients he operated on…and the flawed medical system that failed his patients.

Gladiator


A deep dive into deceased New England Patriots football star and convicted murderer Aaron Hernandez.

American Scandal


Behind the scenes of America's biggest scandals. Season 1 focused on BALCO and performance enhancing drugs and Season 2 is about New York Governor Elliot Spitzer and his corrupt NY State government.
True Crime
A False Report by T. Christian Miller and Ken Armstrong
True crime (the story of a woman who was charged with lying about being raped and the detectives that worked to uncover the truth) mixed in with a bit of history of rape investigation and would make a great companion read to I'll Be Gone in the Dark (my review).

American Fire
by Monica Hesse (my review)
The story behind the hunt for this arsonist (actually, arsonists), who they were, and why they couldn't stop burning down abandoned buildings is ultimately about a unique community and a love affair gone very wrong.

I'll Be Gone in the Dark by Michelle McNamara (my review)
McNamara, previously a true crime writer and blogger at TrueCrimeDiary.com, investigated the unsolved crimes of a 1970's-80's serial rapist and murderer that she dubbed the Golden State Killer (also known as the EAR for East Area Rapist). Before her book could be published, she passed away…and soon after it was published, the Golden State Killer was caught via DNA evidence.

Missoula
by Jon Krakauer (my review/discussion)
Krakauer explores rape and the justice system on college campuses through a look at several acquaintance rape cases at the University of Montana in Missoula.

The Stranger in the Woods
 by Michael Finkel (my review)
The true story about Christopher Knight, the man who lived alone in the Maine forest for 27 years before finally being arrested for stealing food and essentials from nearby vacation homes. Also, one of my all-time favorite audiobooks!

Medicine
Concussion
 by Jeanne Marie Laskas (my review)
The story of Dr. Bennet Omalu, a native of Nigeria, who immigrated to the U.S. and used his neuropathological research into brain injuries to football players (i.e. CTE) to take on the National Football League (NFL). It's so much more than a "football book"; it's a medical mystery, a David & Goliath story, an immigrant's story, and a story of a big-business cover-up…and, it was one of my favorite books of 2015!

Five Days at Memorial by Sheri Fink (my review)
An investigative report into what happened during and immediately after Hurricane Katrina at New Orleans' Memorial Medical Center…including allegations that doctors intentionally sped up death for some of the hospital's sickest patients that they thought wouldn't survive an evacuation. Plus, it reads like a thriller.

The Immortal Life of Henrietta Lacks by Rebecca Skloot (my review)
The true story of the woman whose tissue became one of science's most important discoveries, the "immortal" HeLa cells that enabled countless medical breakthroughs (including the Polio Vaccine). And, the first book I ever read for a book club!

Business
DisneyWar
by James B. Stewart
"The dramatic inside story of the downfall of Michael Eisner—Disney Chairman and CEO—and the scandals that drove America's best-known entertainment company to civil war." – Amazon

The Great Beanie Baby Bubble
by Zac Bissonette
An in depth look at Ty Warner and the story of the mid-1990's speculative bubble surrounding his Beanie Babies…and its subsequent crash.

The Middle East
The Looming Tower
by Lawrence Wright
A historical account of how Al Qaeda (and, really, Islamic terrorism in general) grew into what it is now, what motivates the terrorists, and the U.S.'s response to the terrorist threat (and how we could have prevented 9/11).

The Underground Girls of Kabul
by Jenny Nordberg (my review)
Investigative journalist Jenny Nordberg exposes the "unofficial" custom of girls pretending to be boys (called bacha posh) in present day Afghanistan.

Religion
Going Clear
by Lawrence Wright (my review)
The story behind L. Ron Hubbard's (LRH) founding of Scientology, its links to the entertainment industry, and the current state of the "religion"…and, a big dose of cray-cray. This book sparked the best book club discussion I've ever been a part of…including lots of googling to see which celebrities are Scientologists!

Under the Banner of Heaven
by Jon Krakauer
An expose-type account of life in extreme Mormon communities that still practice polygamy. Also – one of my all-time favorite nonfiction books!

What are some of your favorite investigative journalism books?