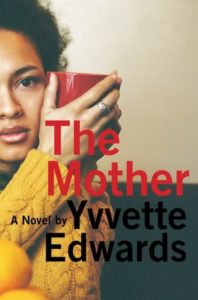 The Mother by Yvvette Edwards
Fiction (Released May 17, 2016)
256 Pages
Bottom Line: Read it.
Affiliate Link: Buy from Amazon

Source: Purchased (Publisher: Amistad)

Plot Summary: When Marcia Williams, drowning in grief following the murder of her sixteen year-old son, faces his teenage killer at the trial, she is forced to make sense of how something so horrible could happen to her son.
My Thoughts: This novel kicks off with an incredibly powerful first chapter that pulled me in immediately, even though it was obvious this would be an emotionally difficult read. The Mother is part story of a mother's grief, part courtroom drama, part portrait of grief's impact on a marriage, and part statement about race, poverty, and what happens to people born into a rough life on the streets.  
Edwards' simple, yet impactful writing and powerful images take the reader on the emotional roller coaster ride of the trial along with Marcia…feeling how each subtle change in momentum sends Marcia's emotions either tumbling or soaring. As the story progresses, the book's feel changes from quieter to more action-packed, culminating in a particular scene that that felt out of place. I really loved that quieter book and a part of me wishes the ending had maintained the same emotions-focused feel. Despite my lack of love for some aspects of the ending, The Mother is a powerful book in a compact package and is going on my Great Books Under 300 Pages and Book Club Recommendations lists.
Some Possible Solutions by Helen Phillips
Fiction – Short Stories (Release Date: May 31, 2016)
224 Pages
Bottom Line: Skip it.
Affiliate Link: Amazon

Source: Publisher (Henry Holt) via NetGalley

Plot Summary: From the author of The Beautiful Bureaucrat (one of my favorite books of 2015), a collection of short stories focusing on "an idiosyncratic series of "What ifs."
My Thoughts: My love for Phillips' The Beautiful Bureaucrat created sky high expectations for this short story collection…despite short stories tending to be hit or miss for me. Well…this collection proved just like most others…hit and miss (with more misses than hits). If you read The Beautiful Bureaucrat, you know to expect some weirdness from Helen Phillips and she delivers that here. But, Bureaucrat had me dying to figure out the weirdness whereas some of the stories in Some Possible Solutions (Game, One of Us Will Be Happy, Children) left me so confused that I wasn't even interested in trying to figure out the point of it all (my notes literally say "didn't get it").
But, there are some bright spots! The first story, The Knowers, had me pondering whether I'd want to know my date of death in incredibly dramatic fashion. The last story, Contamination Generation, was a heartbreaking piece of social commentary. And, there were a couple that posed simple life questions in tongue-in-cheek ways. The MyMan Solution got me thinking about what wives are really looking for in their partners…via a woman who purchases a life-like robot/sex toy. And The Wife Solution explores what someone wants in a wife (or, what they think they want)…via a married couple that hire a "wife" to serve all their needs (his and hers). Though these bright spots shined, there weren't enough of them to overcome my confusion with many of the other stories.