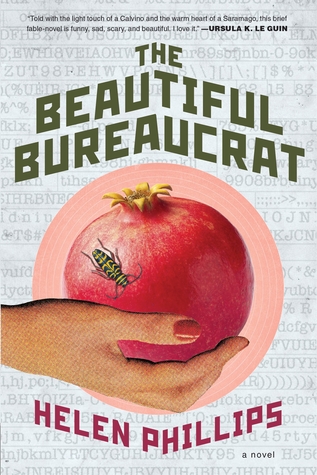 Fiction
Released August 11, 2015
192 Pages
Bottom Line: Read it.
Affiliate Link: Buy from Amazon

Source: eGalley provided by the publisher via NetGalley
Headline
Helen Phillips' debut novel is a tiny ball of weirdness…reminiscent of a demented "Office Space"…that had me on the edge of my seat. It's going on my Book Club Recommendations, Page Turners, and Great Books Under 300 Pages lists.
Plot Summary
When Josephine moves to a new city with her husband and takes a job at a data processing facility, strange things begin to happen, leading her to further investigate the company she works for.
Why I Read It
I first saw this book at BEA (Book Expo America) and quickly started hearing glowing chatter about it on Twitter from other bloggers.
What I Liked Loved
I was on the edge of my seat virtually the entire time I was reading. I just had to know…what the heck is going on here?! The entire book feels like a riddle that the reader needs to unravel. And, once the the riddle of Josephine's company has been solved, you're left with much broader questions to ponder. Is this some huge metaphor? What is Josephine's company's place in the broader world? What does it all MEAN?! All this would make for a great book club discussion.

There were multiple moments where I said, "oh my god"…including when I thought the story was wrapping up, but Phillips turned out not to be done with me yet.

This book has a futuristic, dream-like quality. It's almost as if Josephine, instead of living her real life, has stepped into an alternate reality.

There is a character named Trishiffany…quite possibly the best character name I've ever seen!

Phillips was masterful in portraying how Josephine begins to mentally unravel. Numbers (the data Josephine is responsible for processing) are becoming seductive and gradually beginning to take over her brain, almost hypnotizing her. And, she plays with words, sometimes using anagrams, and sometimes just seeing different combinations than what's actually there.
What I Didn't Like
I'm being intentionally vague here, but there is one particular detail in Josephine's investigation of her company that didn't make sense to me. She figured out the first critical piece to the puzzle based on information that I thought left a gaping hole for another possibility that she didn't consider. Did I miss something? I'd love to discuss this offline with anyone who has already read it!
A Defining Quote
Yet even so, she carried the Database around inside her; it floated in her brain like a net for catching and killing any glistening idea that came along. Sitting on a blanket on the floor, looking deep into the heart of the cheap white wine in the plastic cup, she confessed to Joseph: "I'm becoming a bureaucrat."
Good for People Who Like…
Books that make you think, mind games, page turners, a bit of creepiness, suspense
Other Books You May Like
Nope, this category is not happening this time around…I have never read another book remotely like this one. And, that's kind of awesome.