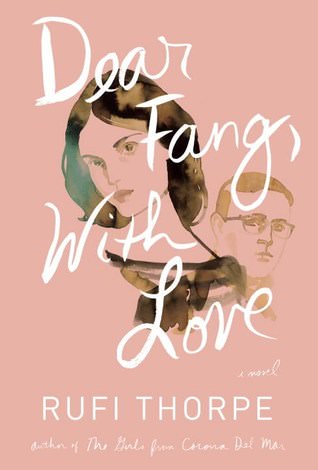 Fiction
Released May 24, 2016
303 Pages
Bottom Line: Read it.
Affiliate Link: Buy from Amazon

Source: Purchased (Publisher: Knopf)
Headline
Seventeen year-old protagonist Vera shines in this story of teen angst, mental illness, and family history.
Plot Summary
After a psychotic break at a party, seventeen year-old Vera accompanies her father (who has been absent for most of her life) on an European history tour to Lithuania, where her paternal grandmother grew up.
Why I Read It
This novel came recommended to me by a number of sources: Catherine at Gilmore Guide to Books, Kerry at Entomology of a Bookworm, and the ladies at Book Riot's All the Books podcast. It was only after reading it that I realized the author got her MFA at my alma mater (University of Virginia).
Major Themes
Teen angst, mental illness, family history, the Holocaust, father/daughter relationships
What I Liked
It's difficult to pinpoint what this book is truly about because it's about teen angst, mental illness, and family history and relationships without being overly about any one of those things. They all kind of balance each other out into a story that ends up being about the people (mainly Vera and her father).

I adored Vera. She's precocious, insightful, quirky, troubled, yet sometimes comes across as the surprising voice of reason.

The story is told from Vera's father's perspective and through Vera's emails to her boyfriend back at home, Fang. Vera's emails open a large window into Vera's mind, which, it turns out, is an intriguing and thought-provoking place to be.
I finally did sleep for a little while, only it was like the difference between Pringles and actual chips, like someone took sleep and then put it through a horrible industrial machine, made it into paste, and re-formed it and baked it into a shape that was supposed to look like sleep but was not anything even close.
Throughout the book, an "is she or isn't she" vibe surrounding Vera's mental health provides suspense. It had me paying very close attention to her emails to Fang to try to make my own judgments.
What I Didn't Like
There is a bit of a lull through the middle, when the story gets stuck meandering around Vera and her father's European history tour and the other people on it.
A Defining Quote
That was the thing about Vera. She was always coming at things from an unexpected angle.
Good for People Who Like…
Quirky characters, character-driven novels, teen angst, fathers and daughters, unconventional families, gorgeous writing