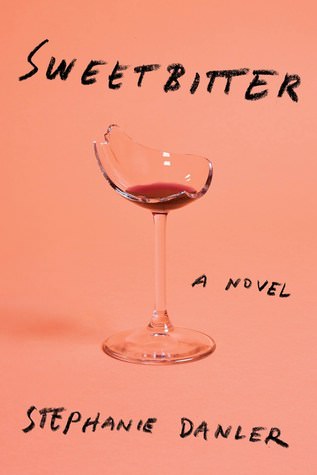 Fiction
Released May 24, 2016
368 Pages
Bottom Line: Read it.
Affiliate Link: Buy from Amazon

Source: Purchased (Publisher: Knopf)

Plot Summary
When twenty two year-old Tess comes to New York City looking to start her adult life, she lands a job as a "backwaiter" at a fictional Union Square restaurant that sounds a lot like Union Square Cafe…and experiences an unimaginable education in food, wine, life, and love.
My Thoughts
I'd been hearing incredible things about this debut novel from bloggers I trust (Catherine at Gilmore Guide to Books and Tara at It's Tara Leigh) and, with my love of food and interest in the NYC food scene, I was fairly confident I would love it too. And, I did. It's only my fourth 5 star book of the year! This is one of those books where the cover and premise could deceive you into thinking you're getting "brain candy". What you're actually getting is a smart, exquisitely written coming of age story set in the rough and tumble world of top-notch restaurants. The story of a young girl searching for her place in the world.
For me, the success of Sweetbitter is entirely due to Danler's storytelling style and writing. It's all about the way she writes about…well, anything.
She writes about food: she doesn't just describe flavors, rather she talks about a food's meaning and purpose.
At that point I couldn't remember the orchards, the blossoms, the life of the apple outside the city. I only knew that it was a humble fruit, made for unremarkable moments. It's just food, I thought as I finished it, core and all. And yet it carries us into winter. It holds us steady.
She writes about the act of eating.
Once you admit you want things to taste like more or better versions of themselves – once you commit to flavor as your god – the rest follows. I started adding salt to everything. My tongue grew calloused, overworked. You want the fish to taste like fish, but fish times a thousand. Times a million. Fish on crack. I was lucky I never tried crack.
She writes about working in the restaurant business.
What I didn't see was that the time had severe brackets around it. Within those brackets nothing else existed. Outside of them, all you could remember was the blur of a momentary madness. Ninety percent of us wouldn't even put it on a resume. We might mention it as a tossed-off reference to our moral rigor, a badge of a certain kind of misery, like enduring earthquakes, or spending time in the army.
She writes about wine (and makes it interesting even to someone who doesn't care at all about the intricacies of wine).
Terroir. I looked it up in The World Atlas of Wine in the manager's office. The definition was people talking around it without identifying it. It seemed a bit far-fetched. That food had character, composed of the soil, the climate, the time of year. That you could taste that character. But still. An idea mystical enough to be seductive.
She writes about 9/11, giving me goosebumps and a lump in my throat.
I was pouring milk into my cereal, I looked down for one second…
I was asleep, I didn't even feel the impact.
A tide of people moving up the avenues on foot.
Blackness.
Sometimes it feels too soon.
It's our shared map of the city.
Then the sirens, for days.
We never forget, really.
A map we make by absences.
No one left the city. If you were here, you were temporarily cured of fear.
She writes about dating/love in a way that didn't make me want to vomit from the cheesiness. There is romance in this book, but not the traditional kind…more of the painful, unhealthy kind reminiscent of Tender.
His certainty always disabled my thoughts, like in this moment when I searched for my words, for my anger, and found a void where my reason had been.
She writes about living in NYC.
Remember this, I told myself. Remember how quiet today is. I had the newspaper, which I would keep for years, and I was on my way to lunch in Chinatown by myself. As I contemplated the skyline this double feeling came to me as one thought, pressing in from either side of the bridge, impossible for me to reconcile: It is ludicrous for anyone to live here and I can never leave.
Grab this book immediately if you're in the market for a somewhat lighter read that's smart and well-done, but especially if you're a foodie, spent some of your young adult life in NYC, and/or work or have worked in a restaurant. And, it's going on my 2016 Summer Reading Guide!