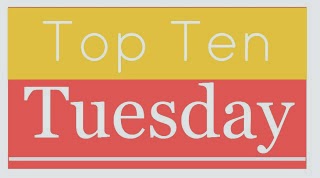 Top Ten Tuesday is a weekly meme hosted by The Broke and the Bookish that asks bloggers to create Top Ten lists on a variety of bookish topics. During the spring, I mostly focus on reading lighter books that might make good selections for my annual Summer Reading List (click here for last year's list). I'm hoping to get some more possibilities from everyone else's Spring TBR lists!
Top Ten Books on My Spring TBR List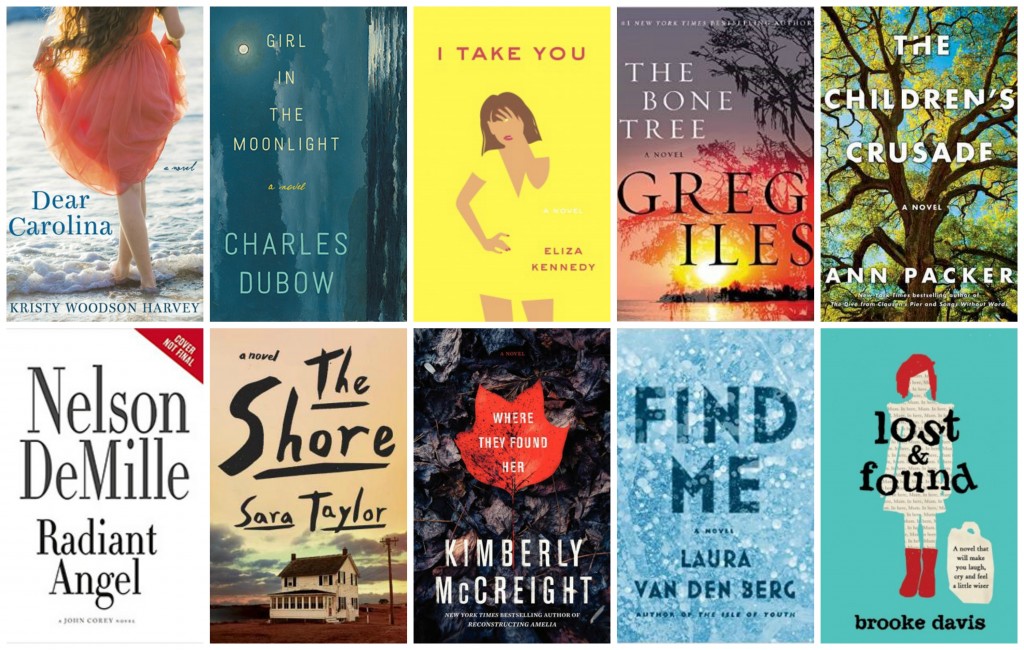 New Releases
Dear Carolina by Kristy Woodson Harvey (May 5, 2015)
A debut Southern chick lit novel about a baby girl, her adoptive mother, and her biological mother.

Girl in the Moonlight by Charles Dubow (May 12, 2015)
Dubow's 2013 novel, Indiscretion, was strangely addictive (and a great summer read!), so I'm excited about his new novel about a man's unhealthy obsession with his friend's sister.

I Take You by Eliza Kennedy (May 5, 2015)
A debut about a bride who appears to have it all, but "has no business getting married". (Amazon)

The Bone Tree by Greg Iles (April 21, 2015)
This sequel to last year's Natchez Burning (which made my Best Books of 2014 List) continues the story of former Mississippi prosecutor Penn Cage, his father, and the KKK offshoot Double Eagles.

The Children's Crusade

by Ann Packer (April 7, 2015)
I loved Packer's

The Dive from Clausen's Pier

, so I'm excited about this saga type novel about a California family.

Radiant Angel by Nelson DeMille (May 26, 2015)
My favorite terrorism thriller writer known for pulling story ideas from the headlines strikes again…this time bringing ex Anti-Terrorist Task Force agent John Corey back to tackle the threat of a re-emerging Russia.

The Shore

 by Sara Taylor (May 26, 2015)
This debut novel set on "a group of small islands in the Chesapeake Bay, just off the coast of Virginia" grabbed my attention immediately because I got married in Cape Charles, Virginia (a tiny town on the Eastern Shore by the Chesapeake Bay…much like where this book is set)!

Where They Found Her

 by Kimberly McCreight (April 14, 2015)
McCreight's Reconstructing Amelia was a fun high school suspense story and she's now kicking off her next novel with a baby abandoned in the woods near a prestigious New Jersey college.

Extras
Find Me

 by Laura Van Den Berg (February 14, 2015)
According to Book Riot's Rebecca Schinsky,

Find Me

is "the logical next book if you loved

Station Eleven

", which I did!

A debut novel about a young girl, an eighty-two year old woman, an eighty-seven year old man, and an Australian road trip.
Tuesday Intro

Every Tuesday, fellow blogger Bibliophile By the Sea hosts First Chapter First Paragraph Tuesday Intros, where bloggers share the first paragraph of the book they are currently reading or thinking about reading soon.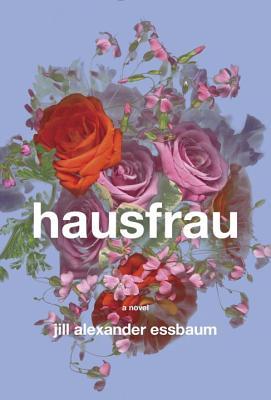 I just started this one, which has been getting a ton of buzz lately. I don't really know what to make of it yet, but it hasn't immediately grabbed me.
Plot Summary from Amazon
Anna Benz, an American in her late thirties, lives with her Swiss husband, Bruno—a banker—and their three young children in a postcard-perfect suburb of Zürich. Though she leads a comfortable, well-appointed life, Anna is falling apart inside. Adrift and increasingly unable to connect with the emotionally unavailable Bruno or even with her own thoughts and feelings, Anna tries to rouse herself with new experiences: German language classes, Jungian analysis, and a series of sexual affairs she enters with an ease that surprises even her.
 
But Anna can't easily extract herself from these affairs. When she wants to end them, she finds it's difficult. Tensions escalate, and her lies start to spin out of control. Having crossed a moral threshold, Anna will discover where a woman goes when there is no going back.
Here's the first paragraph (this quote is from an uncorrected proof):
September

Anna was a good wife, mostly.

It was mid-afternoon, and the train she rode first wrenched then eased around a bend in the track before it pulled into Bahnhof Dietlikon at thirty-four past the hour, as ever. It's not just a an adage, it's an absolute fact: Swiss trains run on time. The S8 originated in Pfaffikon, a small town thirty kilometers away. From Pfaffikon, its route sliced upward along the shores of the Zurichsee, through Horgen on the lake's west bank, through Thalwil, through Kilchberg. Tiny towns in which tiny lives were led. From Pfaffikon, the train made sixteen stops before it reached Dietlikon, the tiny town in which Anna's own tiny life was led. Thus the ordinary fact of a train schedule modulated Anna's daily plans. Dietlikon's bus didn't run into the city. Taxicabs were expensive and impractical. And while the Benz family owned a car, Anna didn't drive. She did not have a license.
What do you think? Would you keep reading?