Dysfunctional families are one of my favorite topics to read about in fiction…and I was lucky enough to come across two winners this Fall.
Commonwealth by Ann Patchett
Fiction (Released September 13, 2016)
336 Pages
Bottom Line: Read it.
Affiliate Link: Buy from Amazon

Source: Purchased (Publisher: Harper)

Plot Summary: An ill fated christening party is the catalyst that ruins the Keating and Cousins marriages…and creates a blended family trying to navigate their new world.
My Thoughts: Commonwealth is a simply and perfectly told story of a cobbled together family…and is one of my favorite books of 2016 so far! Every member of the blended Keating/Cousins family behaves dreadfully, but I was somewhat sympathetic towards all of them. The four Cousins children and two Keating girls are impressively creative in their antics, but I rooted for them because their parents are so completely uninterested in and overwhelmed by them. And, it wasn't their fault that their parents selfishly created this impossible situation. But, I also sympathized with the parents because their children's united hatred of them resulted in an incredible amount of tormenting.
The Cousins children and the Keating children smiled up with beatific forgiveness. They had done everything they had ever wanted to do, they had had the most wonderful day, and no one even knew they were gone.
There is nothing grand about this story, no bells and whistles in the plot or the writing. But Ann Patchett can really tell a story…one that is beautiful and satisfying and reflects the mess of real life without resorting to tricks. She releases information about her characters in drips and drabs (similar to Did You Ever Have A Family) and describes scenes of mundane life that perfectly illustrate her characters:
When their father took the girls to the alley behind the grocery store at six o'clock in the morning with their racquets and fresh cans of tennis balls, Caroline would have as many as twenty-seven consecutive hits without missing. Thwack, thwack, thwack, into the blank wall that was the back of the A&P, her long arms intuitively graceful in their swing. Franny's personal best was three consecutive hits, and that had only happened once. But the real difference between Caroline and Franny was that Caroline cared. She cared about the law and tennis and her grades in classes she didn't even like. She cared what their father said about their mother, what he said about everything. Franny just wanted to go back to the car and read Agatha Christie.
Commonwealth is a book that I enjoyed every minute of reading. I couldn't wait for my next opportunity to read and I didn't want it to end.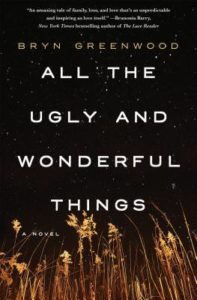 All the Ugly and Wonderful Things by Bryn Greenwood
Fiction (Released August 9, 2016)
352 Pages
Bottom Line: Read it.
Affiliate Link: Buy from Amazon

Source: Purchased (Publisher: Thomas Dunne Books)

Plot Summary: After Wavy, the daughter of a meth dealer father and addict mother, witnesses Kellen's (one of Wavy's father's "employees") motorcycle accident, he takes her under his wing, leading to an unlikely relationship.
My Thoughts: I was all over the place with my feelings about All the Ugly and Wonderful Things, but I ended up in an emotionally invested and somewhat surprising (to me) place. I immediately loved the voice of Amy, Wavy's cousin, and the storyline of Wavy's integration into her extended family's normal way of life the first of many times she stayed with them. Then, I became thoroughly creeped out by the story's direction once Wavy returns to her parents at the ranch (her home and the site of her father's meth cooking business). My discomfort with a specific theme of the story began to make me actually dislike the entire book. I kept saying to myself "please tell me this isn't going there."
But, by the halfway point, Greenwood completely brought me around again. She sold me on her creepy storyline (to the tune of 4 stars instead of the 2.5/3 stars I was considering)! I've read many books that started off well only to fall off a cliff later on, but it's rare that I find one that does the opposite (Fates and Furies is the last one I can think of). Greenwood wrote in a way that demanded my sympathy for and understanding of these characters, despite my initial misgivings. Plus, the story's action picked up considerably in the second half. Because All the Ugly and Wonderful Things addresses a controversial topic likely to spark strong feelings one way or another, it would make an excellent book club selection.