Last week wasn't great on the reading front…I DNF'd a couple books, one of which I'd JUST shared on the Summer 2019 Book Preview podcast episode (airing on May 15). But, the good news is I saved some mediocre books from ending up on my 2019 Summer Reading Guide (coming on May 21)!
Podcast
Episode 17, featuring Jaclyn and Rachael of The Pingel Sisters book blog aired last week!
Episode 18, featuring Allison from the Mind Joggle book blog talking about books about motherhood, is coming on Wednesday.
New on the Blog
May Book of the Month picks are due today…I've got commentary on all the selections.
2019 Rock Your Reading Tracker – I used my "Rock Your Reading Tracker" this year to track all my reading stats in real time and figure out who my best recommendation sources are…and, my reading QUALITY improved 42% from last year! The new and improved 2019 tracker is now available for $14.99…get more details here!
Hosted by The Book Date.
This post contains affiliate links (plus: here's your Amazon Smile-specific affiliate link
), through which I make a small commission when you make a purchase (at no cost to you!).
I finished reading…
The Body in Question by Jill Ciment (June 11, 2019)
This courtroom drama is all about the jury….and I was riveted. This book went to places I wasn't expecting and packs a lot into 192 pages. But, it's not for everyone. Mini review coming.
Affiliate Link: Buy from Amazon
I'm currently reading…
The Silent Patient by Alex Michaelides (February 5, 2019)
I've recently figured out I'm more likely to enjoy a psychological thriller if it contains an actual psychologist or psychiatrist…so, I figured I'd give this one a shot since it came recommended by some of my trusted sources. I'm almost halfway through and it's super creepy…I'm into it.
Affiliate Link: Buy from Amazon
I tried, but wasn't feeling…
Golden Child by Claire Adam (January 29, 2019)
DNF at 3%
This one came down to the writing style. I almost didn't even say I DNF'd it because it really was more of a sample.
Park Avenue Summer by Renee Rosen (April 30, 2019)
DNF at 16%
This historical fiction about a woman who went to work as Helen Gurley Brown's secretary at a failing Cosmopolitan magazine was billed as Mad Men meets The Devil Wears Prada. Unfortunately, it was really average for me…nothing about it was standing out. 
Beyond All Reasonble Doubt by Malin Persson Giolito (June 4, 2019)
DNF at Page 132
I loved this Swedish legal thriller author's last novel, Quicksand (my review), but this one just dragged and dragged. By page 132, the lawyer still hadn't officially decided to take the case that was at the center of the story. The really bad part is that it's the first book I share on next week's Summer 2019 Book Preview podcast episode. I literally DNF'd it right after recording the episode. I hate it when that happens!
Upcoming reading plans…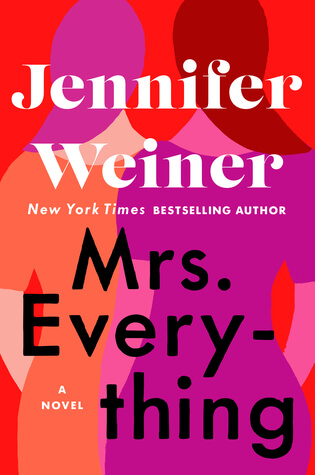 Mrs. Everything by Jennifer Weiner (June 11, 2019)
I haven't read Jennifer Weiner's fiction in ages (but, I did recently like her memoir, Hungry Heart), but this novel is supposedly her most ambitious one yet. It follows two women for their entire lives and addresses women's changing roles in society. Ashley Spivey liked it.
How was your reading week?
Pin this post…