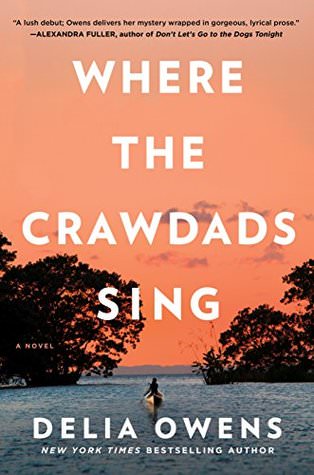 Fiction – Literary
Released August 14, 2018
384 Pages
Bottom Line: Read it.
Affiliate Link: Buy from Amazon
Source: Publisher (Putnam)
Headline
I was worried Where the Crawdads Sing would be a beautiful, but boring book, but I couldn't be more wrong. The writing is gorgeous, the story is propulsive, and it's 5-star immersive.
Plot Summary
When local star quarterback Chase Matthews is found dead, suspicion falls on Kya Clark (the "Marsh Girl"), who is not at all who the town residents think she is.
Why I Read It
This book came to me unsolicited from the publisher and it's North Carolina marsh setting intrigued me (i.e. made me think of Pat Conroy just a bit).
Major Themes
The marsh, nature, living outside the grid, love, prejudice
What I Liked
Where the Crawdads Sing

is a bit of a genre mash-up. There's a coming of age element, a mystery, and a bit of romance that I did not expect from this book, but that totally worked for me.

I was completely immersed in this story from start to finish. I read it quickly and looked for every opportunity in the day to pick it up.

There's a bit of a Sweet Home Alabama (the movie) feel to certain parts of the story.

The story is told in dual timelines…one starting in the past and working forwards and one in present day. I love how this structure kept the story moving by keeping you wondering how the characters got from point A to point Z.

I had somewhat muted expectations going into

Where the Crawdads Sing

and it defied everything I thought it would be. I knew Owens was known for her nature writing, which I thought would be beautiful, but boring. She did write beautifully about nature, animals, and marsh life, but it wasn't boring at all. It fit with the story, conveyed what the marsh meant to Kya, and how it shaped her into who she was. And, the story was much faster-paced than I expected.


As always, the ocean seemed angrier than the marsh. Deeper, it had more to say.

Not surprisingly, the marsh setting comes alive and feels like it's own character in the story.

I also expected Kya to be a weird and unrelatable character…eccentric and "woo-woo." But, Owens does a great job of letting her have thoughts and feelings that most regular teenage girls have. She just had some different layers over top as a result of her background and living alone in the marsh. She's dealing with feeling like an outsider, prejudice from the town residents, surviving on her own, love, and heart-break. She's incredibly likable and I was rooting for her.

Some plot elements should have felt cliche (they're out of a rom-com), but they didn't. I was totally sucked in.

I waited a week after finishing this book to write my review and I'm still thinking about this story. More layers keep materializing.
What I Didn't Like
There were a couple plot choices at the very end that I thought were overkill. The story didn't need them and I almost felt like the publisher might have pushed the author to add them to make the plot even more intricate.
A Defining Quote
She feels the pulse of life, he thought, because there are no layers between her and her planet.
Good for People Who Like…
Southern fiction, books with a strong sense of place, unconventional love stories, great writing, a fast-moving plot
Other Books You May Like
Another book with a fast-moving plot about a girl with a close relationship with nature:
Our Endless Numbered Days by Claire Fuller (my review)