All Is Not Forgotten is a book I really don't have that much to say about without discussing spoilers. So, I'm going to talk about all the nitty gritty details! Stop reading here if you don't want to know…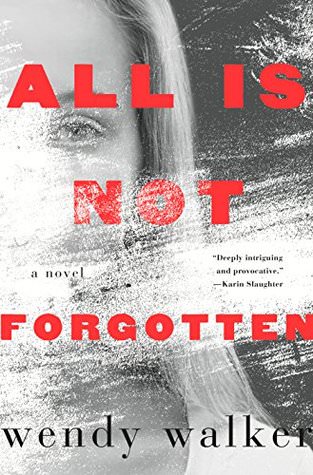 Fiction – Mystery/Thriller
Released July 12, 2016
320 Pages
Bottom Line: Read it.
Affiliate Link: Buy from Amazon

Source: Publisher (St. Martin's Press) via NetGalley
Before I get into all the spoiler-y details, I should say that I could not put this book down. I wasn't sure I actually liked it…and am still not sure to some extent, but I could. not. stop. reading. It's incredibly twisty, dark, and deeply unsettling. And, I was fascinated by all the psychology/science about how the brain processes memory and trauma, especially given this Author's Note:
[…] the altering of both factual and emotional memories of trauma is at the forefront of emerging research and technology in memory science. Scientists have successfully altered factual memories and mitigated the emotional impact of memories with the drugs and therapies described in this book, and they continue to search for a drug to target and erase those memories completely.
What is
All Is Not Forgotten

actually about?

The publisher's blurb would have you believe it's about Jenny, her rape, the controversial treatment she receives and the effects on her family and community:

Now, after reading it, I think Dr. Alan Forrester (the narrator and Jenny's psychiatrist) is the center of the story. Jenny and her family end up as merely cogs in his wheel of deception and personal issues. So much so that a more apt title for the book could have been The Puppeteer…if it wasn't somewhat of a spoiler.
What did you think of the narrator/psychiatrist (Dr. Alan Forrester)?
At first, I thought the narrator was just a random father of one of the other kids in town. This gave the book a creepy feeling and I couldn't figure out why a random father would be narrating this story. It actually made me dislike the book at first. Thankfully, someone told me the narrator was Jenny's psychiatrist well before it was revealed in the book and knowing that immediately improved my reading experience. That being said, the book itself didn't reveal the narrator's full identity until Chapter 7 (the 19% mark). I don't understand what waiting that late added to the story.

Dr. Forrester comes off as creepy, arrogant, and manipulative…even before the extent of his machinations are fully revealed. He goes on long tangents about his views on life, his patients, and his own family and is willing to say things most regular people probably wouldn't…which reminded me a bit of Dr. Marc Schlosser in Herman Koch's Summer House with Swimming Pool (review). I was never a fan of Dr. Forrester, but I truly hated him by the end (which I suppose was the author's intent).
I also didn't buy his final justification for his actions:


I am guilty. Hate me if you must. I have tried to show you the mitigating facts. Charlotte, Tom, Sean. I gave them back their lives, and none of that would have been possible if we had not had the collision. If I had not told my story to an unstable patient. If Jenny had not been in those woods with him. If I had confessed the moment I learned the truth. Hate me. Despise me. But know that I have weighed everything on the scales. And know that every night I fall asleep. And every morning I wake up and look in the mirror without any problem whatsoever.

The only person who truly benefited (without incredible cost) from all this was Sean because he was the ONLY person whose trauma was not set in motion by something Dr. Forrester did. Tom and Charlotte may have gotten their marriage back on track (and Charlotte was able to reconcile her two internal identities), but at the cost of their daughter's rape and attempted suicide. 

Finally, the entire fact that the Kramers chose Dr. Forrester as Jenny's psychiatrist is unrealistic. I think it's highly unlikely that a teenage rape victim would feel comfortable seeking treatment from the FATHER OF A CLASSMATE for such a personal trauma, regardless of the doctor's particular expertise.
How far should parents go to protect their children?
First, Dr. Forrester's dilemma reminded me of the choices the Lohmans faced in Herman Koch's The Dinner (review). And, it astounds me that I just compared parts of

All Is Not Forgotten

to not one, but two Herman Koch books! I want to be clear that I'm not saying

All Is Not Forgotten

is a great choice for fans of Herman Koch…I'm just comparing small pieces of each book here.
I understand how the Forresters would want to protect Jason if a truly unfortunate coincidence tied him to a high-profile crime he didn't commit…and the subsequent media storm and damage to his reputation that could result. Even if he is innocent, his name and reputation could get dragged through the mud (i.e. the Duke lacrosse case). 

But, Dr. Forrester went down an incredibly intricate path to protect Jason that harmed Sean and all the Kramers (not to mention Bob Sullivan!) while a part of him believed Jason was guilty. 

It's easy to label Forrester as evil because of all this, but do we truly know how far we would go to protect our own children? I hope I never have to find out.
What did you think of the ending?
Were you surprised that Glenn Shelby had raped Jenny? I guessed it when Forrester mentioned that Shelby's post-prison apartment was in nearby Cranston. What I couldn't figure out was the how or why.

That ending was quite an intricate web! It certainly went far beyond just who raped Jenny and I appreciated the more complicated layers. However, I think some plot points were too farfetched.

I didn't buy the crux of the ending…




A) that Forrester would tell the personal story of his own rape to a prison inmate who is also a patient. 




B) that Glenn would then try to recreate Forrester's experience by raping Forrester's own son as revenge for "abandoning" him.




C) that substituting Jenny for Jason at the last minute would fulfill Glenn's weird fantasy (assuming you bought B). Why not find another opportunity to go after Jason?




D) that Forrester would've kept his own scar and/or experience a secret from "the reader" until the very end given how much he revealed along the way about his own life.

And, I HATED the part about the killing of Bob Sullivan. It was way too farfetched that not one, not two, but three men (Sean Logan, Tom Kramer, and Lila's father) reacted to their individual beefs with him by seriously considering killing him and that two of them took action/attempted action at the same time.
All that being said, are thrillers farfetched by nature?
There has to be some level of outlandishness to ensure a thriller's plot is sufficiently surprising. But, I think there's a fine line between "delightfully surprising, yet still makes sense" and "so over the top it leaves you rolling your eyes." 

This ending leaned toward "so over the top it leaves you rolling your eyes" for me. There were too many fantastic coincidences and unrealistic elements. 

I always maintain that Gone Girl has the perfect ending (totally shocking, but fit all the pieces together perfectly)…and yet it does have elements that are completely unrealistic. So, it's possible I'm being overly critical of the unrealistic elements in

All Is Not Forgotten

. Sometimes maybe it's better to suspend reality for a bit and just enjoy the story!
Let's talk! What did you think about all this?
If you enjoy these types of spoiler discussions, check similar ones on the following books:
After the Crash by Michel Bussi
Behind her Eyes by Sarah Pinborough
The Girl on the Train by Paula Hawkins
Where They Found Her by Kimberly McCreight