Fiction – Southern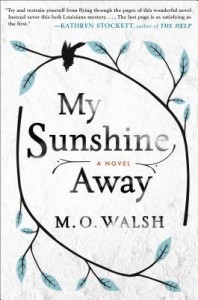 Released February 10, 2015
320 Pages
Bottom Line: Read it.
Affiliate Link: Buy from Amazon

Source: eGalley provided by the publisher via Edelweiss
Plot Summary
When fifteen year old track star, Lindy Simpson, is raped on the sidewalk in front of her house in an idyllic Baton Rouge neighborhood, the dark side of suburbia begins to surface.
My Thoughts
Finally – I've found the first "blew my mind" book of the year! And, go figure, it's a debut (I also had great luck with debuts last year – see my Best Debuts of 2014 list)! My Sunshine Away is a heartfelt, honest, and beautifully written coming of age story with some suspense thrown in for good measure. I can confidently say (yes, I know it's only February, but I just know) that it will be on my Best Books of 2015 list come December (click here for last year's list).
The first chapter was one of the best openings I've read in awhile…
When a book kicks off with a line like this, it's hard not to get drawn in….
There were four suspects in the rape of Lindy Simpson, a crime that occurred directly on top of the sidewalk of Piney Creek Road […]
And, that wasn't even my favorite part of the opening chapter.
The book was different than I expected (in a good way)…
When the first line of the book mentions a rape, you tend to think catching the perpetrator and exploring the impact of the rape are going to be the center of the story. While these themes do obviously come into play here, they serve as more of a backdrop for a coming of age story featuring all the angst and awkwardness of the teenage years.
The writing is gorgeous…
The writing is what really made this book for me. And, when this is the case, I usually try to share some quotes because me gushing about the writing just doesn't do the book justice!
So, kids my age thought about Bo Kern whenever we flirted with failure. The notion was that if he could graduate, there was hope for us all, and he was a legend in this capacity. He was therefore a guy that many people pretended to know all about, as people do, if only to nod gravely at his name.

She seemed to walk that perfect line between a person you suspect you might not deserve and the prize life would be if everything turned out just right. She was playful but not silly, pretty but not exotic, and close but just out of reach.

On research into the negative impacts on victims of sexual violence:
It is a catch-all category that scores off the charts and […] often does not lessen with time. The symptom is called "decreased capacity to enjoy life," and, for some women, it is a killer.
The late 80's / early 90's setting gave me "oh my god, me too!" type nostalgia…
Most of the story takes place between the summer of 1989 (the narrator is 14 years old and Lindy is 15) and 1991. I was 11 during the summer of 1989…not quite 14, but close enough to have experienced a lot of the same things the narrator references in the book. Things like watching the Challenger explosion at school on TVs on rolling metal carts, composition notebooks, prank calling, Four Square (one of my close friends absolutely dominated the playground for years in this game!), "A Nightmare on Elm Street", Whitney Houston, and Spencer's Gifts. Walsh perfectly captured what it was like to be an almost-teenager at this time.
One additional point that I have to mention is that, to my knowledge (i.e. unless I zoned out somewhere and missed it), the narrator remains nameless throughout the entire book. I didn't realize this until I was fairly far into the story and I'm still not sure how I feel about it. I don't think I've ever read a book with a "nameless narrator" before. But, I did notice another blogger talking about this in relation to a different book recently. Is this a "thing" that I was just not aware of?? I usually don't like it when non-narrator characters don't have names. But, I still loved this book and don't feel like the lack of a name made the narrator feel distant at all.
My Sunshine Away is a must read for fans of coming of age stories and for people who are drawn to books with amazing writing. It would also make a great book club selection and is going on my Book Club Recommendations List.
You May Also Like:
Dollbaby by Laura Lane McNeal
Shotgun Lovesongs by Nickolas Butler
The Interestings by Meg Wolitzer