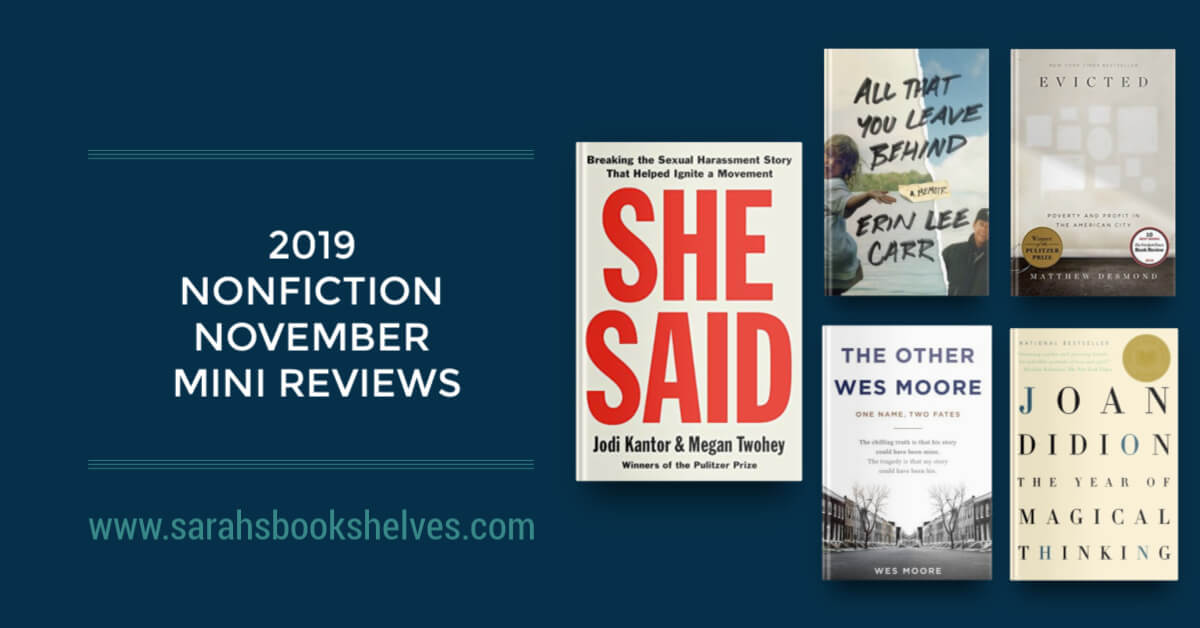 Another Nonfiction November (hosted by Katie at Doing Dewey, Rennie at What's Nonfiction?, Julie at Julz Reads, and Leann at Shelf Aware and me) is in the books! And, it was an awesome one. I read/listened to five books (all the books on my TBR list plus an extra) and I really liked all of them! And, my favorite book of Nonfiction November was She Said
by Jodi Kantor and Megan Twohey!
I also did a better job this year of not burning out on nonfiction halfway through the month by working in a novel or two to break things up. I think this needs to be my strategy moving forward.
This post contains affiliate links (plus: here's your Amazon Smile-specific affiliate link
), through which I make a small commission when you make a purchase (at no cost to you!).
2019 Nonfiction Mini Reviews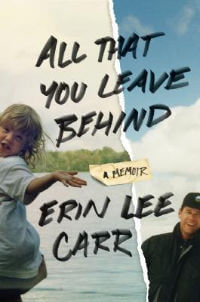 All That You Leave Behind
by Erin Lee Carr
Nonfiction – Memoir (Released April 9, 2019)
256 Pages
Bottom Line: Read it.
Affiliate Link: Buy from Amazon

Source: Library (Publisher: Ballantine Books)

Plot Summary: The author (daughter of New York Times journalist David Carr) comes to terms with her father's unexpected death, her own addiction, and reflects back on her relationship with her father.
My Thoughts: Claire Gibson (author of Beyond the Point) recommended this memoir on Ep. 36 of the podcast. I grabbed it when I was looking for one final #nonficnov book and it really surprised me in a good way! It's a bit of a mash-up of a grief memoir, an addiction memoir, an early-mid 20's career memoir, and a father / daughter story. And, all that works beautifully together. Carr shares email exchanges between her and her father, which illustrate the mentor / mentee relationship they had as she began a career in media. Through these communications, you feel like you're getting to know David Carr and these communications also give the memoir its "quarter-life wisdom" feel. Like From the Corner of the Oval (my review) and Who Thought This Was a Good Idea? (my review) it would make a great gift for someone graduating from college, particularly if he/she is interested in a career in media.
The willingness to come to rest with the self, with who you are and your own company is something that you will have to master. No one else can fill the hole in Erin. Only Erin can do that. Love and be good to that person in the mirror and you will love and be good to the people around you.
Evicted
: Poverty and Profit in the American City by Matthew Desmond
Nonfiction – Investigative Journalism / Social Justice (Released March 1, 2016)
418 Pages
Bottom Line: Read it
Affiliate Link: Buy from Amazon

Source: Library (Publisher: Crown)

Plot Summary: Desmond (a Princeton sociologist and MacArthur "Genius" Grant recipient) investigates the private housing market in poor neighborhoods by following 8 families in Milwaukee, WI.
My Thoughts: I tried this much-praised investigative journalism on audio earlier this year and kept getting the different families mixed up in my head, so I put it aside to try later in print. Reading the print version was much better…and, it is incredibly readable. I liked getting to follow specific families as they got evicted from various homes and looked for new ones, battled with landlords, and tried to hold down jobs. I alternately felt for them as they came up against systemic prejudice (i.e. single mothers being turned down for apartments simply because they had children, eviction for frivolous infractions, etc) and was frustrated with them as they made terrible choices (i.e. rampant drug use, pregnancy, missed welfare meetings resulting in benefits being cut off, fighting in their homes resulting in eviction, etc.). Regardless, I gained an incredible appreciation for how this system is set up almost to guarantee failure. And, his "Afterwards", where he shares his exhaustive research and ideas to improve the situation, should not be missed (even if you disagree with his ideas). However, I do feel that he skated over some of the bad decisions these tenants made and underplayed personal responsibility as something that needs to improve as well as systemic failures. I'm still thinking about this one and immediately followed it with The Other Wes Moore, which made an excellent companion read.
If incarceration had come to define the lives of men from impoverished black neighborhoods, eviction was shaping the lives of women. Poor black men were locked up. Poor black women were locked out.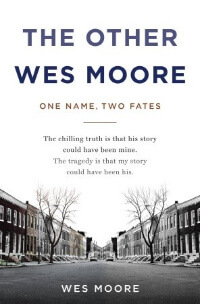 The Other Wes Moore by Wes Moore
Nonfiction – Memoir (Released April 27, 2010)
233 Pages
Bottom Line: Read it
Affiliate Link: Buy from Amazon
Source: Library (Publisher: Spiegel & Grau)
Plot Summary: Wes Moore, a Rhodes Scholar and U.S. Army Captain, traces his story about growing up in inner city Baltimore alongside the story of "the other Wes Moore," a child from the same neighborhood (with the same name) who ended up serving a life sentence for killing a police officer.
My Thoughts: Sara Hildreth shared this on Ep. 34 of my podcast as a contemporary book her high school students loved reading for class, so I knew I wanted to give it a try. The structure of this book is a powerful and effective way for Wes Moore to make his point. The two men's stories are pretty similar up to a point, at which they drastically diverge. He hammers home the point of how hard it is to get out of the ghetto lifestyle of drugs and gangs and for parents to keep their children out of it while living amidst it. It was also striking how similar running drugs is to running a business…these kids were learning skills that could be put to good use in the business world – if only they could've gotten there instead. It's incredibly readable and I blew through it in a couple days. My one complaint is it may be too readable…I wish the writing had been elevated a bit more. But, this is also probably a reason that it works well for a high school audience. PS – don't skip the "Afterward"…Moore tries to answer the question he's most often asked about this book: "what made the difference for you?"
The expectations that others place on us help us form our expectations of ourselves. "We will do what others expect of us," Wes said. "If they expect us to graduate, we will graduate. If they expect us to get a job, we will get a job. If they expect us to go to jail, then that's where we will end up too. At some point you lose control."
The Year of Magical Thinking
by Joan Didion
Memoir / Essays (Released September 1, 2005)
227 Pages
Bottom Line: Read it
Affiliate Link: Buy from Amazon

Source: Library (Publisher: Knopf)

Plot Summary: Didion chronicles the year following her husband's (novelist John Gregory Dunne) death from a heart attack as she researches grief to try to make sense of her own experience.
My Thoughts: When Mary Laura Philpott (author of I Miss You When I Blink) recommended this modern classic in Ep. 21 of the podcast, I couldn't believe I hadn't read it yet. Parts of this book were brilliant, but she included some things I could've done without. A heart attack is such a "normal" way to die and many women have lost their husbands to a heart attack so, you wouldn't think a book about that experience would be all that interesting and, in the hands of a lesser writer, it wouldn't be. But, Didion had me on the edge of my seat describing the night her husband died. And, I was highlighting like crazy when she described the grief that followed. In the year after John died, she researched grief through various texts, some academic papers by mental health professionals (which added to the story) and some literary works (which didn't for me, as these references felt like an academic literary criticism paper). These "literary criticism" portions broke up the power of her personal story. But, overall, I can see why this is one of the most well known stories of grief out there. P.S. – I loved Dominick Dunne's writing about crime amongst the wealthy and he makes multiple appearances in this book (he's John's brother).
Grief has no distance. Grief comes in waves, paroxysms, sudden apprehensions that weaken the knees and blind the eyes and obliterate the dailiness of life. Virtually everyone who has ever experienced grief mentions this phenomenon of "waves."
Audiobooks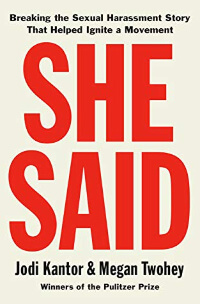 She Said: Breaking the Sexual Harassment Story That Helped Ignite a Movement
by Jodi Kantor and Megan Twohey, Narrated by Rebecca Lowman, Jodi Kantor and Megan Twohey
Nonfiction – Investigative Journalism (Released September 10, 2019)
9 Hours, 52 Minutes
Bottom Line: Read / Listen to it
Affiliate Link: Buy from Amazon
Plot Summary: Kantor and Twohey's story of how they broke the Harvey Weinstein sexual harassment story for The New York Times.
My Thoughts: I love investigative journalism, particularly on audio. And, She Said is one of the standouts. I knew the general framework of the Harvey Weinstein story going in, but I truly didn't understand the breadth and scope of his abuse or the investigation itself until I listened to this book. This book is important, but it's also a riveting listen. I often chose to listen to this over podcasts (which is my personal sign of a winning audiobook). I understand why they included a section about the Brett Kavanaugh scandal at the end, but I wish it had been kept to the context of illustrating the Weinstein investigation's broader impact along with other high profile sexual harassment scandals. Rather, they went into so much detail about it that it felt like another 1/4 of a book tacked on at the end. She Said is in the running for my Best Audiobook of 2019!
What was your favorite read of Nonfiction November?
Pin this post…