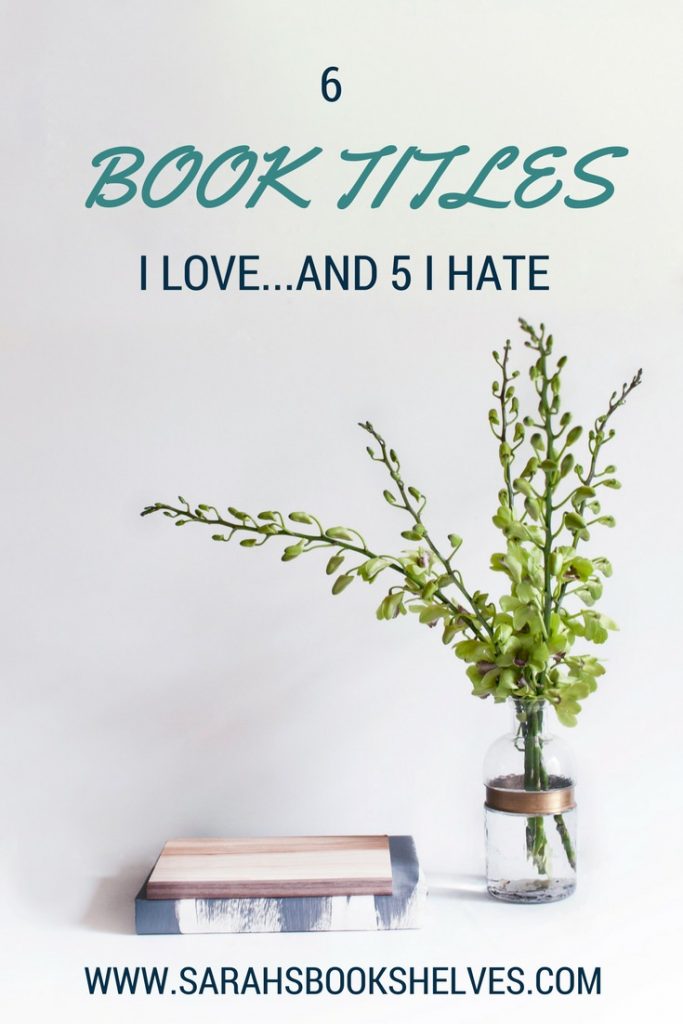 I've got to admit…I'm not a huge book title person. I rarely buy a book solely based on the title (but, I know lots of people do this), and the few times I have, it hasn't turned out well (see The People We Hate at the Wedding).
Book titles are more likely to go unnoticed by me unless I can't stand them…or, on the good side, they make me laugh. So, today you're getting both book titles I love…and hate!
Here's a little book publishing tidbit for you. Did you know authors have very little say about the title of their book? They can throw their title choice into the ring, but the publisher's marketing team generally has the final say (many publishing contracts specifically state this). And, the title is often determined by marketing research and what the publisher's title committee thinks will sell. I had no idea about this until very recently. So, don't blame the authors for the "hate" section of this list!
Linking up with The Broke and the Bookish.
This post contains affiliate links.
Six Book Titles I Love
11/22/63
by Stephen King
Because I now can actually remember the date of JFK's assassination.
Born A Crime
by Trevor Noah
Because it's the perfect title for this book…intriguing and perfectly encapsulates Noah's history.
The Life-Changing Magic of Not Giving A F*ck by Sarah Knight
Because it's sarcastic, witty and cheeky.
The People We Hate at the Wedding
by Grant Grinder
Because who hasn't hated those people at the wedding?! PS – I also kind of hated the 27% of this book that I read, but the title is still awesome.
Why Mummy Drinks
 by Gill Sims
I haven't read this book, nor do I have any idea what it's about. I just saw it on Instagram last week and burst out laughing at the title. And, suspect I'll probably relate to the protagonist.
You Are An Ironman
 by Jacques Steinberg
This is the only book title that's ever given me goosebumps. It's what the race announcer says to every single Ironman triathlon finisher as he or she crosses the finish line ("Sarah Dickinson, you are an Ironman" – this will be the only time I ever see or hear that phrase, I can assure you!).
…and Five Book Titles I Hate
A Lowcountry Heart
 by Pat Conroy (my review)
Y'all know how much it pains me to have Conroy on this list, but I'm sorry, this title is just cheesy.
Be Frank With Me by Julia Claiborne Johnson
I never got how this title had anything to do with the story other than using the main character's name.
Every Last One
 by Anna Quindlen (my review)
I adored this book. 5 stars. The title is cheesy, while the book is decidedly not.
One True Thing
by Anna Quindlen (my review)
Another cheesy title for an Anna Quindlen book that I loved. This one sounds like a YA romance novel. Who's on her publisher's titling committee?! She deserves better.
Only Love Can Break Your Heart by Ed Tarkington (my review)
Another book I adored and another cheesy title. I understand it refers to a Neil Young song that plays a role in the book, but it's not a huge role and doesn't relate much to what the book is really about. Plus, it's way too long.
What are some of your favorite and least favorite book titles?