Welcome to my monthly feature "Book of the Month Selections: What Book Should You Choose?"! Every month, I provide commentary on the books that are chosen as that month's Book of the Month selections that will hopefully help you choose your pick, and tell you which book(s) I'm going to choose. AND, I provide you with the most up to date version of my Ultimate Guide to the Book of the Month Judges with free, downloadable template (below).
This month's picks….hmm. I'd never heard of a single one before. None seem particularly up my alley; however, I'm intrigued by a couple. Not enough to choose them as my pick, but enough to keep my ears open for others' opinions and maybe pick them up at the library later. There's also a special add-on this month: Watching You by Lisa Jewell.
Choose the best Book of the Month selection for you every time!
Check out my fun new tool to help you pick the best Book of the Month selection for your taste: my Ultimate Guide to the Book of the Month Judges and free, downloadable template to help you find your go-to BOTM judge!
Book of the Month January 2019 Selections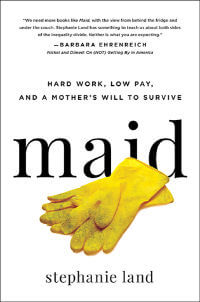 Maid: Hard Work, Low Pay, and a Mother's Will to Survive by Stephanie Land
Release Date: January 22, 2019
288 Pages
Average Goodreads Rating: 3.89 on 224 ratings
Selected By: Meghan MacLean Weir (Author of The Book of Essie)

Evicted meets Nickel and Dimed in Stephanie Land's memoir about working as a maid, a beautiful and gritty exploration of poverty in America.
My Thoughts:
Author Stephanie Land had aspirations of going to college and becoming a writer, but an unplanned pregnancy threw her into a job in housekeeping and dependence on government assistance. Barbara Ehrenreich, author of bestseller Nickel and Dimed, wrote the Foreward. Author Roxane Gay rated it 4 stars on Goodreads, though she did have a couple issues with it. Gay (and some others on Goodreads) mentioned the comparison to Evicted might be a stretch as that is a meticulously researched book on poverty, while Maid is straight-up memoir. Goodreads reviewers also mention Maid illuminates how hard it is to break the cycle of poverty, but some were frustrated with some of Land's decisions. Land wrote an article for Vox that went viral…in which she discusses snooping on her cleaning clients and all it taught her about wealth. If you like social justice nonfiction, this might be a good pick for you.
The Night Tiger by Yangsze Choo
Release Date: February 12, 2019
384 Pages
Average Goodreads Rating: 4.34 on 82 ratings
Selected By: Brianna Goodman (Book of the Month Editorial Team)

A sweeping historical novel about a dancehall girl and an orphan boy whose fates entangle over an old Chinese superstition about men who turn into tigers.
My Thoughts:
Choo's sophomore novel (her debut was The Ghost Bride) is Historical Fiction with some coming of age elements set in 1930's Malaysia. It's being compared to Pachinko by Min Jin Lee and Isabel Allende's books. Goodreads reviewers mentioned its themes of Imperialism, mysticism, Chinese superstition, folklore, the dream world, sibling rivalry, and romance. They said the story is incredibly unique, complicated but approachable, and that the tiger angle doesn't play that big of a role. 
Golden Child by Claire Adam
Release Date: January 29, 2019
288 Pages
Average Goodreads Rating: 3.83 on 102 ratings
Selected By: Siobhan Jones (Book of the Month Editorial Director)

Rural Trinidad: a brick house on stilts surrounded by bush; a family, quietly surviving, just trying to live a decent life. Clyde, the father, works long, exhausting shifts at the petroleum plant in southern Trinidad; Joy, his wife, looks after the home. Their two sons, thirteen years old, wake early every morning to travel to the capital, Port of Spain, for school. They are twins but nothing alike: Paul has always been considered odd, while Peter is widely believed to be a genius, destined for greatness.

When Paul goes walking in the bush one afternoon and doesn't come home, Clyde is forced to go looking for him, this child who has caused him endless trouble already, and who he has never really understood. And as the hours turn to days, and Clyde begins to understand Paul's fate, his world shatters–leaving him faced with a decision no parent should ever have to make.
My Thoughts:
Golden Child is Adam's debut novel and the second acquisition for SJP for Hogarth (actress Sarah Jessica Parker's imprint), following A Place for Us. Adam, now living in London, grew up in Trinidad, where the novel is set. Golden Child has been described as a family drama with secrets, lies, and betrayal. Goodreads reviewers mention Adam's spare writing (my kind of writing!) and her vivid portrait of life in Trinidad (warts and all). They called the story suspenseful, moving, intense, emotional, and disturbing. Reviewers mentioned needing some time to wrap their heads around what they'd just read upon finishing the book. And, it sounds like this is book driven by both the plot and the characters.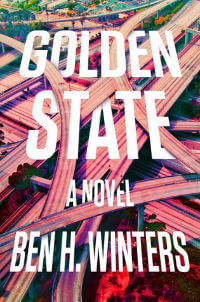 Golden State by Ben H. Winters
Release Date: January 22, 2019
384 Pages
Average Goodreads Rating: 3.76 on 75 ratings
Selected By: Liberty Hardy (co-host of Book Riot's All the Books podcast)

Laz is a resident of The Golden State, a nation resembling California, where like-minded Americans retreated after the erosion of truth and the spread of lies made public life, and governance, increasingly impossible. There, surrounded by the high walls of compulsory truth-telling, knowingly contradicting the truth–the Objectively So–is the greatest possible crime. Stopping those crimes, punishing them, is Laz's job. In its service, he is one of the few individuals permitted to harbor untruths–to "speculate" on what might have happened in the commission of a crime.

But the Golden State is far less a paradise than its name might suggest. To monitor, verify, and enforce the Objectively So requires a veritable panopticon of surveillance, recording, and record-keeping. And when those in control of the truth twist it for nefarious means, the Speculators may be the only ones with the power to fight back.
My Thoughts:
Honestly, y'all, the publisher's synopsis for this dystopian novel is incomprehensible to me. I couldn't tell you what it's about. Hopefully, you'll have better luck. Golden State is described as "part Minority Report and one part Chinatown."  Goodreads reviewers describe the story as a commentary on truth and rules, in a place (California in the future) where the biggest sin is to lie. They said it's timely, clever, twisty, and thought-provoking, but some were disappointed with the ending (was described as "WTF" and "absurd").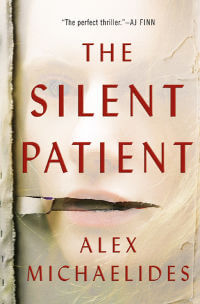 The Silent Patient by Alex Michaelides
Release Date: February 5, 2019
336 Pages
Average Goodreads Rating: 4.34 on 709 ratings
Selected By: AJ Finn (Author of The Woman in the Window)

Alicia Berenson's life is seemingly perfect. A famous painter married to an in-demand fashion photographer, she lives in a grand house with big windows overlooking a park in one of London's most desirable areas. One evening her husband Gabriel returns home late from a fashion shoot, and Alicia shoots him five times in the face, and then never speaks another word.

Alicia's refusal to talk, or give any kind of explanation, turns a domestic tragedy into something far grander, a mystery that captures the public imagination and casts Alicia into notoriety. […]

Theo Faber is a criminal psychotherapist who has waited a long time for the opportunity to work with Alicia. His determination to get her to talk and unravel the mystery of why she shot her husband takes him down a twisting path into his own motivations—a search for the truth that threatens to consume him….
My Thoughts:
This month's obligatory psychological thriller…and it's a British debut. The premise of this one reminds me of The Sinner (the book and the TV series starring Jessica Biel)…unexplainable act of violence, silence from the unlikely perpetrator, and an investigator's or psychiatrist's obsession with unraveling the case. It's told from dual perspectives (Theo the psychiatrist and excerpts from Alicia's diary before the murder). Though you know I'm picky about my psychological thrillers, I've realized I do like those that include a psychologist's or psychiatrist's perspective (i.e. All is Not Forgotten and An Anonymous Girl). Goodreads reviewers said it's best to go in blind and people really aren't saying much about it in their reviews other than they didn't see the twists coming and it definitely deserves the hype its getting (although I hadn't heard of it before seeing it as a Book of the Month pick).
What Book of the Month January 2019 selection(s) will I choose?
I'm skipping this month. None of the selections grabbed my interest enough to take a chance; however, I will keep an eye on the reviews of Golden Child, Maid, and The Silent Patient. If people I trust like them, I'll definitely give them a shot later.
Make your Book of the Month selections by Sunday, January 6th.
What book will you choose this month?
This Month's Special Deals
SPECIAL JANUARY ADD-ON: Watching You by Lisa Jewell
NEW MEMBER DEAL: New members can get their first book for just $5. Use code FRESHSTART.
ANNUAL PAYMENT DEAL: BOTM is now a monthly subscription service. However, given that some members preferred paying upfront, they are now offering a 12-month option. Members who sign up for 12 months will pay $149.99/year. That's $12.50/book, instead of the standard price of $14.99/month.
How to Join Book of the Month…
Book of the Month is a subscription service for people who like to try new books from a curated selection and like to read in hardcover format. Through Book of the Month, you can get a hardcover book for generally significantly less than you'd pay in a bookstore or through Amazon. And, you get to try something new that has been vetted by one of Book of the Month's well-read judges!
Sign up for any of the subscription plans below and you get to choose one of five books selected by Book of the Month's panel of judges (including a surprise guest judge). Book of the Month will then mail your chosen book to your house with a cute note. You also have the option to purchase additional books for $9.99 each and to skip a month if you want.
Sign up for a Book of the Month membership (NEW pricing below)!
New members will sign up for a membership that renews monthly:
A book of your choice for $14.99 / month
Add extra books to your shipment for $9.99 each
Skip any month you want
Free shipping, always
Support Sarah's Book Shelves on Patreon!
(and get personalized book recommendations and access to our private Facebook Group)