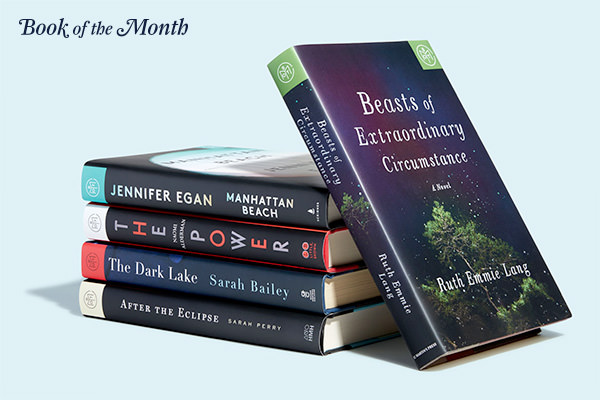 Do you want to know more about the five Book of the Month Club October 2017 selections before making your choice(s)? Welcome to my monthly feature "Book of the Month Club Selections: What Book Should You Choose?"! Every month, I provide commentary on the books that are chosen as that month's Book of the Month Club selections that will hopefully help you choose your pick, and tell you which book(s) I'm going to choose.
Some of this month's selections are head-scratchers. Usually, Book of the Month Club focuses on new releases (books that are either coming out in the current month or came out at the end of the previous month), but this month contains a November release and a book that came out all the way back in 2016. Odd. I'm not nearly as excited about the October crop as I was about last month's selections.
BUT, I do have a fun new tool to help you pick the best Book of the Month Club selection for your taste! Check out my Ultimate Guide to the Book of the Month Club Judges and free, downloadable template to help you find your go-to BOTM judge!
Book of the Month Club October 2017 Selections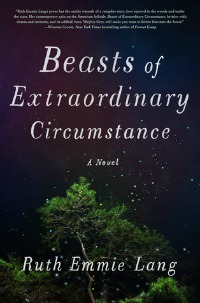 Beasts Extraordinary Circumstance by Ruth Emmie Lang (Release Date: November 7, 2017)
352 Pages
Average Goodreads Rating: 4.35 on 131 ratings
Selected By: Steph Opitz (Book Reviewer at Marie Claire)
Orphaned, raised by wolves, and the proud owner of a horned pig named Merlin, Weylyn Grey knew he wasn't like other people. But when he single-handedly stopped that tornado on a stormy Christmas day in Oklahoma, he realized just how different he actually was.

Beasts Extraordinary Circumstance tells the story of Weylyn Grey's life from the perspectives of the people who knew him, loved him, and even a few who thought he was just plain weird. Although he doesn't stay in any of their lives for long, he leaves each of them with a story to tell. Stories about a boy who lives with wolves, great storms that evaporate into thin air, fireflies that make phosphorescent honey, and a house filled with spider webs and the strange man who inhabits it.
My Thoughts:
This debut novel  has been described as warm and charming. From what I can tell, there could be some elements of magical realism and a memorable main character. Solely based on the publisher's blurb, Weylyn made me think of Owen Meany, but that's 100% my speculation. Mo Daviau, author of Every Anxious Wave
 said it was "Charlotte's Web for grown-ups." Unfortunately, it doesn't look like any of the usual sources (Kirkus and Publisher's Weekly) reviewed this one in advance of publication. On the surface, this novel seems a bit too weird for me without significant vetting by others first and magical realism always makes me nervous.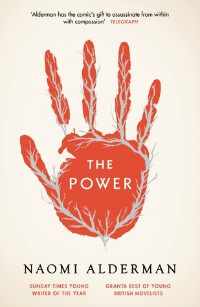 The Power by Naomi Alderman (Released: October 27, 2016)
320 Pages
Average Goodreads Rating: 3.95 on 10,704 ratings
Selected By: Laia Garcia (Deputy Editor, Lenny Letter)

In The Power the world is a recognizable place: there's a rich Nigerian kid who larks around the family pool; a foster girl whose religious parents hide their true nature; a local American politician; a tough London girl from a tricky family. But something vital has changed, causing their lives to converge with devastating effect. Teenage girls now have immense physical power – they can cause agonizing pain and even death. And, with this small twist of nature, the world changes utterly.
My Thoughts:
This novel won the 2017 Bailey's Women's Prize for Fiction and is a story of "how the world would change if power was in the hands of women." It's been described as dystopian, speculative fiction and feminist science fiction…and been compared to The Handmaid's Tale
. Alderman was apparently mentored and inspired by Margaret Atwood and the book is dedicated to her. Kirkus gave it a starred review, calling it "fast-paced, thrilling, and even funny" and Publisher's Weekly called it "a stirring and mind-bending vision." But regular readers (i.e. not awards committees or big media outlets) haven't been quite as universally enamored. This was a recurring theme in the Goodreads reviews: the book is well done, but people had a hard time connecting with the story and becoming invested in the characters.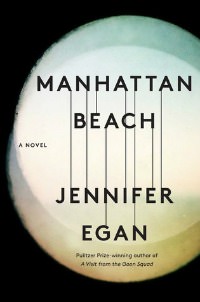 Manhattan Beach by Jennifer Egan (Release Date: October 3, 2017)
448 Pages
Average Goodreads Rating: 3.78 on 298 ratings
Selected By: Kristen Iversen (Author)

Manhattan Beach opens in Brooklyn during the Great Depression. Anna Kerrigan, nearly twelve years old, accompanies her father to the house of a man who, she gleans, is crucial to the survival of her father and her family. Anna observes the uniformed servants, the lavishing of toys on the children, and some secret pact between her father and Dexter Styles. Years later, her father has disappeared and the country is at war. […] At a night club, she chances to meet Styles, the man she visited with her father before he vanished, and she begins to understand the complexity of her father's life.
My Thoughts:
The author of the hit A Visit from the Goon Squad
 is back with historical fiction. Manhattan Beach has been described by the publisher as a "noir thriller" and has already been long-listed for the 2017 National Book Award. Publisher's Weekly and Kirkus also gave it starred reviews. However, I read the first 10% and, despite really good writing, I thought the story was slow and too many characters were introduced too quickly, causing me to glaze over. A couple of book bloggers I trust read much farther than I did, but ended up abandoning it as well. I also saw some mediocre Goodreads reviews that said it was slow and hard to get engaged with the characters and the story. Sounds like this could be one of those critical darlings that doesn't quite connect with regular readers.
After the Eclipse: A Mother's Murder, A Daughter's Search by Sarah Perry (Release Date: September 26, 2017)
368 Pages
Average Goodreads Rating: 4.57 on 30 ratings
Selected By: Guest Judge Gabby Sidibe (Actress and Author
)

A fierce memoir of a mother's murder, a daughter's coming-of-age in the wake of immense loss, and her mission to know the woman who gave her life.
My Thoughts:
After the Eclipse is a debut, true crime memoir, but also the story of a girl trying to get to know her mother after she was murdered. It's also been described as a fascinating small-town mystery. The Goodreads reviews are outstanding and highlight the gorgeous writing and the way Perry addresses "issues" (i.e. violence against women) without letting them dominating the story. It got a starred review from Publisher's Weekly and a good (though not starred) review from Kirkus. It was also on Entertainment Weekly's Must Read Books of Fall and Bustle's September Nonfiction Books to Add to Your TBR lists. It was also named a Favorite Read of September by Read it Forward, a monthly list that tends to align with my reading taste.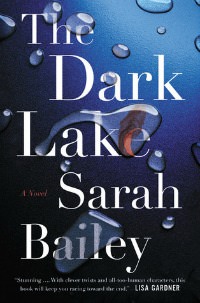 The Dark Lake by Sarah Bailey (Release Date: October 3, 2017)
400 Pages
Average Goodreads Rating: 3.76 on 495 ratings
Selected By: Nina Sankovitch (Bestselling Author)

In a suspense thriller to rival Paula Hawkins and Tana French, a detective with secrets of her own (Gemma) hunts the killer of a woman who was the glamorous star of their high school (Rose).
My Thoughts:
The Dark Lake is a psychological thriller, a debut novel, and the first in a new series (the Gemma Woodstock series). The Goodreads reviews mention it's character-driven for a psychological thriller and that lots of the story is about Gemma rather than who killed Rose. The Dark Lake seems to be one of those "hook you immediately" (says author Lisa Gardner), "race through in one sitting" (says author Douglas Preston) kinds of books. Kirkus, in a non-starred review, called it a "satisfying mystery novel with a relatable heroine, if not a revelatory one." Publisher's Weekly was higher on it than Kirkus, giving it a starred review.
In addition to the five October selections, Book of the Month Club is offering four extras this month (which Book of the Month Club members can add to their boxes for only $9.99 each):
What Book of the Month Club October 2017 selection(s) will I choose?
After my terrible run with Fall fiction and the hard-to-ignore Goodreads reviews, I'm going with the true crime memoir, After the Eclipse: A Mother's Murder, A Daughter's Search!
Make your Book of the Month Club selections by Friday, October 6th.
How to Join Book of the Month Club…
Book of the Month Club is a subscription service for people who like to try new books from a curated selection and like to read in hardcover format. Through Book of the Month Club, you can get a hardcover book for generally significantly less than you'd pay in a bookstore or through Amazon. And, you get to try something new that has been vetted by one of Book of the Month Club's well-read judges!
Sign up for any of the subscription plans below and you get to choose one of five books selected by Book of the Month Club's panel of judges (including a surprise guest judge). Book of the Month Club will then mail your chosen book to your house with a cute note. You also have the option to purchase additional books for $9.99 each and to skip a month if you want.
Sign up for a Book of the Month Club membership (NEW pricing below)!
New members will sign up for a membership that renews monthly:
A book of your choice for $14.99 / month
Add extra books to your shipment for $9.99 each
Skip any month you want
Free shipping, always
Special Deals
New members get a FREE copy of John Green's new novel, Turtles All the Way Down (use code GREEN), OR Stephen and Owen King's new novel, Sleeping Beauties (use code KING).

*All book descriptions are from Goodreads.