Welcome to my monthly feature "Book of the Month Selections: What Book Should You Choose?"! Every month, I provide commentary on the books that are chosen as that month's Book of the Month selections that will hopefully help you choose your pick, and tell you which book(s) I'm going to choose. AND, I provide you with the most up to date version of my Ultimate Guide to the Book of the Month Judges with free, downloadable template (below).
I hadn't heard of any of these selections before…but, judging from the reaction to last month's overly well-known picks, this might be a good thing. After doing a bit of research, I'm now interested in a couple!
Choose the best Book of the Month selection for you every time!
Check out my fun new tool to help you pick the best Book of the Month selection for your taste: my Ultimate Guide to the Book of the Month Judges and free, downloadable template to help you find your go-to BOTM judge!
SPECIAL NOTE:
For those of you who followed the uproar last month when Book of the Month removed the judges' endorsements from the February selections…Book of the Month has brought the judges back…kind of. There won't be a 5 judge panel like we're used to, but we will see judges make appearances mixed in with "editorial team [members], brand ambassadors, members, and members of our Readers Committee." Kind of annoying for those of us who have been following specific judges for awhile and know who our Go-To Judges are, but we'll have to see how things go. Check out more details of how Book of the Month chooses the monthly selections and their rationale for making changes in how the selections are presented.
Book of the Month March 2018 Selections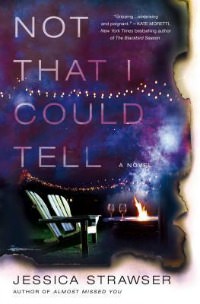 Not That I Could Tell by Jessica Strawser (Release Date: March 27, 2018)
320 Pages
Average Goodreads Rating: 4.09 on 261 ratings
Selected By: Elizabeth Mitchell (Readers Committee Member)

When a group of neighborhood women gathers, wine in hand, around a fire pit where their backyards meet one Saturday night, most of them are just ecstatic to have discovered that their baby monitors reach that far. It's a rare kid-free night, and they're giddy with it. They drink too much, and the conversation turns personal. By Monday morning, one of them is gone.

Everyone knows something about everyone else in the quirky small Ohio town of Yellow Springs, but no one can make sense of the disappearance. […] As the police investigation goes from a media circus to a cold case, the neighbors are forced to reexamine what's going on behind their own closed doors—and to ask how well anyone really knows anyone else.
My Thoughts:
Doesn't the description for this one sound like Big Little Lies
?! And, Goodreads reviewers mentioned it would be a good choice for fans of Liane Moriarty. They also said it was an easy, quick read and that the story was told from several points of view. Amy at Read a Latte (a blogger I trust) says it "is not quite a thriller. It's more an examination of the lives of these women, and the questions that circulate when a perceived perfect neighborhood starts to show cracks." This one sounds up my alley, especially since I'm on the hunt for lighter reads. 
The Astonishing Color of After by Emily X.R. Pan (Release Date: March 20, 2018)
480 Pages
Average Goodreads Rating: 4.5 on 136 ratings
Selected By: Liberty Hardy (co-host of Book Riot's All the Books podcast)

Leigh Chen Sanders is absolutely certain about one thing: When her mother died by suicide, she turned into a bird.

Leigh, who is half Asian and half white, travels to Taiwan to meet her maternal grandparents for the first time. There, she is determined to find her mother, the bird. In her search, she winds up chasing after ghosts, uncovering family secrets, and forging a new relationship with her grandparents. And as she grieves, she must try to reconcile the fact that on the same day she kissed her best friend and longtime secret crush, Axel, her mother was taking her own life.

Alternating between real and magic, past and present, friendship and romance, hope and despair, The Astonishing Color of After is a novel about finding oneself through family history, art, grief, and love.
My Thoughts:
This is a debut YA (Young Adult) novel by a Midwest author born to Taiwanese immigrant parents. Goodreads reviewers said it's heartbreaking, beautiful, has a bit of magical realism, gorgeous writing, and a half Asian/half white main character. They also mentioned Chinese/Taiwanese culture and depression are major themes. John Green called it "brilliantly crafted, harrowing and a very special book." Gayle Forman called it "inventive and heart-wrenching." The few critical reviews I found on Goodreads mentioned having trouble with a literary device where emotions are labeled with colors.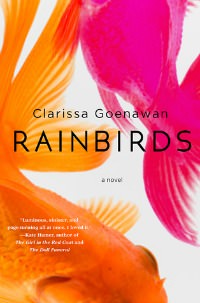 Rainbirds by Clarissa Goenawan (Release Date: March 6, 2018)
336 Pages
Average Goodreads Rating: 4.1 on 84 ratings
Selected By: Siobhan Jones (Book of the Month Editorial Director)
Clarissa Goenawan's dark, spellbinding literary debut opens with a murder and shines a spotlight onto life in fictional small-town Japan.

Ren Ishida is nearly finished with graduate school when he receives news of his sister Keiko's sudden death. She was viciously stabbed one rainy night on her way home, and there are no leads. Ren heads to Akakawa to conclude his sister's affairs, still failing to understand why she chose to abandon the family and Tokyo for this desolate town years ago.

As he comes to know the figures in Akakawa, from the enigmatic politician to his fellow teachers and a rebellious, alluring student named Rio, Ren delves into his shared childhood with Keiko and what followed, trying to piece together what happened the night of her death.
My Thoughts:
Clarissa Goenawan is apparently a rising Singaporean literary star and Rainbirds is her debut. Set in 1990's, Rainbirds is part whodunnit and part ghost story. Goodreads reviewers frequently compared it to Haruki Murakami's style. They also said it has a minimalist writing style (which is very Japanese), a hint of magical realism, a brooding atmosphere, and that grief is a major theme. Many said it was quiet, yet hard to put down, and that the mystery is a minor plot element (i.e. the story is more about Ren finding himself and getting to know his sister posthumously). Some found the ending frustrating. Rainbirds was on Bustle's Most Anticipated Book of 2018, Huffington Post's 60 Books We Can't Wait to Read in 2018, and received a starred review from Library Journal. If you like serious literary fiction, this one's for you!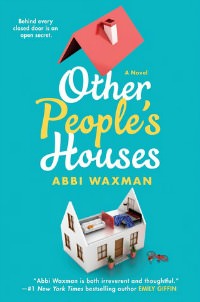 Other People's Houses by Abbi Waxman (Release Date: April 3, 2018)
352 Pages
Average Goodreads Rating: 3.97 on 111 ratings
Selected By: Skye Sherman (Brand Ambassador)
The author of The Garden of Small Beginnings returns with a hilarious and poignant new novel about four families, their neighborhood carpool, and the affair that changes everything.
My Thoughts: Other People's Houses sounds like light fiction (i.e. Brain Candy) and the plot actually sounds somewhat similar to Not That I Could Tell (and Desperate Housewives!). It was blurbed by Emily Giffin, so you know that means it's fairly light reading. Goodreads reviewers mentioned that it's told from multiple points of view, has snarky, irreverent humor, and dysfunctional families. Many of the negative reviews mentioned extremely harsh language and raunchy sex talk that was over the top and unnecessary. This type of raunchy humor is apparently her trademark and it seems to be a love it or hate it kind of thing. Finally, some that loved her debut (The Garden of Small Beginnings
) were underwhelmed by her follow-up. Sounds like you need to have a specific sense of humor to appreciate this one.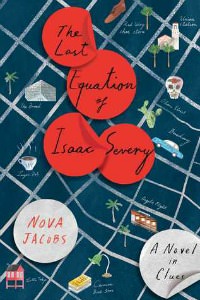 The Last Equation of Isaac Severy by Nova Jacobs (Release Date: March 6, 2018)
352 Pages
Average Goodreads Rating: 4.06 on 53 ratings
Selected By: Sophia Bush (Actress)

The Family Fang meets The Storied Life of A.J. Fikry in this literary mystery about a struggling bookseller whose recently deceased grandfather, a famed mathematician, left behind a dangerous equation for her to track down—and protect—before others can get their hands on it. 
My Thoughts:
The Last Equation of Isaac Severy is a debut novel with a treasure hunt vibe whose premise sounds like Mr. Penumbra's 24-Hour Bookstore
. However, some Goodreads reviewers debunked the comparisons to The Storied Life of A.J. Fikry and Penumbra because the bookstore is apparently a minor plot point compared to the eccentric family and the math. They also said there is a lot going on in the beginning with the plot (to the point where some couldn't make heads or tails of what was going on), but that things eventually clicked. 
What Book of the Month Club March 2018 selection(s) will I choose?
I'm going to choose Not That I Could Tell!
The premise sounds intriguing, it sounds like it could be a good candidate for my 2018 Summer Reading Guide and, most importantly, a blogger I trust (Amy at Read a Latte) gave it 5 stars.
Make your Book of the Month Club selections by Tuesday, March 6th.
What book will you choose this month?
This Month's Special Deals
In addition to the five February selections, Book of the Month Club is offering one extra this month (which Book of the Month Club members can add to their boxes for only $9.99 each):
NEW MEMBER DEAL: Anyone who purchases a new BOTM subscription will get their first month free! Use code YESPLZ.
ANNUAL PAYMENT DEAL: BOTM is now a monthly subscription service. However, given that some members preferred paying upfront, they are now offering a 12-month option. Members who sign up for 12 months will pay $149.99/year. That's $12.50/book, instead of the standard price of $14.99/month.
How to Join Book of the Month…
Book of the Month is a subscription service for people who like to try new books from a curated selection and like to read in hardcover format. Through Book of the Month, you can get a hardcover book for generally significantly less than you'd pay in a bookstore or through Amazon. And, you get to try something new that has been vetted by one of Book of the Month's well-read judges!
Sign up for any of the subscription plans below and you get to choose one of five books selected by Book of the Month's panel of judges (including a surprise guest judge). Book of the Month will then mail your chosen book to your house with a cute note. You also have the option to purchase additional books for $9.99 each and to skip a month if you want.
Sign up for a Book of the Month membership (NEW pricing below)!
New members will sign up for a membership that renews monthly:
A book of your choice for $14.99 / month
Add extra books to your shipment for $9.99 each
Skip any month you want
Free shipping, always