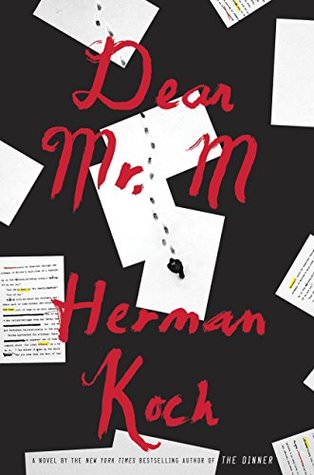 Fiction
Released September 6, 2016
416 Pages
Bottom Line: Read it.
Affiliate Link: Buy from Amazon

Source: Publisher (Hogarth) via NetGalley
Headline
While Dear Mr. M's politically incorrect social commentary, dislikable characters, and somewhat meandering nature mean it's not for everyone, Koch's distinctive writing style make it a winner for me despite some plot inconsistencies. And, its divisive nature would make it a fantastic book club selection.
Plot Summary
M, an aging writer riding on the long-ago success of his bestselling novel based on the true story of a teacher's murder involving two of his students (Payback) piques the stalker-ish interest of his neighbor, leading to a revisit of the crime at the center of M's novel.
Why I Read It
I loved Koch's breakthrough novel, The Dinner. While I didn't love his follow-up (Summer House With Swimming Pool) nearly as much, Koch is an author whose distinct writing style will make me at least try every book he writes.
What I Liked
While I didn't love

Dear Mr. M

quite as much as The Dinner, it came dang close. And I thought it ran circles around Summer House With Swimming Pool.

Dear Mr. M

employs one of my favorite literary devices: the mystery or crime that provides suspense, but is not at the center of the story. The prospect of finding out what happened to the teacher at the center of Payback certainly kept me turning the pages, but it's more of a catalyst to explore human behavior and emotions.

Dear Mr. M

is a style book…and Koch's style is odd and often uncomfortable, but it is incredibly distinct. I adore his writing (and particularly his social commentary), but he's certainly not for everyone. He's a master at putting uncomfortable thoughts that the average reader would likely keep hidden front and center.
When someone has been ill for a long time, there's always a sense of relief when it's over. Relief on behalf of the sick person who no longer has to suffer, but above all on your own behalf. It's difficult to admit, especially at the age I was then, but I felt an enormous relief because everything could finally be cleared out of the house. The curtains could be opened again to let in the light. This is where my life begins, I thought to myself. My new life. My life free of sickbeds.
Sometimes that commentary is tinged with political incorrectness (i.e. sexism and ageism make appearances in

Dear Mr. M

). But, it's refreshing that Koch isn't afraid to allow his characters to be politically incorrect on the page, even if I don't agree with the specific viewpoints. 
A writer doesn't have to do anything, of course. All a writer has to do is write books. But a lovely, young wife can help him do that. Especially when that wife is completely self-effacing; the kind who spreads her wings over his talent like a mother hen and chases away anyone who comes too close to the nest; who tiptoes around the house when he's working in his study and only slides a cup of tea or a plate of chocolates through a crack in the doorway at fixed times; […] because his mind, after all, is brimming over with things that she, with her limited body of thought – her limited feminine body of thought – could never fathom anyway.
The story is told through multiple perspectives and shifting timelines. You see flashbacks to the long-ago lives of the two students involved in the teacher's murder and their friends, which some reviewers thought distracted from the real story. I liked these sections as they painted vivid pictures of the personalities and dynamics of the group, which better enabled me to understand how the crime ends up playing out. Plus, these sections reminded me a bit of Meg Wolitzer's

The Interestings

!
What I Didn't Like
Parts of the book meander a bit and it takes awhile for the story to find its direction…it could've been shorter and tighter.

I'm still scratching my head over why exactly M's neighbor felt compelled to stalk M. There is lots of ambiguity here, as the most logical explanations can be eliminated based on details provided in the book or just seem too farfetched.
Good for People Who Like…
Social commentary, dislikable characters, writer's life, crime that's not the center of the story, gorgeous writing, dark stories, creepiness
Other Books You May Like
Contains a mystery or crime, which is not the center of the story:
Shelter by Jung Yun
My Sunshine Away by M.O. Walsh
Uncomfortable Social Commentary:
The Dinner by Herman Koch