Hosted by The Book Date.
I'm feeling super good about myself this week! For the past few years, I've been a total stress-case during the holiday season with too much to do, too little time, and too much on the social calendar. I decided to change things this year by getting the annoying tasks done early. I've now finished shopping, making the annual photo album the grandparents like to receive, and sending out holiday cards and am actually enjoying the holidays! Plus, work will begin on Monday to repair our basement from our recent flood, which means my kids will have a playroom again soon.
I finished reading…

We Were the Lucky Ones by Georgia Hunter (February 14, 2017)
I have a tendency to get bogged down in WWII books and did not feel that way at all about this one! The story is fast-moving and hopeful, despite the heavy topic, and it's one heck of a story. It would be a great choice for fans of The Nightingale. Keep this debut on your radar for February!
Affiliate Link: Pre-Order from Amazon
I'm currently reading…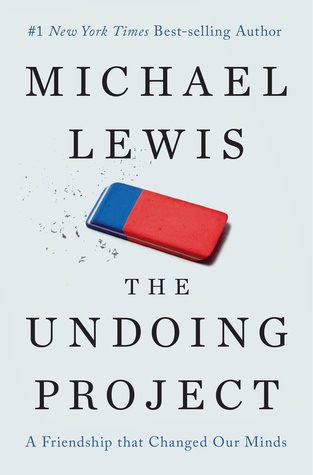 The Undoing Project by Michael Lewis (December 6, 2016)
I'm almost halfway through. Bang-up first chapter including a Charles Barkley quote, which I welcome at any time, but am getting bogged down in the biographical information about the two psychologists and their non-real world experiments. I'm doing more skimming than I'd like.
Upcoming reading plans…
It's the time of year when I treat myself to a few backlist goodies that have been on my TBR forever! Which of these do you recommend I read?


Empire Falls by Richard Russo (May 8, 2001)
I'm a sucker for stories about small, blue-collar communities. On the downside, I have a dismal record with Pulitzer Prize winners. Regardless, I've been meaning to try this legendary author for awhile now.
Every Last One by Anna Quindlen (April 13, 2010)
I recently read my first Anna Quindlen (Miller's Valley) thanks to Catherine at Gilmore Guide to Books and this is where she pointed me next.
The Book of Unknown Americans by Christina Henriquez (June 3, 2014)
The fact that I'm still seeing a fair number of people reading, reviewing, and talking about this book two years after publication makes me think I need to make time for it.
The Devil All the Time by Donald Ray Pollack (July 12, 2011)
I love Grit Lit, but haven't read as much of it as I'd like to this year. I hear this guy's the king, yet I couldn't get into his latest novel, The Heavenly Table. But, people I trust swear The Devil All the Time is much better, so I might give it a shot.
This is the Story of a Happy Marriage by Ann Patchett (December 11, 2011)
Ever since reading Commonwealth, I've been on an Ann Patchett high. So, I need to get to this collection of memoir-style essays.
How was your reading week?